Visit Northwest Florida Beaches Fall 2012
Find your spot on 227 miles of the world's best beaches.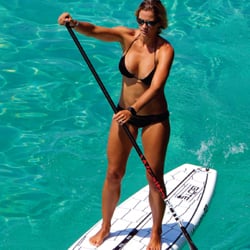 THE EMERALD COAST
The Beach is Calling
Whatever You're Looking For, Whatever the Season, the Emerald Coast Serves Up Good Food and Good Times
By Rosanne Dunkelberger
Some of us like to head to the Emerald Coast and make a beeline for water parks, parasailing and rollicking restaurants.
Others search to find an out-of-the-way getaway in the off-season, and try to suss out restaurants the locals prefer.
Whether you do it like a tourist or a native, there's a great time to be had in the Emerald Coast communities of Destin, Fort Walton Beach and Okaloosa Island.
Summer is high season around here, and the hotels, restaurants — and especially the roads — are cramma jamma with out of towners. Once you get used to the crowds, there's tons of fun to be had.
But one of the best times of year to visit, says Dan Martin of the Pelican Beach Resort, is in the fall. The crowds are gone, the weather is still warm and the best discounts are to be had at his resort and others along the Emerald Coast. And he ought to know; he came to visit — and has stayed 32 years!
The popular Fudpuckers restaurant seats about 500 people, and in-season the wait for a table can take an hour and a half or more. But in the lemons-to-lemonade spirit, the kid-friendly restaurant has created several diversions — a huge shop with a staggering array of colorful T-shirts, a huge game arcade, a Gator habitat (Feed them! Have your photo taken with one!) and even a musical show with audience participation. "Now, they're sitting down happy," says Marketing Director David Smith. "People tell me this is a fun place to wait."
Dewey Destin's Harborside, run by one of the area's founding families, is another popular dinner spot. But if you want that "native" experience, travel a little further down the road to their location near the East Pass Bridge. There's no air conditioning, the floor slants a bit and the waitresses are barefoot, but you'll never see a finer sunset nor eat fresher steamed or fried seafood.
The Destin harbor front is lined with restaurants such as Harbor Docks, where you might find a fishing boat tied up and delivering seafood fresh from the Gulf. A recently completed boardwalk starts at the Emerald Grande and allows you to stroll dockside along much of the length of the harbor.
Even if you're not into "touristy" things, a two-hour dolphin cruise aboard the Southern Star is a treat. You'll hear a bit of local history as the boat heads out of the harbor and passes by one of the area's coolest sights — Crab Island. In-the-know boaters (if you don't have one, it's easy to rent one) motor out to this sandbar, drop anchor and spend the day socializing in the shallows. And even the most jaded among us will have a little thrill at getting a close-up view of a pod of dolphins frolicking in the Gulf.
An even closer view of the local wildlife can be found at the Gulfarium Marine Adventure Park in Fort Walton Beach. The facility reopened this year after a massive renovation. The dolphin show and aquariums of tropical fish are still there, but the park has added several up-close-and-personal encounters that allow you to feed penguins, pat a seal or snorkel with stingrays and sharks.
Man (and especially woman) does not live by sand alone — not when there are so many "shopportunities" to explore. Shopping centers don't get any bigger, or the deals any better, than at the Silver Sands Factory Stores, with more than 100 designer names to choose from. Or take a stroll through some of your favorite nationally recognized shops in the outdoor Destin Commons. The area is also home to many local shops and chains with a unique selection of products. Perhaps the most unique of them is Banana Bart's, a funky little tourist shop in a brightly painted building that is one of the last remaining fishing shacks left on the waterfront. Prepare for sensory overload; it's crammed with tees and tchotchkes that could keep you browsing for hours.
To learn more about how to "Get a Little Sand in Your Soul," visit the Emerald Coast Convention & Visitor's Bureau website at emeraldcoastfl.com.
SOUTH WALTON
Find your Perfect Beach in South Walton
The seasons are changing and the weather is getting nicer every day. So why wait any longer to take that break you've dreamed about all summer? The time is right to find a coastal getaway that is relaxing, invigorating and speaks to your inner beach bum.
The good news for Tallahassee folks is we don't have to go far to make dreams come true. South Walton is close to home, yet decidedly far from the every day. Located along the shimmering emerald-green waters of the Gulf of Mexico, you will find 15 beach neighborhoods that have their own distinct flavor. But that's not all South Walton has to offer. Here, you can enjoy "chill-laxing" back at the house, ride the waves of adventure or just go shopping.
True, summer may be the first thing you think of when planning a beach vacation. But don't overlook autum. The Gulf breezes are cooler, clear skies mean spectacular sunsets and, best of all, the seasonal rates are outstanding. Autumn is the destination's signature season of culinary, cultural and artistic events set against a stunning backdrop of breathtaking blue-green water and sugar-white sand.
If you love the outdoors, South Walton has just the thing for you with 26 miles of sandy beaches, more than 25,000 acres of preserved land and 15 rare coastal dune lakes. This is the place for "enviro-tourism." Sure, you can catch some gentle rays and do a little swimming, but if you crave adventure, try stand-up paddle boarding, kayaking or fishing on the gleaming Gulf of Mexico. Charter trips launch straight from Grayton Beach.
If shopping is your passion, prepare to be awed. Serious bargains await you at Silver Sands Factory Stores, the nation's largest designer outlet. For offbeat, yet sophisticated, browsing check out the boutiques and galleries of Gulf Place, The Shops of Ruskin and the Merchants of Rosemary Beach, just to name a few.
South Walton is no slouch when it comes to food, either. A world-class fusion of flavors is created daily by award-winning chefs using local ingredients and fresh Gulf seafood. Many fresh veggies are delivered daily by local hydroponic grower Mac Farms. Tummy full, wander around the local live music scene at the famous Bud & Alley's, the iconic Red Bar or The Village of Baytowne Wharf. Or, simply take in a romantic dinner for two and a quiet beachside stroll.
Be sure to check out the local events calendar before making reservations. South Walton's fall season is famous for its great outdoor festivals and events like the Baytowne Wharf Beer Festival in October, Taste of The Beach in November, holiday celebrations in December, the 30A Songwriters Festival in January and many more.
So there it is. South Walton offers the discerning traveler luxury accommodations, award-winning restaurants, spas, shopping, championship golf and a year-round calendar of fun and frolic. You are far from ordinary, so why shouldn't your vacation be extraordinary? For more information on the various beach communities, resorts, shopping, dining and events, go to visitsouthwalton.com. Find your perfect beach at the perfect time of year.

FRANKLIN COUNTY
We're Sweet on 'Salty' Franklin County
The Disarming Charm of Apalachicola, St. George Island and Carrabelle
By Zandra Wolfgram
One thing destination promoters like to say is that Franklin County is "salty." Though our visit made us "sweet" on these cozy coastal towns, with their rich history, maritime adventures, famous oysters and plucky townsfolk, we couldn't agree more.
Strolling the wide, tree-lined streets of Apalachicola will take you back in time. And you don't have to go too far into town before finding several must-visit museums. The Orman House — built in 1838 from cypress and long leaf pine shipped in from Syracuse, N.Y. — was home to Thomas Orman, a resourceful entrepreneur and one of the region's most successful businessmen. The tour of the house and the animated tale of what transpired there before, during and after the Civil War, given by Park Ranger Mike Kinnett, was a stage-worthy performance.
A trip to Apalach wouldn't be complete without a visit to the John Gorrie Museum to learn about the remarkable physician, scientist, humanitarian and inventor whose "ice machine" revolutionized life in the South, if not the world. An up-close look at Gorrie's simple invention and its indelible impact will leave you thirsting to know more about this modest 19th century pioneer.
Descended from a long line of Southern boat builders, George Kirvin Floyd recently launched the Apalachicola Maritime Museum on the riverbank to preserve, celebrate and promote the maritime heritage of Apalachicola with hands-on experiences such as sailing, boat-building, restoration and educational displays.
Explore the river via a rowboat, canoe or kayak. Or opt for a guided tour aboard an airboat, sailboat, catamaran or Floyd's pride and joy — the Heritage of Apalachicola, a 58-foot wooden ketch, which embarks on one to seven-day adventure trips with all meals included.
A visit to the newly restored Cape St. George Lighthouse is the perfect way to get some perspective on the island. Scoot up the 92 heart pine steps and shimmy through the scuttle hole for a breathtaking view. Be sure to ask about reserving a spot to see the next "moon rise" ($15 per person).
Venture to Carrabelle to explore the Carrabelle History Museum, the Camp Gordon Johnston World War II Museum and the Crooked River Lighthouse. This little village is not all that sleepy. One longtime local told us, "Carrabelle is a little drinking town with a fishing problem." We have it on good account that these locals will celebrate nearly anything without much provocation. One of the most popular events is a Lantern Festival held at the lighthouse each October. This year is the 117th anniversary of the famed lighthouse, and it will be marked by art, music, storytelling and a lantern workshop.
If you can pull yourself away from the pristine beaches and charming shops, you'll find no shortage of things to do throughout Franklin County for all ages.
Water lovers will find no better guide than Capt. Chester Reese with Natural World Charters operating out of the Carrabelle Boat Club to explore the Carrabelle River, Dog Island and Gulf waters. We hopped aboard The Eagle for an eco-tour and spotted dolphin, jellyfish and scores of shore birds on our excursion, while hearing several salty tales.
One of the most memorable points of interest is the Apalachicola National Estuarine Research Reserve. Nestled in the pines of East Point, this state-of-the-art facility captivated our entire family. Informative National Geographic-style films, interactive wall murals, walls lined with artifacts and indigenous species, touch tanks and loads of great literature on the natural phenomenon of the estuary made us thirsty for more, and we ventured back for a second visit before our stay ended.
Apalachicola is filled with characters, and a few of them are in the spotlight at the Dixie Theatre. This gem of a space seats 180 and showcases nearly 20 dramatic, music and dance performances each year. This year marks the theater's 100th anniversary for what is now one of the few family-owned and operated professional theaters in the country.
At Boss Oyster you can certainly enjoy the bivalves au natural, or 21 other ways, including St. George-style: with asparagus, garlic, shallots and Colby cheese. There is dining beyond oysters in Franklin County.
Head to Harry A's Restaurant & Bar for fresh seafood, burgers and salads dished up in a casual atmosphere. Tamara's Café Floridita serves up Florida flavor with South American flair. The Owl Café is known for its extensive wine list, pasta and homemade desserts. Dining in the comfort of your vacation rental home or condo? Be sure to stop by the Sometimes It's Hotter Seasoning Company on St. George Island for a huge selection of homemade seasonings and sauces that are sure to spice up any meal.
PANAMA CITY BEACH
Panama City Beach
A Great Place to "Fall" Into Fun is Close to Home
As we say goodbye to the hot summer months, now is the ideal time to kick it up or kick back in Panama City Beach. The air is cooler, the beaches are less crowded and the world-class resorts and hotels are more affordable. And it's all just a short drive away.
If fun events are what you're looking for, fall is a great time to experience the festivals, special events, shopping, food and other enjoyable activities Panama City Beach has in store, just for you.
Pier Park is a shopper's paradise. Stroll through beautiful landscaping and endless boutiques, specialty stores, restaurants and entertainment venues amidst colorful Caribbean architecture. And after dinner or a movie, you can also take a carousel or Ferris wheel ride at Miracle Strip Amusement Park.
Without a doubt, Panama City Beach is packed with restaurants featuring top chefs and unique, mouthwatering delights. The seafood is fresh, and ocean views and sunsets are second to none. Dining out in the city is an experience all its own. Operating since 1967, Capt. Anderson's Restaurant & Waterfront Market has served innovative classic Gulf Coast cuisine to millions, many of them return visitors. And for an on-the-water dining treat, one of North Florida's premier dinner cruise experiences can be had on the Lady Anderson Dining Yacht.
Want to take a walk on the wild side? ZooWorld is a zoological and botanical conservatory that is home to more than 200 animals, including exotic and endangered species. At the Wolf Encounter you even get a rare chance to have your photo taken with a wolf. Exotic animal encounters at Gulf World Marine Park let you go nose-to-nose with a variety of animals, from sea lions to dolphins. For more of a hands-on experience, sign up to swim with the dolphins or try your hand as a trainer for a day. The park even has an overnight program for the more adventuresome who want to learn about the animals' nighttime habits.
Shipwreck Island is a 20-acre, tropical-themed water park filled with wet adventures, from curving flumes, dual slides and rapid river rides to a treetop drop into a 500,000 gallon pool. At Coconut Creek Family Fun Park, there are two 18-hole mini-golf courses and the first of its kind in America — the Gran Maze, a giant labyrinth about the size of a football field that will test your navigational skills as you find the four checkpoints before you exit. At the Cobra Adventure Park, you can try out the Vertical Accelerator for a heart-stopping ride, or if you feel like you want to channel your inner buccaneer, enter a fantasy swashbuckling world aboard the 85-foot pirate ship The Sea Dragon.
Looking for some indoor fun? Try lying on a bed of nails or experience hurricane-force winds at the "upside down house," a quirky, four-story building known as WonderWorks. You can test your skill and sense of reality with mind-boggling, head-scratching virtual, mental and physical challenges. Or, just a short walk away, you can see some of the more bizarre wonders of the world during a stroll through Ripley's Believe It Or Not! Museum.
If you love to golf, you may know that Golf Magazine has recognized Panama City Beach as one of America's top three golf towns. The Hombre Golf Club, annual host to the second stage of the PGA Tour Qualifying School, is also located in Panama City Beach and has earned a reputation for scenic and challenging play.
Want to get closer to nature? Panama City Beach is also a popular destination for eco-tourism and is often referred to as "The Last Undiscovered Florida Coast." Pack a picnic lunch and escape to St. Andrews State Park or Shell Island for a truly serene natural experience. The 1,260-acre park has more than 1.5 miles of beach on the Gulf of Mexico and the Grand Lagoon along with rolling, white sand dunes separated by low swales of pinewoods and marshes.
Grab the shuttle or rent a pontoon boat from St. Andrews State Park and set off for Shell Island, a pristine, 700-acre undeveloped barrier island and wildlife sanctuary situated just across the ship's channel from the mainland. Shell Island is a great place for dolphin watching and is home to one of the world's highest concentrations of bottlenose dolphins.
There's still time to capture the carefree summer feeling this fall. So many special memories are waiting to be created. The Fun Never Sets in Panama City Beach.