Virgil Hawkins' Righteous Fight to Become a Lawyer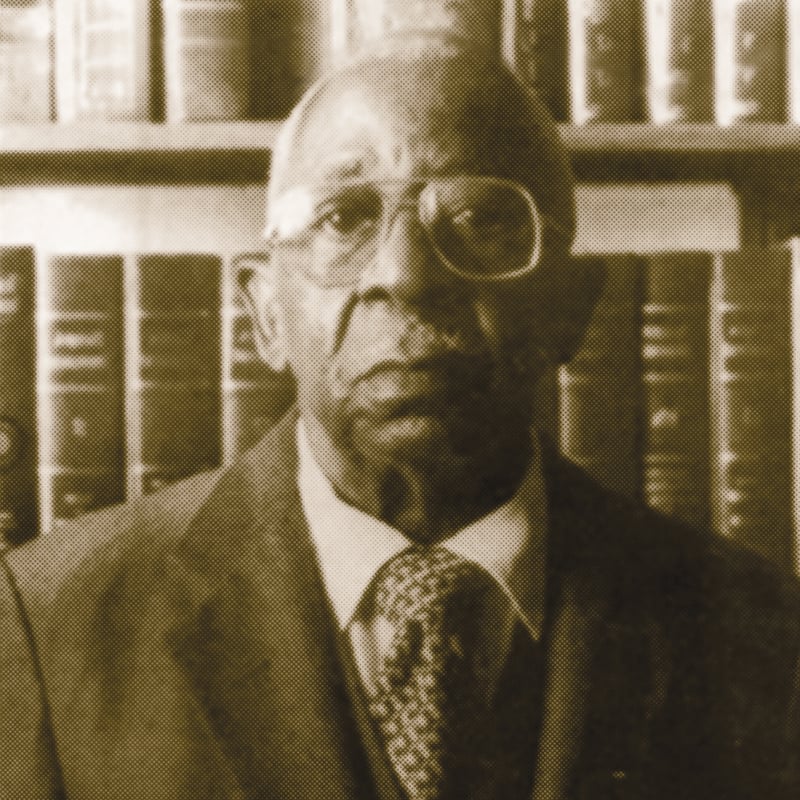 'I Integrated Schools in Florida'
Flames crackled in his front yard when Ku Klux Klan members burned crosses there. He and his wife had to pretend to be divorced, and she had to drive to visit him secretly under the cover of darkness. Despite enduring those and many other difficulties, Virgil Hawkins never lost sight of his dream – to become a lawyer, a member of The Florida Bar.
He held to it unwaveringly, although he lived in a day when being black and being a lawyer were mutually exclusive terms. He was determined to succeed, and he would need every ounce of that determination to fight the long battle he would face.
Hawkins' career as a lawyer was a controversial one, but he knew that the struggles he faced were made worthwhile by what he achieved.
"I know what I did," he said toward the end of his life. "I integrated schools in Florida. No one can take that away from me."
The son of a Lake City preacher, Hawkins applied to the University of Florida's all-white law school in 1949, one of two black applicants to do so that year. At the time, he worked in public relations for Bethune-Cookman College. According to the account of Hawkins' battle penned by attorney Harley Herman, he and five other blacks applied to various professional schools at UF, with the support of Thurgood Marshall and the NAACP Legal Defense Fund. All were refused admission on the basis of race.
They brought their case to the Florida Supreme Court a month later, petitioning for an order requiring UF to admit them. They were given two alternatives: go out of state for school, or attend a new, all-black law school that would be established at Florida A & M University to accommodate them. The other students eventually dropped out of the legal battle, but Hawkins persisted. The Florida Supreme Court told Hawkins he could attend UF until the new FAMU law school was up and running, but he refused and took his case to the U.S. Supreme Court.
They sent him back to the Florida Supreme Court, and he bounced back and forth between the two courts until finally, on March 12, 1956, the U.S. Supreme Court ordered Hawkins admitted to UF.
The Florida Supreme Court was in no mood to be bullied by its national counterpart. In March 1957, Justice B.K. Roberts, writing for the majority, invoked the doctrine of states' rights and refused to obey the U.S. Supreme Court's mandate. Roberts predicted massive protests by white students if blacks were permitted to attend white schools. It was not the Florida Supreme Court's finest hour.
Hawkins went back to the U.S. Supreme Court, but the court sent him to a federal district judge, Dozier DeVane. DeVane was a segregationist, and Hawkins' case went nowhere in his court.
Tallahassean Raymond Mason, a retired forester who graduated from UF in 1957, said he remembers the Hawkins controversy being a big item in the news when he was in school. He remembers there were dark-skinned international students attending the university and says he thought it strange that the school wouldn't admit black Americans.
"I know they had Egyptians and they had a lot of other dark-skinned students that were either African or Indian," Mason said. "When I was home one weekend, (my parents) were commenting on the legal battle . . . I asked something to the effect of, 'Why can the University of Florida admit colored students from other countries, but a colored American citizen cannot enter?' And they said, 'Well, that's different.' And they got quiet. There was no answer, in other words."
In June 1958, Hawkins finally agreed to give up his case, on the condition that future qualified blacks who applied to UF would be admitted. Judge DeVane agreed to enter an order embodying that compromise. Martin Dyckman, who wrote about Hawkins in the St. Petersburg Times, said that three months after Hawkins' decision, UF admitted its first black student. There were no reactionary riots or protests.
While all this legal battling was going on, Hawkins earned himself a number of aggressive opponents. His nephew, Plato "Buddy" Mathis, recalls members of the Ku Klux Klan burning crosses in the front yard of his grandmother's house, where Hawkins was living.
"I was too young to realize the seriousness of it at the time," Mathis said. He remembers his Uncle Virgil as "a smart, smart person" who was also very patient.
"He just didn't quit," Mathis said. "He never took no for an answer."
Hawkins' wife worked as a teacher for the Lake County school system and, according to Dyckman, they had to pretend to be separated and later divorced in order to avoid having her lose her job. She would make surreptitious visits to him at night, with her niece Gloria Barton riding along to help her stay awake.
After Hawkins had finished his legal battles with the Supreme Court, he decided to move to Boston and put himself through law school by working odd jobs on the side. He graduated from the New England School of Law in 1964 and went back to Florida, hoping to join The Florida Bar.
Florida refused to let Hawkins take the bar exam because his law school was not accredited until several years after he graduated. The bar exam requirement had previously been waived for white graduates who attended unaccredited schools by virtue of "the diploma privilege," but the state revoked it shortly after the FAMU law school opened.
It looked as though Hawkins had spent years of hard work for nothing, but then, in the mid-1970s, the brother of one of the white Florida Supreme Court justices was granted the diploma privilege. Ben Ervin, brother to Justice Richard Ervin, was allowed entry into The Florida Bar even though he'd failed the bar exam four times. According to Herman, the court made its decision based on the finding that the diploma privilege was in effect at the time Ben Ervin was thinking of applying to law school.
Of course, Hawkins had plenty of evidence – pages and pages of court documents – showing he had not only thought of applying, he had applied and fought for the right to attend a Florida law school when the diploma privilege was in effect. In the end, the court had to grant him membership in The Florida Bar. Part of the reason for doing so was because if it had not, a fiery dissenting opinion from the only black justice on the court, Joseph Hatchett, would have gone into the permanent record. Hatchett, the first black appointed to the court, excoriated the court in the draft of his dissenting opinion for not following the 1956 mandate of the U.S. Supreme Court and requiring that Hawkins be admitted to UF.
Hatchett said the majority opinion issued by Justice Roberts at that time cited "implausible and insufficient reasons for the majority's illegal refusal to follow the mandate of the Supreme Court of the United States."
And so Hawkins was admitted as a member of The Florida Bar, a proud moment that he had waited decades to see. By this time it was 1976 and Hawkins was nearly 70 years old. Some of the justices expressed concern about admitting him as a member when he was that old and so far removed from law school.
In fact, in an early draft of its 1976 opinion the court wrote, "The Bar suggests that it would compound earlier errors to accommodate Mr. Hawkins without proper concern for his present fitness to provide legal services to the populace. The record before us shows that Mr. Hawkins is 69 years of age, and that he graduated from the New England School of Law in 1964. It does not show that Mr. Hawkins has ever practiced law or endeavored to retain his legal acumen. In fact, his petition indicates, by reference to his continued residency in Florida since graduation, that he has never pursued a legal career."
According to Herman, the justices arranged for Hawkins to observe another lawyer's practice for six months before starting his own. Nevertheless, he had far less training and support than most lawyers today.
W. George Allen, the first black graduate of UF's law school, describes Hawkins' situation this way: "What happened is, they used up his good years and young years in and out of court and trying to stop him from going (to UF). His good years were wasted."
As it turned out, the court's fears that Hawkins was ill-prepared to become an attorney were well-founded. Hawkins opened his practice in Leesburg, a small Florida town with a population of about 15,000. Despite poor health, including diabetes and high blood pressure, he was working long hours serving multiple clients. He charged nothing or next to nothing for many of them, since they could not afford attorney fees.
However, he made some major blunders toward the end of his career that resulted in his resignation in the face of disciplinary action. The first had to do with a felony case he was never paid for. Hawkins had never tried a felony case before and made a number of poor decisions, including concealing the marital status of a witness, which resulted in a complaint being filed after the case had concluded. After a hearing to investigate the complaint, Hawkins was put on professional probation.
A second case that ultimately led to the demise of his legal career was the misappropriation of funds from his nephew's guardianship. He also pleaded guilty to felony theft charges in Lake County and died on probation.
Although these grave errors forced him to resign, he did so regretfully.
"When I get to heaven," he told the Supreme Court, "I want to be a member of the Florida Bar."
Herman, an attorney who at one time had his law office in Lake County, was in practice at the same time as Hawkins and interacted with him a number of times over the years.
"He was a very impressive man who, despite everything that had happened, was still trying to help people," Herman said. "Unfortunately, things didn't quite turn out the way he wanted them to."
When Hawkins died, Herman felt his mistakes were played up more than his legacy. Not content to let him die without honor, Herman launched a campaign to have Hawkins posthumously restored as a member of The Florida Bar. His petition was granted by the Florida Supreme Court, and Hawkins was reinstated on Oct. 20, 1988.
Today, Herman wants the Florida Bar to require that young lawyers be mentored by older lawyers so that others can avoid an untimely ending to their careers. So far that hasn't happened, although there are some programs that aim to provide new attorneys with advice from seasoned ones. Five years before Hawkins' death, the state set up the Virgil Hawkins Fellowships, to be awarded to 20 African American law students each year. The fellowships gave these students a stipend toward their law school education. The state stopped giving out those fellowships after the FAMU College of Law was reopened, however.
Herman is involved in a program called SCOPE (Seek Counsel of Professional Experience), which gives younger attorneys an opportunity to call older attorneys and get advice from them. But he still hopes that the Bar will require law students to spend more time studying the practical aspects of law, such as how to draw up a will. Any changes the Bar makes to its requirements would have to be approved by the Supreme Court.
"Somehow the Court needs to take responsibility for the public and not let attorneys just practice on their clients until they get it right," he said.
Today, the University of Florida has named its law library in Hawkins' honor, and black attorneys have honored his legacy by naming the Florida Chapter of the National Bar Association after him.
"We're carrying his name in part because of his legacy," said chapter President Rachelle Munson. "It's a testimony of courage, determination of perseverance, because there was nothing about that journey that could have been easy."