Vinyl Resurgence
'A record store is like a barber shop for music nerds.'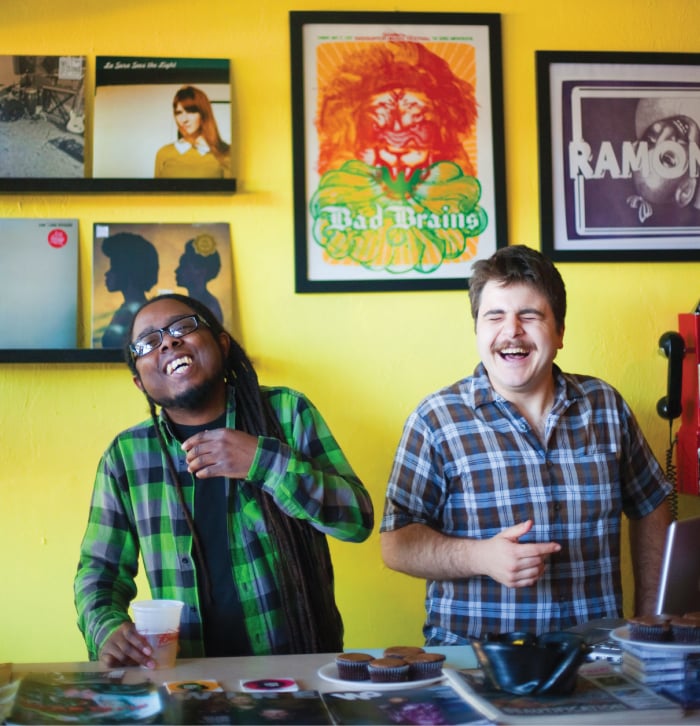 If you were a teen in the '50s or '60s, you probably recall the first record you ever held. Someone may have warned you to be cautious, to hold the record gently by its sides and ease it gently onto the turntable. Then, slowly, you placed the needle down on the edge and started the record up. The sound filling the room before the music even began would be the pops and skips unique to your copy of whatever album you treasured enough to grab off the shelf at the record store.
But nowadays, this experience resonates with more than just baby boomers.
With the closing of Vinyl Fever in 2010, it was typical to see shoulder shrugging and hear comments like, "Well, records are pretty outdated." Not so, say Bradley Ellison and Sharod Bines, owners of RetroFit Records, Tallahassee's newly opened, all-vinyl shop on Gaines Street. Though digital music has been popularized in the music scene, people flock to the store for new and used vinyl treasures. The shop sells record playing equipment, vintage vinyl and — here's a surprise — new artists on vinyl. "I don't think it's old fashioned at all," says Bines. "If you're going to buy a hard copy of anything, you want a vinyl."
While vinyl clearly stands the test of time, other hard copies of music just don't seem to hold up with the same integrity.
"Every time you play a cassette, it demagnetizes, degrading the sound quality over time," says Ellison, "but people still have their vinyls from the '60s." CDs are incredibly sensitive, very easy to scratch or wear out, even when taken care of. "It's hard to imagine still owning CDs 50 years from now, but for people who own vinyl, those records will be there, and playable, for much longer."  Both Ellison and Bines are tightly connected to Tallahassee's music scene. Ellison, 21, is a local DJ who was the music director of Florida State University's student-run radio station, V89, and worked with the station for several years. Meanwhile Bines, 31, has been working to bring musicians to Tallahassee through his personal project, Back to the Garage, for the last three and a half years.
Sharod Bines and business partner Bradley Ellison promise an old-school experience at RetroFit Records, including vinyl records, new and used, as well as music-related conversation. Photo by Shannon Mathis
The young entrepreneurs met in 2009 and hit it off immediately. "Our first conversation was about music," says Bines. "I thought to myself, 'Bradley's a like-minded individual.' We became acquainted … and, over time, there was talk of opening a venue." The two searched for a location for months before happening upon another local business that was closing its doors for good. "Our friend Devon was closing Sick Boy, her vintage clothing shop on Gaines Street," says Ellison. The pair couldn't think of a better location for their store. "If there's an art district in town, we're it," Bines added. The shop opened in August 2011, in the ever-growing art district around Gaines Street and Railroad Avenue. So, who shops at a vinyl store these days? Apparently anyone. "We have people of all ages come in," says Ellison. "Older customers are more inclined to flip through our vintage records and, when you talk to them, you can tell they regret throwing out their collections." The pair occasionally buys old vinyl records, but prefer to sell on consignment, and only albums that are "in a good condition, something worth selling and right for our clientele," Bines says. According to him, many older customers are surprised by the number of new artists still producing vinyl copies of their music. "They thought it went out years ago. I had a customer come in from Atlanta the other day with his wife. We had the Ramones playing, and he just started whistling along as he browsed. Turns out, he used to live in Tallahassee and work in some record shops himself." But it's not just older visitors that flock to the store.
RetroFit is the top location in Tallahassee to get new albums on vinyl. Radiohead, The Shins and Tyler the Creator fly off the shelves as young music lovers stop by to pick up a special copy of an album they're hung up on. "It's a sign of dedication to a band," says Ellison. "Young people want vinyl because it's long lasting, and it's a nicer product than a CD. You can't really appreciate the cover art on something 5 inches tall."
And there's the experience of buying records from a store — much more personal than just clicking "Download."  "Music is conversation," says Bines. Amazon can't tell you who to listen to based on what you already like. "We can, though," says Ellison. "It's a lost art of communication that's so essential to music. A record store is like a barber shop for music nerds." The shop doubles in the evenings as a music venue, showcasing musicians from all over the country, and occasionally European groups as well. "Beyond the business side of the store, it's an obligation. We want to contribute to the culture of our city," says Bines. The pair host affordable and intimate shows, new-release listening parties and the occasional barbecue. "We like to keep our shows cheap and fun for all ages," says Bines. "We're always open to anyone who wants to come in and talk about music with us. Maybe listen to some records, hang out. We like being a part of the community and the culture."
RetroFit Records ► 439 W. Gaines St. Suite B
(850) 597-9046 / retrofitrecs.com  Hours ► Mon–Fri:
11 a.m.–8 p.m. / Sat: noon–8 p.m. / Sun: noon–7 p.m.
Give a Listen
RetroFit co-owner Sharod Bines shares his thoughts on records Tallahassee is — or should be — taking for a spin.
Five Older Records Young People Buy
1.    Rolling Stones, "Exile on Main Street"
2.    The Beatles, "Abbey Road"
3.    Gang Of Four, "Entertainment"
4.    Talking Heads, "Talking Heads 77"
5.    DEVO, "Q: Are We Not Men? A: We Are DEVO!"
Five New Records Older People Should Have
1.    Hanni El Katib, "Will The Guns Come Out"
2.    Madvillain, "Madvillainy Instrumentals"
3.    First Aid Kit, "The Lion's Roar"
4.    J Dilla, "Donuts"
5.    Girls, "Father, Son, Holy Ghost"