Vintage Revival
Michelle Torregrosa curates style from across decades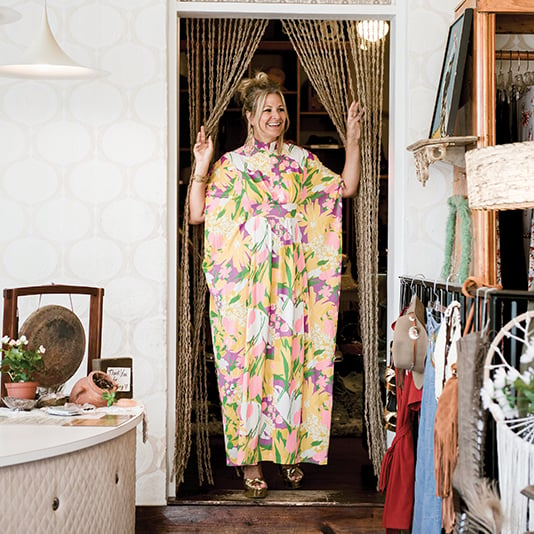 Every time I drove past Divas and Devils House of Style, the eclectic and intriguing window display caught my eye. But instead of hitting the brakes, I allowed my busy schedule to keep me moving onward. I knew, though, that I would visit the store someday — and that when I did go, it would be for a story.
When I finally entered this treasure trove, which overflowed with leather goods, crystals, fringed vests, beaded mini-dresses and silver-plated turquoise, I knew two things: First, I wanted this to be my closet; and second, there were, without a doubt, many stories within this store's walls.
Michelle Torregrosa, the owner, operator, stylist, vintage lover and visionary behind Divas and Devils, beamed at me over a beautiful tulle skirt she was unpacking from a box. She led me past racks of vintage clothing to a plush leather couch. With her sitting opposite me, I was able to appreciate, fully, the 1960s look she channeled that day: a cozy, yet fitted T-shirt with "Love More" emblazoned across the front; a floor-length skirt adorned in a kaleidoscope of colored daises; chunky, wooden platform shoes that peeked out from underneath her skirt; a ring on nearly every finger; and her hair breezily, effortlessly pulled back. Jimmy Hendrix even crooned through the stereo.
As I looked at her and her boutique, I found it hard to believe that she hadn't studied fashion; but her weekends spent treasure hunting through garage sales and vintage stores with her grandmother were enough of an education.
For 21 years, Torregrosa has curated a store unlike any other in Tallahassee. Divas and Devils mingles handmade local pieces with international brands and one-of-a-kind-vintage finds. If you can find it in a mall, you won't find it here. What you will find is a woman who believes in the power that clothing can portray.
"Fashion is art that you wear, and every day you are painting what you feel inside," Torregrosa said. "We are all artists, and artists have no rules. Go with what you are feeling and what feels right." 
Torregrosa certainly does. One day she might be dressed in a vintage rock 'n' roll tee with cut-offs, the next day, a floor length kimono paired with a flapper dress. Her fashion icons include Alexander McQueen, Coco Chanel, Kate Moss, John Galliano, Edie Sedgwick, Florence Welch and Torregrosa's own grandmother. Their influences are present in her adoration of all things feminine, feathered, tasseled, leathered, fringed, rock 'n' roll and vintage.
"I would rather people look at my outfit and be curious about it than no one notice me at all," said Torregrosa. "There have been a few times when I thought, 'Maybe I should change,' but I had to stop myself and think, 'Don't do what everyone else is doing.'"
This is a mantra she instills in the women who have gone through her rigorous internship program, where they are taught that fashion extends beyond trends, that clothing is a form of storytelling and that customers should find more, in her store, than clothing.
"I have a policy that everyone who enters the store has to leave with something," Torregrosa explained. "That doesn't necessarily mean an item. It could be a positive interaction, an experience that made them feel something or a newfound confidence or perspective."
Torregrosa has helped a high school girl with a heart surgery scar find a prom dress that made her insecurities flee. She has encouraged women who come into her store doubting their ability to wear certain items to give them a try. She has gained customers who sometimes come in just to chat. Through a variety of threads, she has woven together stories.
---
These Are a Few of Her Favorite Things