Vintage Contemporary
Jackie Skelding refreshes last century's aesthetic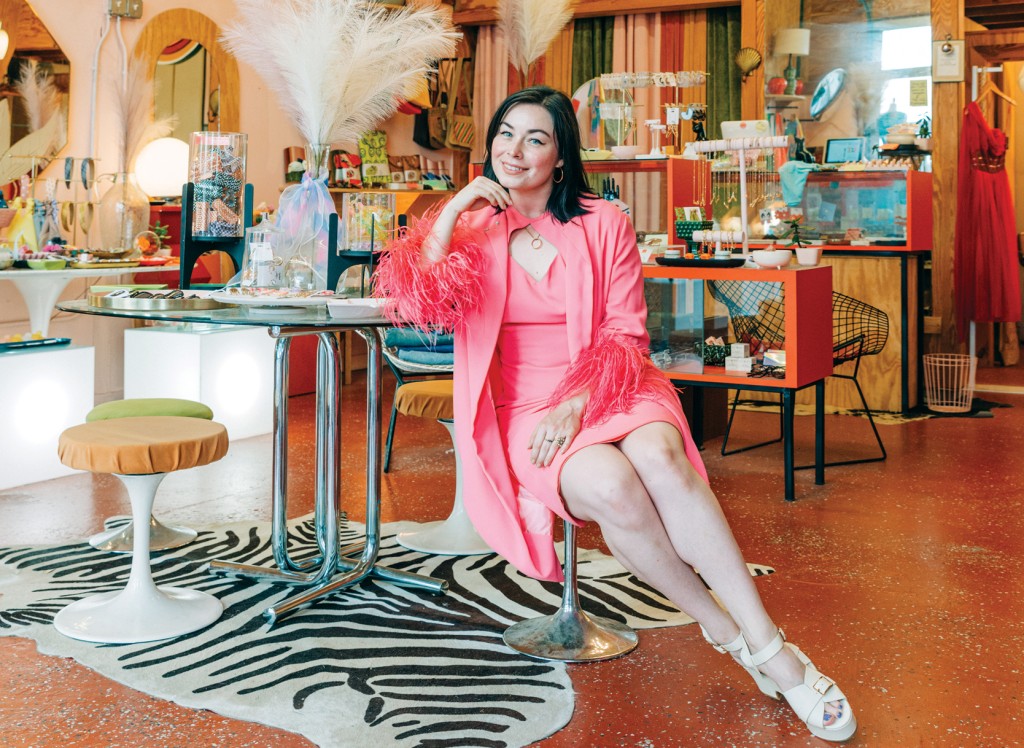 Maybe it's happened to you — that feeling when you walk down a certain street, enter a strange city, maybe even land on foreign soil — that you've been there before, that you know the place. Maybe it's even a feeling of "coming home."
And so it might be for 29-year-old Jackie Skelding, the owner of two Railroad Square Art District stores that specialize in vintage and mid-1900s furniture and clothing. Here, two side-by-side emporiums, Curio and Rare Bird, treat old stuff as lovingly as it was treated on the day it was made. It is where Skelding happily spends her time.
Amid elegant linear sofas, Eames chairs, free-form tables, posh fur coats and jewelry from nearly 60 or 70 years ago, Skelding has chosen pieces she loves for their exceptional design and quality. Ray and Charles Eames, Eero Saarinen, Arne Jacobson are designers she admires, and picturing their furniture in a house by Frank Lloyd Wright would thrill her.
But how did a pretty Tallahassee girl grow up to embrace an aesthetic and abandon plans to become a psychiatrist in favor of becoming a full-time seller of items from a time before she was born?
"I grew up in an old house in Los Robles," Skelding said. "Both of my parents had excellent taste in design, especially my late father, Jack Skelding," a prominent attorney and lobbyist. Skelding remembers trips to New Orleans when her parents would prowl antique shops to select just the right pieces for their home.
During high school and via the internet, Skelding found a moneymaking complement to a budding business-minded imperative. She began selling used items online.
She switched her major at Florida State University from pre-med to Retail Merchandising and Product Development and, as a senior, satisfied an internship requirement at her own business — one she founded with her own money.
"That was Curio. I was 21," Skelding said. "I felt like the Tallahassee market wasn't as developed for vintage and eclectic style as it would grow to be. And I wanted to be there leading it."
Skelding turned Curio into a charming space filled with everything from dresses of the 1960s and '70s to unusual jewelry pieces, and even luxe fur coats of lamb and fox for those special "statement" nights. And even though the pandemic kept everything shut for six months in 2021, Skelding nevertheless went forward in November to open her second store, Rare Bird. Here, below double lofts, brilliantly colored glass vases sit on low cocktail tables and faux zebra and cheetah rugs grace the floors. Cabinets that look like they were lifted from a Mad Men set hold books to be enjoyed from mid-century chairs.
In recent years, the Railroad Square District has blossomed with eateries, more shops, lots of art and a Hyatt Hotel nestled next door.
"Just behind my stores, what is now called Coal Shoot Pond will be developed as a park-like walking space giving access to the shops from both sides," Skelding enthused. She doesn't see herself moving from a location that is becoming a popular Tallahassee weekend venue. Rather, she can see herself developing a larger space for the furniture and design part of her business — in Tallahassee and perhaps Thomasville.
"I love working with designers, decorators and individual owners to create an interior that enhances the structural design of the house," Skelding said. "There are lots of older homes in Tallahassee, pre-war and just after, where the old interiors have been replaced with contemporary pieces. But to redesign them with pieces from their original era both enhances and honors the character of the home."
Skelding often goes on "treasure hunts" to Atlanta, Miami and New Orleans and brings back nothing that resembles "used furniture." Instead, the acquired items look like glamorous museum pieces that smack of both nostalgia and the modernity they brought to their own era.
What about Skelding's own home?
"It's pretty much like what you see here in my store," she laughed. "The house is from the late '40s, and I recycle furniture in and out, always keeping several truly vintage pieces from my grandparents."
The strains of songs by the Four Tops, the Ronettes and Billie Holiday play in the background as two poodles, Coconut and Hazelnut, cavort. It seems that whether in this era or another, Jackie Skelding is at home.