Venture Outside of Your Comfort Zone With These Exotic Holiday Dishes
Go Global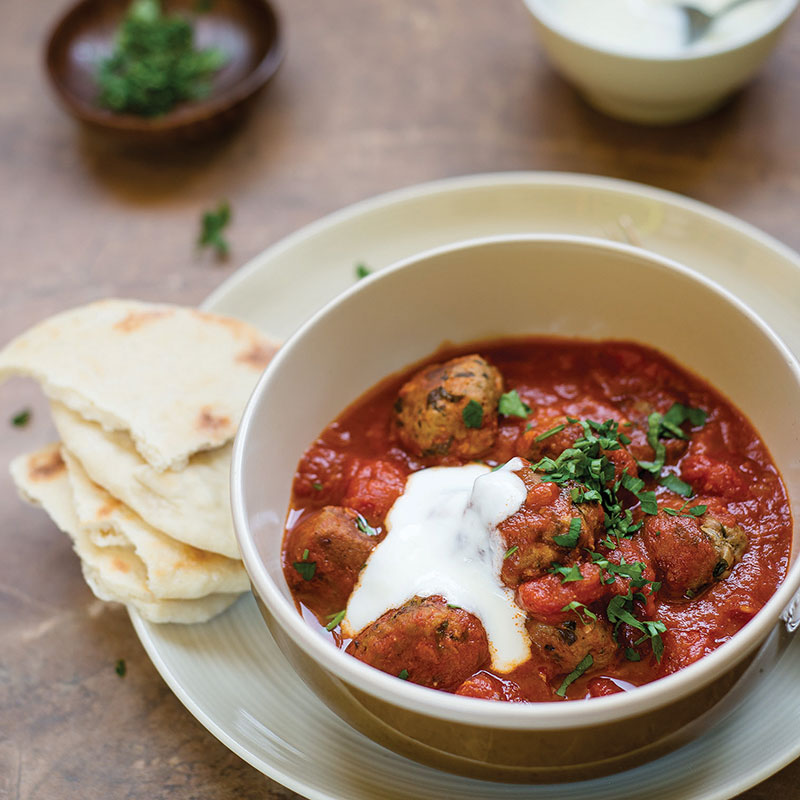 The holiday season is a time to observe family traditions, which frequently include special dishes served at special meals. For Egyptian Christians like the Soliman family, who now live in Tallahassee, Christmas dinner comes after a 40-day fast from dairy products and meat and includes a feast of Fatta, Kofta, Molokhei and Kahk el Eid.
"Fatta is a savory rice dish, mixed with breadcrumbs, meat, and a garlic or garlic-and-tomato sauce," Meray Soliman says. "Kofta is like meatballs, but parsley and other spices are added to the meat, and the balls are elongated. Molokhei leaves are chopped and boiled with broth, then mixed with minced garlic. Kahk el Eid means, 'the feast's cookies.' They are usually dusted with powdered sugar."
A South African Christmas is a summertime affair, and Christmas dinner frequently takes the form of a barbeque, or braai, enjoyed around the pool. "We might have lamb chops, steak and our traditional boerewors, which are South African sausages," says Yolande Badenhorst, who, with her family, has lived in Tallahassee for 15 years. "Also potato, mixed green or carrot salad, some garlic bread and watermelon, and a fabulous trifle for dessert."
An indoor South African Christmas dinner might feature other items: "It's common to have lamb on the spit, roasted potatoes, carrots that are mashed up with potatoes, green beans made the same way, and rice with gravy," Badenhorst says. "For dessert, we'll have some delicious 'Malva pudding' and custard, or the very traditional 'Milktart.'"
Because South Korea is the only East Asian country that recognizes Christmas as a national holiday, Christmas dinner is a little less defined than it is in other, more traditionally Christian countries. The menu for Christmas Day can be fancy, but it can also be something that is eaten on a regular basis.
Christina Chang and her family have lived in Tallahassee for four years. She says, "In Korea, during the Christmas season, it is more likely for families to have traditions about desserts. Most families eat a special Christmas cake, decorated with heavy whipping cream and fruit, that they bought at a bakery."
If a break from your traditional Christmas dinner and the dessert menu sounds a bit too experimental or difficult, consider tackling these delicious appetizers:
---
Australian Prawns with Pistachio Dipping Sauce
In a medium-sized bowl, mix together:
1 slice white bread, crust removed and torn into small pieces (about ¼ cup)

1 ½ cups shelled pistachios

1 teaspoon garlic, minced

½ cup fresh mint, chopped
In a small bowl, mix together:
3 tablespoons plain Greek-style yogurt

¼ cup lemon juice

3 tablespoons olive oil

½ cup water
Directions: Stir wet ingredients into dry ingredients. Refrigerate for at least 1 hour before serving with steamed jumbo prawns.
---
Mexican Buñuelos
In a large bowl, mix together:
4 cups flour

1 teaspoon baking powder

1 teaspoon salt

½ cup sugar
In a small bowl, beat together:
Directions: Slowly stir wet ingredients into dry ingredients. Add 4 tablespoons melted butter; mix well. Knead dough on floured surface until smooth. Divide dough into balls (about 24); fry in hot (375°) oil until golden brown. Drain on paper towels, then roll in a mixture of granulated sugar and cinnamon.
---