Venture into The Creative Minds of Local Artists
Artists Share Their Creative Spaces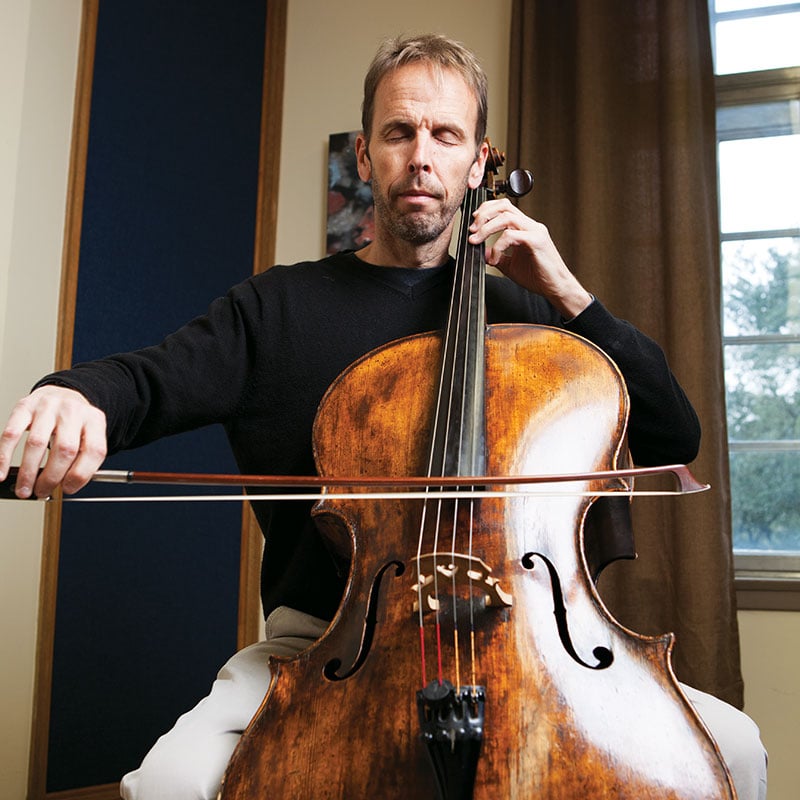 You can often find her at dawn. Or glimpse her from the corner of your eye at a stoplight or a crowded airport. Sometimes she hovers in the reverberation of a quiet room or sings loudly from the pages of a book.
But the Creative Muse, whether of Painting, Words, Dance or Music, is restless. She moves from place to place. She won't be bullied into command performances. And she can't be cajoled into permanent residence. Here, four Tallahassee artists talk about the internal and external spaces they visit to seek her.
Anjali Austin
Dancer/choreographer/associate professor of dance at Florida State University and former Dance Theatre of Harlem soloist, in FSU's empty Black Box Theatre​
Tallahassee Magazine: Spaces mean many things to an artist. Is your creative space primarily physical, or do you "carry it around" to some extent?
AA: I love the Black Box Theatre at FSU … black curtains, floor and ceiling … It is somehow filled with electricity. It gives me no information of its own, but is neutral so that my ideas feel free to roam — no limits, no qualifying. I like to investigate a space; to feel the air between the walls, to touch its floor with my body.
And yet I think my creative spaces are mobile. Pedestrian comments by strangers may spark an idea; the way someone picks up a piece of paper from the floor may begin a whole dance; the accumulated quilts of my grandmother may be the beginning of a kinetic thought.
TM: What else influences the way your dancing is going? What you are reading? The time of day? The music you are listening to?
AA: I like to get up at 4 to 4:30 a.m. I do spiritual reading and journaling then. Thoughts at that time of day seem to form themselves into ideas more easily. I also love being near water, a large lake or the Gulf. But it must be vast; someplace where it seems an infinity of ideas can ebb and flow. For me, that kind of place feels like … freedom.
Greg Sauer
Associate professor of cello at FSU, in his studio with his 1720 Tecchler Italian cello
TM: You chose to be photographed in your office/studio at FSU. Does the Muse come differently to you here in this plain space versus when you are on stage performing?
GS: They're much different. In practicing here in the studio, the Muse is the soul of the composer, channeled through the music on the page. In public, it's partly that, and partly the energy of the audience and the silences that envelop us all. Most of all, the one factor that influences and inspires me are the acoustics of the room. I guess you could say that my "creative space" exists within a "bubble of sound."
TM: Where do you go mentally when you are playing?
GS: When I am playing alone here, I often see movement, something like dance … ribbons of movement. But lots of playing is done with other musicians, and I love seeing their motions and facial expressions. Together we create a kind of physical environment.
TM: What are the most inspiring places you have played?
GS: Possibly the abbey atop Mont St. Michel in Normandy and the beautiful foothills outside Boulder. Yet I've been inspired by some unlikely venues, like a geodesic dome in Utah. Old spaces tend to have tonal qualities that are good for stringed instruments, and nature can encroach on the concert experience in a very wonderful way.
Stuart Riordan
Internationally exhibited painter, in her light-flooded Betton Hills studio
TM: Your second-floor studio is filled with massive panels and canvases of Renaissance-like figures that fall and catapult through space. There is also a library of books on art, philosophy, poetry, history — a dobro, a cello — and a stuffed crow. What goes on up here?
SR: Everything! I've always gotten up at dawn … to see the morning light … to greet the new day. That's when I read … here's Garcia Lorca; a Gandhi biography; T.S. Eliot; Gaia's Hypothesis. Bach is helpful. It's amazing how one little equation from a book on chemistry can pivot the direction of a whole painting.
I spend all day here, photographing models, painting, playing the cello, researching in this quiet space. And yet I carry my "space" around like a big basket which the universe can just toss fragments of life and mystery into. I reach in and pull out a tiny filament and enter it into one of my notebooks. I do research to figure out what meaning it will have. From there, a painting is started and grows and evolves. My paintings are unpredictable … I start with an idea, something from my "peripheral vision," water it with research … and let it sprout.
Jeff VanderMeer
New York Times best-selling novelist, publisher, creator of video games and graphic novels, in Mission San Luis Park
TM: Do you have a routine or regimen you practice that sets up a creative atmosphere?
JV: I've given up "writing fetishes," so to speak … divested myself of special pens, writing desks, cool notebooks. But I do set the stage by waking up early, having breakfast, then starting to write while still not awake. That way I overcome the mindset that critiques each sentence as I write it. I also can't write in red rooms or with a lot of clutter around. No clutter, but always music. I'll often create particular mixes for a scene I'm writing to keep the right mood going. The other important thing for me is to be out in nature … hiking on a regular basis. A good three-quarters of my ideas come when I'm walking in either a wilderness or a public park.
>TM: What else influences the arrival of the Muse?
JV: There is a case to be made for productive melancholy. The weather in Tallahassee is rather glum right now and conjures up images and thoughts that are a little dark. The key is to recognize how environment affects you and channel that into writing. I used to write at Anthony's Restaurant, sitting with my wife on the balcony producing a lot of fiction. There's just something about being in a comfortable darkened space, surrounded by people, but not interacting with them, that is useful to writing.
---
So where is the Muse? Apparently everywhere! She's an early riser, according to these four artists. She is fond of trees and lakes. And she's a bit of a shape-shifter, appearing to some as a dancer, others as a stream of sound, and still others with images that tell a story.
The good news is that Tallahassee is filled with creative spaces … places to imagine and dream … and maybe to meet up with an ephemeral friend.