Up Close with the Dalai Lama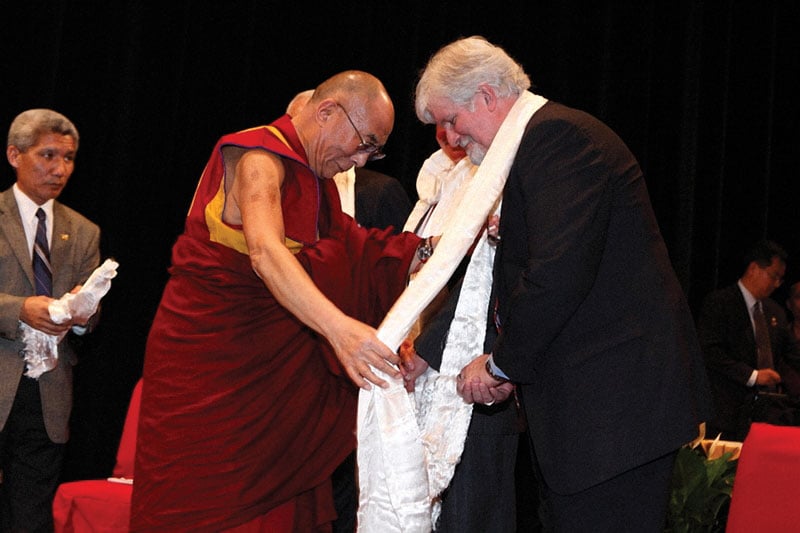 The Last WordUp Close with the Dalai LamaA Lesson in the Power of One, Multiplied
By Ed MooreClick to enlarge
Protocol dictates that one should be reverential when meeting one of the world's foremost spiritual leaders, but the things that struck me most about His Holiness the Dalai Lama during a recent forum were his engaging sense of humor, his sense of self, and his ability to make everyone in the room feel like equals.
The Dalai Lama spoke at three South Florida colleges and universities this past February, and as president of the Independent Colleges & Universities of Florida, I was invited to participate in a forum with him at Broward College in Fort Lauderdale. I was part of a group of educators, including then-Tallahassee Community College President Bill Law, who were invited to sit onstage with the Dalai Lama and ask him questions.
It was a sweet homecoming for me because I graduated from the college back when it was known as Broward Community College.
In observing the Dalai Lama up close, several things were evident. First, he has charisma that just doesn't quit. He also projects an aura of tranquility — and has a tremendous sense of humor. He is a very, very funny man, and I was surprised to discover that he has an infectious, raucous belly laugh. When he starts to laugh, you can't help but laugh along with him.
The theme of the Broward College forum was "The Responsibility of Higher Education in Today's Global Society." I asked the Dalai Lama — who is, above all, a teacher — how we should help students develop a sense of self-worth so they would be receptive to understanding how we are all connected in one world, and how our responsibility for ourselves should blend with societal responsibilities.
He answered, "You start with one and from there you go to 10, then 100, then 1,000, then 16 million, and then you get the whole world focusing on the value of higher education to society."
I was really impressed by the emphasis that the Dalai Lama placed on the value of the individual and the concept of a force multiplier. He said you cannot accomplish as much unless you have a collective of individuals working together to make it happen, using the relief efforts in Haiti as a prime example.
I was also impressed, and moved, by the support the Dalai Lama expressed for our American values of liberty, democracy and freedom. To hear him urge the United States to continue its efforts to spread its values around the globe was music to my ears. I could not agree more.
A highlight of our forum with the Dalai Lama came when he presented each of us with a gift — a white silk shawl called a khata embroidered with the eight auspicious signs in Buddhism, with the whiteness reflecting the purity of heart of the giver. The Dalai Lama is a Buddhist and the leader-in-exile of the Tibetan people, but he is very much attuned to the teachings of all the world's great religions.
When he draped the khata around my neck, he bowed and said a silent prayer, gently clasping my hands in his with his forehead pressed against my hands. The khata symbolizes purity, goodwill, auspiciousness and compassion, all of which went through my mind as I bowed before this extraordinary man and he bowed to me.
I left that day reflecting upon the values expressed by the Dalai Lama. I am certain that everyone present learned a great deal from his talks. His bow to me symbolized exactly how he began his talk the day prior to our meeting. We are all the same, and all are responsible for both ourselves and for each other. I recalled a quote from Albert Einstein: "Only a life lived for others is worth living."