Unplug From the Electronics and Enjoy a Hike at Leon Sinks
Go Outside and Play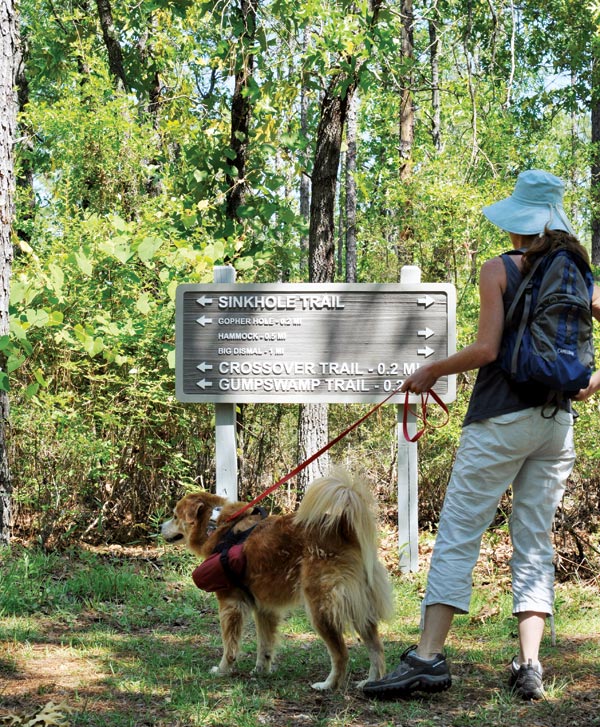 Remember when you were a kid, sitting on the couch on Saturday morning "glued" to the TV? Mom would come in and say, "Turn that off and go outside and play. It's nice out." Reluctant to leave the cartoons, you'd let out a deep sigh, drag yourself off the couch and go get on your bike. Though you hated to admit it, Mom was right. It was nice outside. You probably didn't come back inside until she called you for supper.
It's still nice outside, but today we have even more distractions to keep us from going outside to play. Statistics show the average American spends 90 percent of his or her life indoors. Hard to believe, but if you think about how we live our modern lives, you realize how true it is. We eat, sleep, work and play in climate-controlled environments. Our busy lives and electronic distractions combine to isolate us from the natural world and make it easy to forget we are an integral part of it.
One of the advantages of living in Tallahassee is the abundance and diversity of publicly held lands surrounding us. Many unique and beautiful places are just a short drive from town and can be experienced in a morning or an afternoon.
A good example is the Leon Sinks site on Highway 319 (Crawfordville Highway) about five miles south of town. How many times have you driven past that little brown sign and wondered what was back there? What's back there is a unique and beautiful North Florida wilderness area and a great place to spend a few hours outside.
The Leon Sinks Geological Area is part of the Apalachicola National Forrest. The site contains 4.7 miles of hiking trails that wind through tupelo swamps, mixed hardwood forests and pine/wiregrass sandhills. But the main attraction is the 18 wet and dry sinkholes found along the trails. Sinkholes are formed when rain and groundwater dissolve the limestone bedrock, causing the surface layer to collapse and form a hole or depression in the ground. The limestone bedrock beneath Leon Sinks is part of the 450-square-mile Woodville Karst Plain, which contains numerous sinks, springs and underground cave systems.
When you arrive at the Leon Sinks site you'll find an honor box at the gate for the $3 entrance fee. Restrooms and an information kiosk are located at the trailhead. The trails, which form a circle through the property are for hiking only (no bikes), but dogs are allowed on a leash. The Crossover Trail allows you to choose a shorter hike and still make a circle. The longer route is just over four miles. All trails are well marked with signage and color blazes painted on the trees. While there is some elevation change, overall it is an easy hike.
Going counterclockwise from the trailhead, you will start out on the Gum Swamp Trail. The first sink is the Gopher Hole, named for the gopher tortoise burrows that can be seen on the property. This sink resembles a cave rather than a depression in the ground. Continuing on, the trail goes through three marked tupelo gum swamps. These swamps are dominated by tupelo trees, but there are a few bald cypresses with their buttressed bases and knees. Leaving the swamps behind, the trail starts to rise and the plants change to pines and saw palmettos. Pines dominate at the site, but there are a wide variety of hardwoods, too. Deer tracks are numerous on the trails and, if you are lucky, you might spot the animals.
At the point where all three trails intersect on the west side of the property, there are a series of interconnected geologic features. Fisher Creek flows north to a point where it disappears into a sink, flows under a natural bridge, then re-emerges briefly only to disappear for good at Lost Stream Sink. This spot is definitely one of the highlights of the hike.
From this point, if continuing on the longer route, you will be on the Sinkhole Trail and the topography changes to pine and wiregrass sandhills. As the trail starts to descend, the next feature is Magnolia Sink, surrounded by its namesake trees. Big Dismal Sink has an observation platform that extends out over its dramatic 130-foot depths and its steep, shaded banks support a wide diversity of plant species. Hammock Sink is located near the end of the trail. The water in this sink changes from an incredible clear blue/green to brown at different times.
Leon Sinks is just one of many opportunities for Tallahassee residents to get out and spend some time reconnecting to the natural world.
The Lake Jackson Mounds site on the north side of town has a trail that goes through a very unusual miniature ravine ecosystem. Wakulla Springs has a number of trails in addition to the spring and river. The St. Marks Wildlife Refuge offers miles and miles of trails and an abundance of wildlife to observe.
These are just a few of the state and federal lands available to us, waiting to be explored. Keep in mind when you are visiting that it's not a race to see how quickly you can finish. Slow down and use all of your senses to fully appreciate the experience. Use your eyes to notice the details. Stop and listen to the birds and the wind in the trees and take a deep breath of fresh air. If you are really engaged in the experience, you'll find yourself wondering about the things surrounding you: What kind of bird was that? Why is this water so dark? What kind of plant is that and why does it grow here? When you start asking these questions and seeking the answers, you'll have a greater understanding of, and appreciation for, the environment we're all a part of.
Leave all the electronic distractions behind for a few hours — you can do it. The world will be there when you get back. Go outside and play; you'll be glad you did.
Getting Started
If you're new to natural pursuits, you might have questions and concerns about how to prepare for an enjoyable experience outdoors. The easiest way to get started is to just go out and take a walk. Hiking in North Florida doesn't require mountain climbing skills, you won't have to know how to survive in a snow cave or worry about being eaten by some large predator. Here's some advice on how to make your hike more enjoyable:
There are two common areas of concern when someone is first getting involved in outdoor activities — getting lost and encountering wild animals. While both things should be addressed, they're not something to be overly concerned about.
Most trails in Florida's park system are well-marked and easy to follow. Maps of the trails are available at the ranger stations and sometimes at the trailheads. If you are still unsure, look for guided hikes. Many parks offer ranger-guided hikes and there are more and more private eco-tour guides available for hire. A guided hike not only offers assurance, but also a wealth of knowledge that will enhance your experience. Another thing to consider is a handheld GPS. But your best defense against getting lost is just paying attention to your surroundings.
In spite of our isolated modern lives, many of us still have a deep-seated fear of wild animals. However, the animals to be most concerned with in North Florida are insects, not alligators, bears or even snakes. While there is an abundance of wildlife in the Northwest Florida region, you'll learn that spotting animals is a treat, not a threat. The thing to remember in all wildlife encounters is to view from a distance and don't be stupid. Most wild animals don't want anything to do with humans.
As you spend more time exploring the natural areas you will become more and more comfortable. You may find that you are most interested in birds or wildflowers or trees or even reptiles. You might get involved in cycling or kayaking or photography. Or you might be content with just taking a walk and enjoying the sights, sounds and smells of nature. Now that you have the basics, pick a park and get started
What to Take
Proper Shoes A good pair of shoes is your most important equipment investment. You don't go for a five-mile hike in the woods wearing flip-flops. A good pair of walking shoes will work, but a pair of waterproof hiking boots or shoes is better. It's not unusual to walk through some wet ground. Start out with shorter hikes and work your way up. This will give you — and your new shoes — a chance to get broken in.
Water Bottle Florida is hot and it's easy to get dehydrated. Bring along a bottle of water and sip on it throughout the hike. Be realistic about how much water you will need. You want to have enough, but you probably aren't going to want to carry a gallon of water around.
Insect Repellant Mosquitoes, gnats and biting flies can ruin an outdoor activity. Be prepared by carrying a repellant with you. You will hear all kinds of home remedies for keeping the bugs away like Skin So Soft or rubbing yourself with dryer sheets, but the most effective repellants are the ones that have a high DEET content. This stuff is probably not very good for your health, so don't slather it on before you leave. Bring it with you and use it if bugs become a problem.
Sun Protection The sun can be brutal. Evaluate your exposure and prepare accordingly. If you are going to the beach or out on the water, you'll have a higher exposure than a winter hike in the woods. Sunscreen is a must, and a wide-brimmed hat also helps.

These are the essentials, but there are other things that can heighten your experience, such as a pair of binoculars, a camera, a shell (rain jacket), a guidebook and a GPS. When you have this much stuff, you need a good daypack to carry it in — and then you have to carry the pack.
Don't go out and buy a bunch of gadgets. Start out simple and put your pack together when you decide what you want. Remember, the important thing is to get outside and have a good time.