Unlikely Conservation
Galen Bodner's family home is an aviary rescue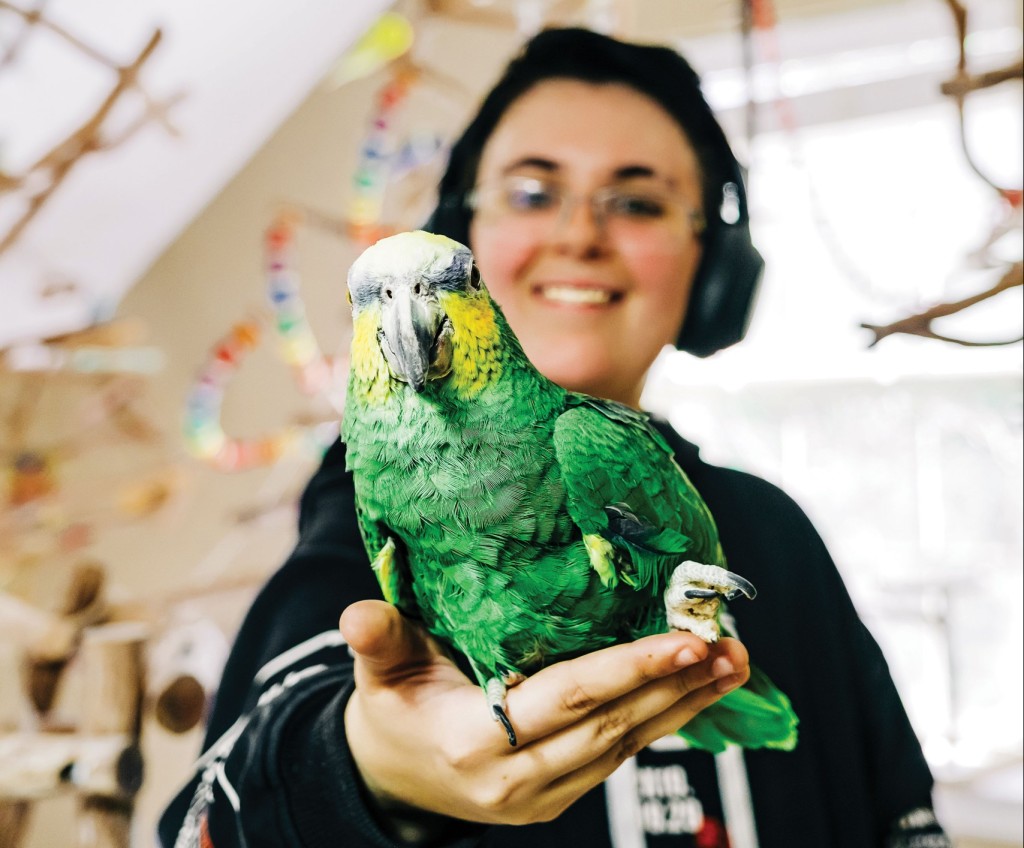 Pulling up to the single-family, two-story home, the oddity that stands out the most to me is its metal roof.
There, in the middle of suburban Tallahassee, few would suspect the ordinary looking home to contain 40 parrots, parakeets and cockatoos. But there they are, living alongside Galen Bodner and his family at what they call Rio's Roost Parrot Rescue.
As the door opens, chirped songs greet guests. A front room, large enough for an extra-long dining table, instead ensconces several bird cages.
Nestled among the furnishings, more feather-friendly dwellings fill the family room, where many of the larger parrots are getting some exercise outside of their cages.
Upstairs, a bedroom is reserved for four cockatiels and 26 smaller budgerigars, which are allowed to roam freely.
But not all of these birds are destined to stay at Rio's Roost. Some are cared for while their owners are out of town for work, and others are fosters who await a forever home.
However they came to be guests at the Roost, they owe their fortune to a children's movie and the dream of the rescue's president, Galen Bodner.
Bodner, 18, is finishing up his senior year at Lincoln High School. He said he fell in love with parrots after watching the animated film, Rio, as a young child. Soon after experiencing the movie, he received his first bird as a pet.
Bodner's aspirations to rescue more of the birds would not be realized until much later. It wasn't until 2019, just before the COVID-19 pandemic, that Bodner was able to form the 501(c)(3) nonprofit and become the rescue center for parrots in the region.
Bodner is comfortable with his avian roommates. He knows each by name and is a fount of knowledge about the birds.
Every bird has a story about how it came to live at Rio's Roost. Some were abandoned by their owners, and others were displaced by Hurricane Michael. Several came to Bodner in disrepair after the unintended abuses of would-be pet owners. The hollow-boned creatures are fragile and injure easily.
"Unlike with dogs and cats, which we've evolved for thousands of years to be in captivity with us, birds are still mostly wild," Bodner said. "For the most part, they make terrible pets, and they require almost as much attention and upkeep as a toddler."
Even a well-intentioned pet lover can cause irreparable damage to the tiny animals. That's where Rio's Roost comes in to help provide a sanctuary for these amazing, intelligent creatures.
"They are far more intelligent than dogs and cats," Bodner said of the birds. The level of care required to keep them entertained, he said, differs greatly from that of mammalian pets.
Bodner is also a painter and artist who enjoys working in the community and volunteering with his parrots. One of his house guests, Jasper, an orange-winged Amazon parrot, is being trained as a therapy animal. Bodner likes to take his well-mannered friend to Tallahassee Memorial Hospital, where he speaks and performs tricks to cheer up the sick.
Though Bodner wishes to continue conservation efforts for the foreseeable future, his true passion lies in medicine. After finishing high school, Bodner hopes to go south for college and study pre-med at the University of Florida, where he plans to begin the long journey of becoming a pediatric cardiothoracic surgeon.
While he is away, the nonprofit parrot rescue will be left in the care of his mother, Jill Bodner. Galen attributes the success of Rio's Roost to her financial and emotional support and said she shares with him a great fondness for the creatures.
The change in leadership will be temporary, lasting only as long as it takes Bodner to complete his studies.
The enormity of juggling a medical practice with conservation is not lost on him, and Bodner acknowledges he cannot do so alone. After building out his practice, he plans to hire people to do much of the day-to-day work of caring for the birds.
For Bodner, protecting these animals is a lifelong pursuit.
"I want to eventually use the money I get when I'm older to build aviaries on my future property," said Bodner. "I want to have a permanent sanctuary space for parrots in need, and inside, I'll care for those who have special needs."
---
Free as a Bird
Birds aren't built for confinement. Let them fly free for long periods of time every day, spending as much time out of the cage as possible, advises PETA. Convert your balcony or porch into an aviary, or build a good-weather aviary in your backyard if possible. Or provide a bird-proof room or rooms, with no ceiling fans or other bird hazards. Include a bird "gym" or nonpoisonous tree branches (such as dogwood, apple or elm) for exercise. Large "flight cages" can allow birds to exercise when you can't be there to supervise them. Provide numerous bird-safe toys for chewing, playing and intellectual stimulation including clean, nonpoisonous wood.