United Way of the Big Bend Combats COVID
UWBB donates dollars to those impacted by COVID-19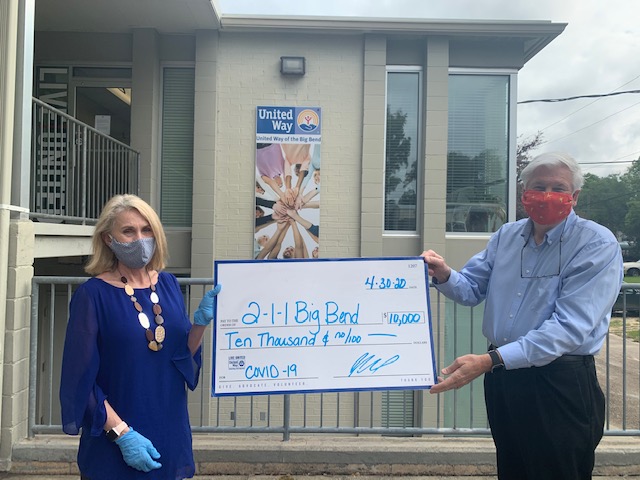 With a vision of addressing the community's most vital concerns, The United Way of the Big Bend recognized that community members were being deeply impacted by COVID-19. To combat the negative effects, United Way of the Big Bend distributed $120,000 from the UWBB Coronavirus Relief Fund to help families, children and elderly in the Big Bend region. 
The funding was donated from two business partners, Florida Blue and Truist Financial Corporation, as well as donations from individuals throughout the community. The funds were distributed quickly to funded program partners providing essential assistance to those in need.
UWBB always prioritizes programs that address hunger for children, families and seniors. During the COVID-19 crisis, these needs have expanded to include shelters, services for the homeless and emergency support, including 211 Big Bend rental and utility payments. 
"COVID-19 has created increased need in our Big Bend region, and it will be a long-term recovery for our neighbors living in poverty and at the edge of poverty," said Berneice Cox, president and CEO of United Way of the Big Bend. "We know that life after a national pandemic will return to a new normal, but the effects will be felt for some time."
According to Cox, prior to the pandemic, 54% of the Big Bend Region was either living in poverty or living paycheck to paycheck. With the loss of jobs and income, these numbers are growing every day.
Because the UWBB is an essential service, they have been able to remain open and active. There is a combination of the team working remotely and in the office, continuing with their usual work of providing service and support to their funded program partners. 
Throughout this time, UWBB surveyed their program partners and asked what they needed most urgently during COVID-19. In addition to the donated funds, they delivered food to children, teens and the elderly; delivered infant supplies, formula, diapers and wipes; and delivered supplies for seniors. 
These additional services were in addition to services always provided by the UWBB — including funding the outcome areas of housing including shelters for the homeless, children and families; early learning including teens; providing for children, families and seniors experiencing hunger; companion and wellness checks for seniors; funding for 211 Big Bend for emergency support; and funding for Getting Ahead programs. 
"For 78 years, our United Way of the Big Bend has been a trusted leader in human services in the Big Bend region," said Cox. "We are needed now more than ever, and our UWBB needs the community's support now more than ever. We have always been there when there is need, and we plan to always be there."
To learn more and donate to the COVID-19 Emergency Relief Fund, visit uwbb.org.