United in Faith
Students From Across Denominations Join Together to Learn at the Center for Biblical Studies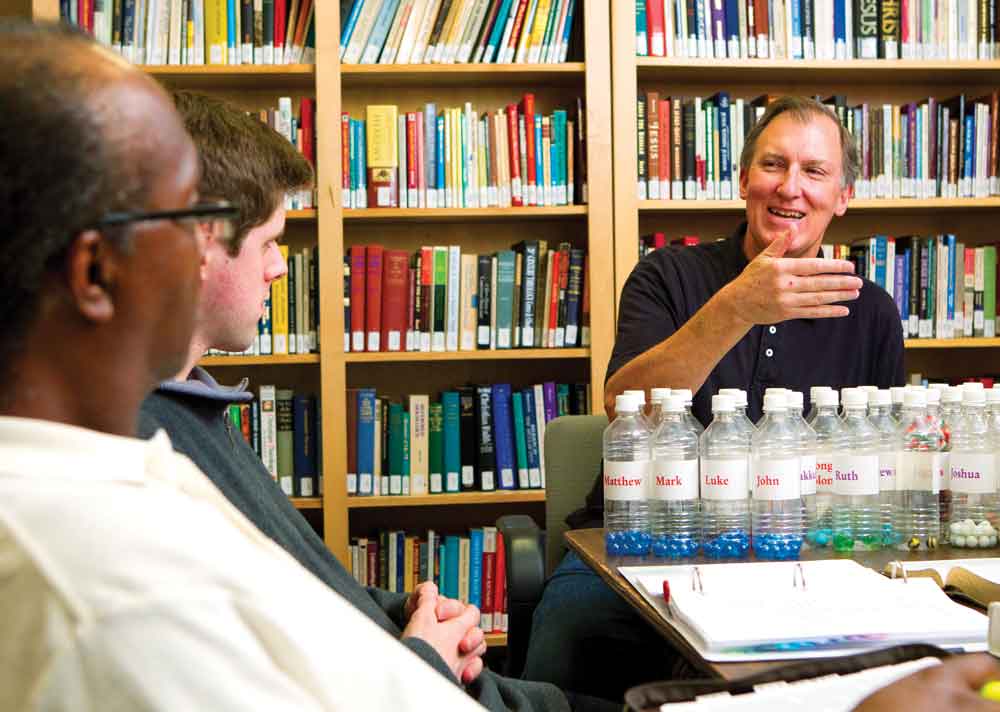 What would you do if time and money were not an issue?
The question that started out as a party game in 1988 has evolved into Tallahassee's Center for Biblical Studies, which has provided religious education to more than 4,000 people representing more than 715 congregations over the past 21 years.
"We began to talk … about what color is your parachute (and) what would you do if money were no object," recalled Joanne Arnett, who has been with the Center from its inception and now serves as president and director. At that time, several partygoers talked about creating a place that would fill the knowledge gap between the Sunday school hour and theologically trained pastors and priests.
"We met for a year just once a week and prayed and talked and felt that we were to start a school," said Arnett. Then, organizers canvassed more than 400 pastors, priests and others with an interest in Bible education. "We went to (churches) large and small, black and white, Protestant and Catholic," she said. "When we went to the pastors, we did not ask for funding. We asked them if they saw a need for a place like this. We asked them to give us correction if they saw problems, and we asked them for the best teachers in their denomination."
In the beginning, the grassroots organization began holding classes in a Shoney's restaurant and in church conference rooms. Its latest home is tucked into the corner of a strip shopping center on Northwest Capital Circle near Home Depot and includes classrooms, offices, a bookstore and the largest theological library in the city. In 1995, the Center was honored as the Non-Profit Service Business of the Year by the Tallahassee Area Chamber of Commerce.
From the start, the teachings have been cross-denominational, not following any particular belief system.
"There's no litmus test; you don't have to believe anything to come here. We don't push in any direction, we just present what scripture has to say …. We are Christian, so we focus on Jesus," Arnett said. "We have had Jewish instructors; they teach on the Old Testament. We have had unbelievers who come (to classes). They are just as welcome …. There's a lot of joy here and a lot of freedom here."
The Center is a Bible college, offering accredited programs leading to bachelor's degrees and master's degrees onsite and online. Although all classes are taught at the college level, the vast majority of students over the years have not necessarily been seeking a diploma. "If you're going for a bachelor's or master's degree, you have tests and homework and its (rigor is) comparable to FSU," Arnett said. "Most people who come, they have jobs, they're active in their churches, they care about their families. So sometimes one course is pretty much it." The bulk of students are from Tallahassee, but some come from other Panhandle counties, as well as South Georgia.
Classes can be used for continuing education credits for teachers, counselors and other professions, as a training ground for church leaders or just for personal growth. A popular choice, said Arnett, are classes that look into how the Bible is relevant to particular interest groups, such as businesspeople or government leaders.
"The Bible says more about money than it says about heaven, hell and prayer all together, which was a shock to me," she said.
Because many students work, classes are usually offered in 2 1/2-hour sessions one night a week for a series of five to 15 weeks. Prices vary, depending on the length of the series and whether the class is being taken for credit. But prices for a five-week summer class on "How to Memorize Scripture" start at $49. Topics such as "Acts in a Nutshell" or "Oils of the Bible" are covered in single, eight-hour Saturday sessions that usually cost $25.
The Center has only one fulltime faculty member, David Hull. One wall of the facility has shelves with white boxes — one for each book and gospel of the Bible — that are filled with fabrics, writings and other artifacts he uses as visual aids for his students.
A strength of the Center, said Arnett, is the variety and the quality of its instructors, including ordained church leaders and doctorate degree holders.
"They come from a variety of backgrounds. To teach here, they need to be more than academic, they need to care about their students and be able to work across denominational lines and have a love for what they're teaching," she explained.
"We have a man that lives and breathes church history …. We have another person who loves theology. He can boil it down, he makes it simple." Another teaches on world view and how to understand other cultures.
When asked how the Center is funded, Arnett looked heavenward and replied, "We're always like this." Tuition helps pay the bills although "we've never turned anybody down for lack of money … and then we have people who are called Friends of the Center who support us," she said. "We've lived on the edge for 21 years."
Dr. Bob Schuchts, a former instructor who taught courses such as "Love, Sex and Marriage" and "Experiencing the Father's embrace" for 19 years, said Arnett's efforts have been tireless. "She has been a pioneer in bringing unity to the church in Tallahassee and has worked tirelessly to build relationships across all the races and denominations. She has given me great freedom to teach as the Spirit leads me."
Retired Navy Commander Kay Campbell-Williams, who is working on her second master's degree at the Center and teaches Saturday "nutshell" courses, said, "This is the place where you meet the true church. You have ethnic groups, cultures and denominations that are all united in Christ."
Curious about the Center for Biblical Studies?
You are invited to take your first seminar for free. For more information, contact the center at:
1560 Capital Circle N.W., Suite 6
(850) 513-1000
centerforbiblicalstudies.org
facebook.com/centerforbiblicalstudies
twitter.com/knowtheword