Union of Contrasting Perspectives
Artist Dean Gioia and autism specialist Amy Wetherby discuss work and marriage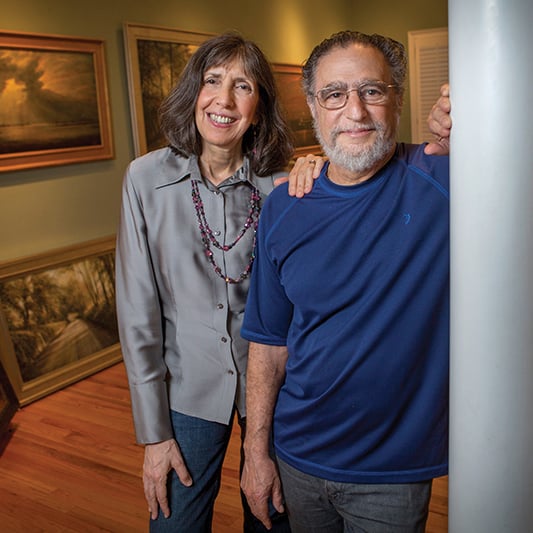 Peaceful: It's a word that describes libraries, museums, churches and art galleries — and the Gioia-Wetherby home, which just so happens to be artist Dean Gioia's art gallery. It's also the location in which I interview Dean and his wife, Dr. Amy Wetherby, about their relationship.
Dean and Amy have been married for 20 years — long enough that after they invite me to sit down, they sit across from me on opposite ends of a couch. Unlike some married couples, Dean and Amy don't feel the pressure to cuddle up in order to prove how well matched they are as a couple. They've both been married once before, which means they know who they are and what they want and need out of a relationship.
"We are very different people," Amy says, "but we are both dedicated to our work."
"We have two different brains," Dean adds. "Amy's is quite literal —"
"I might take offense at that word," Amy teases.
"Linear, then," Dean amends, eliciting a nod of approval from Amy. "And my brain is all about feeling, seeing, emotion."
"We have different ways of seeing the world," Amy explains, "and completely opposite demands on our time."
Amy is the director of the Florida State University Autism Institute in Tallahassee. As such, she is involved in autism research as well as numerous projects that were developed to inform the public about autism, its early signs and its treatment.
"Treatment of autism begins with knowing what autism looks like," she says. Her passion for the subject — and her skill in working with the public and in the autism community — is obvious, especially to her husband, who was quick to mention his wife's ground-breaking work the first time he and I met.
Unlike Amy, who spends a significant portion of her time away from the Gioia-Wetherby residence, Dean spends his days painting in his downstairs studio, which is an organized jumble of canvases — blank and in-process — photographs, frames and, of course, paint galore. Working at home allows Dean to spend time doing something else that he enjoys: cooking.
"Amy thought she was a vegetarian until she met me," Dean says.
"I was!" Amy replies.
Dean describes a steak he made for one of their first dinners together and explains that when Amy tasted it, she immediately gave up her herbivorous ways — and any cooking she may have had delusions of doing — to Dean.
"I'm good at doing the dishes," Amy says.
She has also gotten really good at traveling, which is something she has to do often with her work. Dean has accompanied his wife to London and other foreign locales, but he prefers to stay home.
SPRING OPEN HOUSE
3739 Bobbin Brook Way
Tallahassee, FL 32312
850-422-1470
Deangioia1@gmail.com
Sunday, May 7th
Noon until 5pm
RSVP
Substantial discounts available in the "Bargain Basement"
Dean also enjoys walking the dogs twice a day and cycling around the neighborhood. He's an active individual as well as a fan of watching college and professional sports — something he and Amy's son have bonded over.
"When Dean and I got married, I already had two young kids," Amy says. "My son was born premature and with mild cerebral palsy. He got picked on a lot at school, so he learned how to diffuse tension. He has a great personality and is really well-liked."
Becoming a father was an utterly new experience for Dean. "I wouldn't say that it was a quick education," he says. "It was brutal. I'd lived alone for so long, and I was used to doing things a certain way."
"I think we've both had to make some changes," Amy says. "Our inner cores were established, and those haven't changed; but we've influenced each other in very positive ways. I've met artists and musicians whom I wouldn't have otherwise met; he's met people in the autism field that he wouldn't have met without being married to me.
"Our missions are to touch people," Amy continues. "He does it through his art; I do it through my autism work. That's what's important to us — touching peoples' lives."
To see a full array of Dean's work, visit his website at deangioia.com. To learn more about Amy's work, visit the FSU Autism Institute website at fsucard.com.