Ugly Dead Things
Road Kill Takes a Toll on Species Large and Small — And Why You Should Care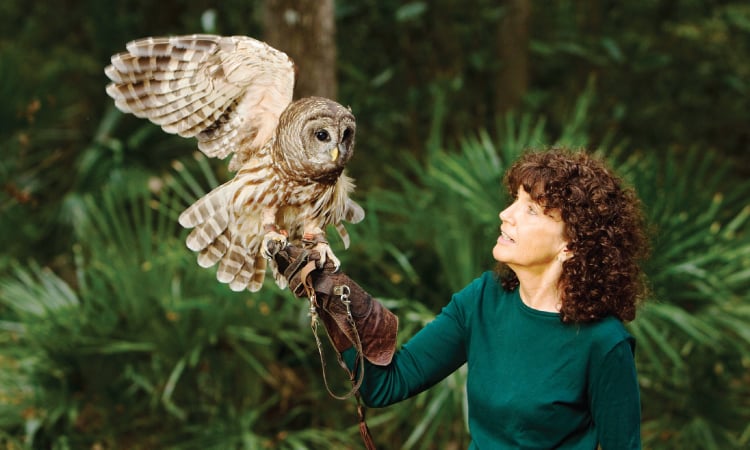 Why did the chicken cross the road? To show the 'possum how it's done.
Road kill jokes are a staple of dark humor in our culture. In reality, it's not very funny. Especially when you consider the carnage that happens daily on our roads, streets and highways. In Florida, highway mortality is worthy of concern in a state with many threatened species. For example, the estimated population of Florida panthers is between 80 and 100. But 15 of those rare and beautiful cats were killed by vehicles in 2007.
In general, road kill is a phenomenon that has caught the attention of biologists all over the United States, and numerous reports and papers have been written about the ongoing clash between human transportation corridors and animal movement.
"One of the things we learn is that, in general, roadways across the U.S. have a tremendous negative impact on wildlife populations from very small animals like frogs and salamanders all the way up to large carnivores like bears and panthers," said Matthew Aresco, a wildlife biologist, director of Nokuse Plantation in Walton County and prime mover for the much-maligned Lake Jackson Ecopassage. "Bears are starting to show up in Leon County, but in Wakulla County and Jefferson County and the Apalachicola National Forest, that whole area has a lot of bears and quite a few get killed around Eglin Air Force Base."
Road mortality is one of the most insidious impacts on wildlife the world over because its population consequences are largely hidden, said Dr. D. Bruce Means, an adjunct professor of biological science at Florida State University and president and executive director of the Coastal Plains Institute and Land Conservancy.
"One animal here, another there seen dead on the road do not give a proper impression of the entire impact on animals. Besides reducing numbers, highway(s) also have a strong impact on animal behavior, making especially small animals loath to cross the open, often hot, coverless concrete or asphalt," he explained. "Four-lane (and greater) interstate highways are the worst of all. Probably the most devastating impact of roads is habitat shrinkage. As more roads are built, habitats shrink to sizes so small that the habitat fragments cannot support viable animal populations."
Road kill and loss of habitat may have contributed to the disappearance of at least one important snake species. When Means came to Tallahassee in 1961, the harmless and beautiful eastern indigo snake was a not uncommon sight in this area. He said he gathered several records of them along State Road 20 to the Ochlocknee River, off Tram Road east to Wacissa and elsewhere in North Florida.
"I witnessed the decline and last days of the Eastern indigo snake in the eastern Panhandle," he wrote in "Between Two Rivers: Stories From the Red Hills to the Gulf." "In the early 1960s I recovered a couple of road kills on the Blountstown Highway in the vicinity of Fort Braden School. About 1968 a big black beauty was brought in to me from just west of Wacissa. The last one I personally witnessed was with a wetlands ecology class in 1985."
Now, they are practically unheard of in this neck of the woods. Means has heard of no verifiable sightings around Tallahassee for at least two decades.
"This large snake has a huge home range so that the habitat in prime condition necessary to support a viable breeding population of 50 or more adults is nonexistent today. Over the years I have witnessed the decline of many other local species such as salamanders, snakes and frogs," Means said. "I know from road kills I have seen that highway mortality has been abundant, but without a lengthy field study I cannot say if road mortality is the prime cause of their decline … but I suspect that it is substantial."
Searching for Snacks and Nests
In some cases, an animal is probably just trying to cross the road. But some are attracted there because motorists like to toss food garbage out the window as they roll down the highway. Sandy Beck, education director for Tallahassee's St. Francis Wildlife Association, said it's this kind of behavior that attracts animals onto the road to begin with. That's another lesson road kill teaches us.
"We figured out quite a while ago what draws a lot of predators and prey to the road, and that is people throw a lot of food out their car windows, from chewing gum to French fries," Beck said. "It makes a lot of little animals come out into the road. mice, 'possums and all kinds of animals nibble on what we throw out."
Beck said raptors like hawks and owls have altered their hunting styles to take advantage of man's highways, which is dangerous for them as well as their prey. These birds are often seen strategically perched nearby, scanning the short grass on the side of the road for signs of small animals living in the grass below. When they spot something and swoop in to make a kill, they sometimes wind up getting hit by passing cars.
"Their mothers never taught them to look both ways before crossing the street," she said. "When an owl or hawk sees an animal on the side of the road, they are so focused on that animal they're not watching out for cars, and they're going to die if a car is coming at the same time."
Aresco agrees with Beck about the problem of food being thrown out windows. But he also said animals become "trapped" on the side of road when they make a nest in a nice, grassy right-of-way. In scientific terms, he said, a road is an ecological trap for animals.
MAKING TRACKS Although commonly known as the "turtle tunnel," one can see the tracks left by several animal species in the Lake Jackson Ecopassage, which runs under U.S. Highway 27 at Lake Jackson. Photo by Scott Holstein
"For various reasons, either the construction of the roadway or the conditions actually attract different species to the roadway and then they are killed. You have animals scavenging food along the roadway, and (roadways) are perfect for a turtle to lay eggs because they're open and sunny with sandy or sandy clay soil on the edge," Aresco said. "They see an area of open grass and it's perfect for egg incubation, and of course they get killed in the process."
They get killed because the female turtles wander around the roadside looking for just the right spot to put their eggs, Aresco said. With single-minded intensity they will dig many test holes and inadvertently wind up on the road itself.
"That's why you'll see females dead on the highway between the months of April through July," he said. "That's their nesting season. And if they are successful in putting the nest in the ground, in the springtime or fall you'll see dead hatchling turtles because they'll wind up in the road as well. Over the years I've found hundreds of hatchling turtles crushed on the highway."
While motorists can't do anything about where roads are constructed, Beck simply says they shouldn't toss their trash and they should keep a garbage bag handy for the banana peels and apple cores. And if they see an animal in distress on the side of the road and attempt to rescue it, use caution.
"If you see an animal and it's alive, then you need to call St. Francis Wildlife, and if you can move it off the road that is a good thing for the animal," she said. "Cars will try to avoid it and that will cause an accident, and predators will come to scavenge it. If there is an owl, hawk or eagle, you don't want to just pick them up. Use gloves or a blanket or a thick towel to drop over them."
St. Francis cared for 1,300 wild birds, mammals and reptiles during the first half of 2011. Of those, 182 had been hit by a car. Most injuries are attributed to cars, attacks by domestic cats are the second most encountered problem, followed by disturbed or destroyed nests.
Deadly Divisions and Safe Passages
Unfortunately, when it comes to road kill, the name Lake Jackson sends a palpatation through the heart of biologists and environmentalists. That is, until recently. For many years, thousands of animals of many different species were killed trying to cross a particular three-quarter mile stretch of U.S. Highway 27 that separates the big lake from Little Lake Jackson.
Aresco started monitoring and collecting data on the U.S. 27 road kills back in February 2000 as a graduate student at Florida State University. In 2002, serious work began to lay the groundwork for a permanent solution to the problem — a long guide wall with special culverts designed to allow animals to pass back and forth. Construction of the $2.5 million Lake Jackson Ecopassage was completed in 2010 and Aresco said it has made a huge difference already.
"I monitored it over the last several months and it's working exactly as it was intended," he said. "Animals are using it back and forth (through) the culverts, and they're staying behind the barrier wall. They're not being killed on the highway.
I haven't seen any mortality in the area, which is quite a difference to the situation we had prior to the construction."
For the local denizens of the swamp and lake, the highway was previously all-but-impossible to cross because 24,000 vehicles fly by every day. Animal migration is high in this particular spot because the big lake is prone to periodic dry downs, which force them to seek higher water in Little Lake Jackson.
From 2000 to 2008, 11,270 reptiles and amphibians from 61 different species were recorded either trying to make the crossing or found dead. Slow-moving turtles are especially vulnerable. According to the Lake Jackson Ecopassage Alliance, 2,710 turtles attempt the crossing every year, perhaps the highest number recorded worldwide.
Aresco said collecting data is difficult to do on a large scale, but hotspots like the mile-long stretch of fill bisecting the two lakes have provided reams of information over the last 10 years. But it's not just this one area that is "special," he said. High road kill numbers can be found anywhere a road was planned poorly and placed in the wrong location.
"If they had built a bridge there, it wouldn't have been such a problem but instead they filled in with dredge material and put the four-lane right through it," Aresco said, regarding U.S. 27's particular flaw.
The Ecopassage has been a perennial whipping boy for columnists, bloggers and letter-to-the-editor writers who hold the project up as Exhibit A in the wasteful spending of federal stimulus money. But Aresco is unapologetic, saying it's only appropriate that a problem caused by a federal highway should be solved with federal money.
"It was a significant environmental problem dating back to the 1960s when the highway was built across Lake Jackson, resulting in thousands and thousands of animals being killed over the years because the highway was built across the lake," he said. "Just in the six-year period that I studied it, over 12,000 animals attempted to cross that 1-mile stretch of highway. They died, or I was able to save them as they attempted to cross. So, because of poor transportation planning decades ago, thousands of different animals were killed over the years. And it also poses a significant traffic safety hazard," Aresco added. "So the critics can say what they like about how federal money is spent, but this project was a real bargain because of the benefits to wildlife and to motorist safety."
The plight of Lake Jackson's animals has gained some degree of notice worldwide. A 2009 article in the British newspaper The Guardian asks, "Is road kill a viable meat source?"
"The first rule of sustainability is that humanity should use abundance, and there is sadly an abundance of road kill; at one famed US junction (Highway 27 at Lake Jackson near Tallahassee) a turtle has a 98.86 percent chance of being squished," wrote columnist Lucy Siegle, who notes that the United Kingdom has its own road kill woes. "On our roads the People's Trust for Endangered Species estimates that 1-2 percent of the national population of hedgehogs, around 15,000, is killed on roads each year."
Make no mistake, though, dead animals are found along every highway and byway, not just along Lake Jackson's shores. Perhaps the most common ones encountered are dogs, deer, opossums and armadillos, according to Ian Satter, spokesman for District 3 of the Florida Department of Transportation.
Dogs and deer may be the most frequent, but that's only Satter's guess; the state does not keep data. "As for the disposal of the carcass: If it is in a rural area without a residence nearby we may drag the animal into the woods for natural decomposition. If the carcass is located within an urban area we will bury the animal in one of our local pits."
For many years the DOT has tried to mitigate road kill in several ways, including environmental education, motorist education, reduced speed limit signs in certain areas and the construction of animal crossings. The first crossings were built along State Road 46-A in Central Florida back in the 1950s. These took the form of large box culverts designed for the Florida black bear since vehicle-related deaths are the primary killer for these bears, according to the Florida Fish and Wildlife Conservation Commission. Wildlife crossings were also built along South Florida's Alligator Alley.
Aresco said that countless smaller species are the "invisible" victims of collisions. He recalled counting more than 4,000 dead green tree frogs on U.S. 27 just south of Lake Jackson. They were attracted to the road because a nearby storm water swale had filled up.
"Although they are not often seen as road kill because they're so small, amphibians, snakes and turtles probably (account for) the highest number of road kills," he said. "You see the larger animals because they're the most visible."
Impact on Humans
Unfortunately, humans aren't immune to becoming road kill, or from being injured in wildlife-vehicle collisions. This is especially true if the accident involves a large enough animal like a deer, or even an alligator.
"Large alligators pose a significant traffic safety hazard," Aresco said. "They can weigh hundreds of pounds and they're low to the ground, and they move at night, mostly. Even large turtles can pose a risk. People see something large in the road and it could be a truck tire, rock or turtle, and the instinct is to swerve and not hit it and that can cause problems."
According to the Defenders of Wildlife, collisions causing human deaths rose 67 percent from 1994 to 2006. There are 725,000 to 1.5 million wildlife-vehicle collisions in the U.S. every year. Two hundred people are killed and 29,000 are injured on roads across the United States each year, and collisions cause $1 billion in property damage. Two percent of deer-car collisions, and 85 percent of deer-motorcycle collisions, result in a human death.
To raise more awareness of this problem, governors have proclaimed the third week in September as "Watch Out for Wildlife Week." To date 21 governors, including Gov. Rick Scott of Florida, have signed proclamations marking this occasion, according to Trisha White, director of the Habitats and Highways program at Defenders of Wildlife.
"People need to realize that wildlife-vehicle collisions can put a major dent in their wallets as well as their fenders," White said. "There is a wildlife-vehicle collision every 26 seconds in this country, with each costing the consumer an average of $7,000. The economic toll is staggering, to say nothing of the toll it takes on wildlife. But there are solutions to reduce this damage. From innovative overpasses to adjusted speed zones, highway and wildlife agencies are working to make safe passages for animals. Drivers have the responsibility to do their part as well, by watching out for wildlife when behind the wheel."
Gov. Scott's proclamation states in part that the "success of wildlife movement and survival in Florida remains dependent upon continued public education and increased understanding of the essential role migration corridors play in wildlife movement."
Indeed, maintaining the integrity of those corridors is the main goal of an organization called The Florida Wildlife Corridor, a collaborative group of national and statewide conservation interests dedicated to connecting remaining natural lands, waters, working farms and ranches all the way from Jacksonville down to the Everglades.
In January, wildlife photographers and conservationists are expected to pack their gear for a 1,000-mile, 100-day expedition from the Okefenokee National Forest in southern Georgia down to the Everglades National Park in an effort to generate support for this work.
Cleaning It All Up
Road kill doesn't just go away on its own over time. It gets picked up by city or county work crews.
Reginald Ofuani, general manager of Tallahassee Solid Waste Services, said the city sends crews out to clean up road kill within the city limits.
"Picking up and disposing road kill has been one of those services we provide for the health and safety of the people,"
Ofuani said.
On the county level, the task of dead animal removal from roadways is usually handled by one of two work program crews/litter crews fielded by Leon County Public Works, according to Dale Walker, director.
"The primary responsibility of these crews is litter control with dead animal removal being a secondary responsibility. In the event of large animals (such as) livestock, the task falls to one of our other crews using heavy equipment," Walker said.
The More You Know
Just in case you're tempted to turn a road kill into a "hunting" trophy, there are some rules.
According to myflorida.com, the online information portal, you have to get a permit if you want to have a taxidermist mount an animal or bird (other than specimens of game birds, game mammals, fox squirrel, otter, fox, bobcat or mink) that was found as road kill.
Even then, some species can't be used for private display. Hawks, owls and all songbirds are protected by federal laws and classified as "protected migratory birds." No citizen is eligible for a permit to mount these birds for private display.
Illustration by Saige Roberts
Other prohibitions and rules for evaluation and issuance of permits for mounting wildlife are specified in the Florida Fish and Wildlife Conservation Commission Rule 68A-12.004, Florida Administrative Code. You can look up the rule at: flrules.org/default.asp. Requests for permits must be submitted by letter to the Florida Fish and Wildlife Conservation Commission, Division of Law Enforcement, 620 S. Meridian St., Tallahassee FL 32399-1600. Non-profit educational or other institutions should use official letterhead when submitting a request.
If you believe the animal is a state or federally protected species, such as a bear or panther, report it to the Florida Fish and Wildlife Conservation Commission. A listing of the commission's regional offices is on its website at: myfwc.com/contact/staff-contacts/regional-offices.
Kind-hearted motorists who want to help injured animals found along the road should contact the St. Francis Wildlife Association at (850) 627-4151 or go to stfranciswildlife.org
for more information.