Two Tallahassee Women Defy the Odds of The Publishing Industry
Ladies to Published Writers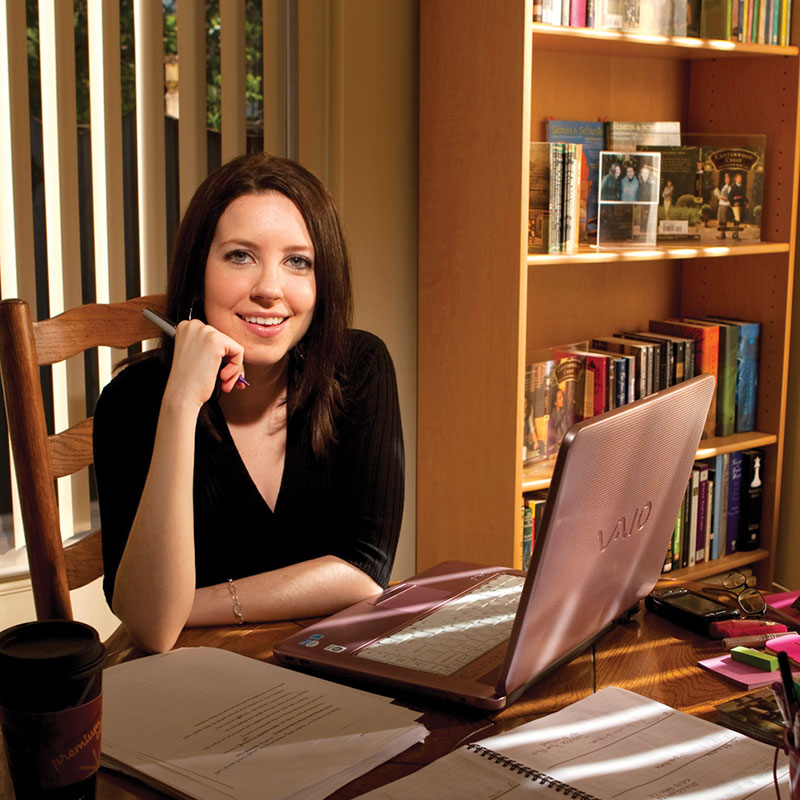 I want to write a book."
For many people, it's a dream. But few actually make the connections between paper, pen and publisher. Not so for two Tallahassee writers, Jessica Burkhart and Maria Geraci, who saw their first books go to print this year.
The women overcame many obstacles, ranging from busy schedules to personal illness, before finally seeing their dreams realized. Each tells a story of hard work and persistence, plugging away at a first novel, landing a contract and — ultimately — joining the ranks of Published Author.
Jessica Burkhart
Not many full-time college students set out to write a novel in a single month. But it's exactly what Jessica Burkhart did in 2006 after learning that November is National Novel Writing Month.
She started working on a book about a group of preteen girls living out her own childhood dream of attending an equestrian boarding school. Soon after, an agent stumbled upon her blog, read the draft and offered her a contract. "I thought it was a scam!" confesses the 22-year-old, now the author of the popular tween book series, Canterwood Crest.
The offer was fortuitous for Burkhart, who had endured a childhood of financial instability, battled a severe case of scoliosis and moved 11 times — all before she reached the age of 20. However, it was much more than mere luck that led to her current success. "Going through those things growing up made me realize at a young age that I needed to have goals," says Burkhart. "It taught me how to work hard no matter what was going on around me." These are lessons she has clearly taken to heart.
As a teenager, Burkhart had to undergo major surgery to straighten her spine. Scoliosis was actually forcing those bones forward toward her lungs and heart and the condition could have been fatal.
At the time, Burkhart's family was struggling financially and couldn't afford the expensive operation. Burkhart kept many of the symptoms to herself, until her family finally learned of the nonprofit Shriners Hospital, which offers free pediatric services to families without insurance. Surgeons at the St. Louis location were able to perform a spinal fusion, saving her life. The operation also meant Burkhart would spend more than a year recuperating and would have to give up her lifelong passion for riding horses.
Instead of moping, Jessica threw herself wholeheartedly into a new activity: writing. After flipping through stacks of magazines in the hospital, she was convinced writing articles was something she could do too.
Her work has appeared more than 100 times in various magazines, and she continues to write at an almost frightening pace. "I work seven days a week, eight to 10 hours a day, plus PR and Internet stuff. I'm actually making a conscious effort to take more breaks!" says Burkhart.
Still, the hard work is paying off for
Burkhart, who is now able to support herself and her family using her knowledge of horseback riding and talent for writing. "I love writing the Canterwood series because it's a release for me and it's a way to get back into the horse world even though I can't ride," says Burkhart. "Being able to write and having the opportunity to start working toward my future in publishing has been such a gift."
Maria Geraci
Even without the trials of personal illness or poverty, Maria Geraci had plenty of obstacles to overcome in order to become an author. Six years ago, the part-time labor and delivery nurse and full-time mother of three decided to throw those hurdles to the wind in a moment she now calls "a mid-life crisis epiphany."
"I was dropping my husband off at the airport for a business trip and he asked what I was going to do while he was away," recalls Geraci. "I told him I was going to reorganize the closets, clean the house and go to the pool." Fortunately for Geraci and her readers, she got a little sidetracked. By the time she had buckled her seatbelt for the ride home, Geraci had settled on loftier aspirations for the following two weeks: she was going to write her first book.
She plucked away at the keyboard for days and had 100 pages finished when her husband called to say he would be home from his trip a little early — within the hour. "I had no time to clean!" Geraci recalls. Fortunately, the mess didn't matter, and Geraci's husband was shocked but supportive when he learned of her new endeavor. Geraci did end up cleaning out one walk-in closet: She turned it into her writing space.
Today, Geraci describes that first book as "awful," but she kept at it, working on new stories, participating in online critiques and attending writing conferences until she garnered attention from an agent and created "Bunco Babes Tell All," a work inspired by the experiences she had rolling dice and socializing in her Tallahassee bunco group.
The 49-year-old is truly proud of her first published novel. "I've found my voice with this book," explains Geraci. "It reads like a mixture of contemporary romance and women's fiction, but it lacks some of the heavier themes (found in) women's fiction, such as breast cancer and death of a loved one."
"Heavy" is definitely not the word to describe Geraci's lighthearted Bunco Babes books, which introduce us to 12 aged-to-perfection ladies who meet for bunco, gossip and matchmaking in a coastal Florida town. (It's fictional, but is somewhere on 30A near Destin.)
The books are entertaining and funny, perfect for a summer beach read. But the aspect of the books that perhaps most pleases Gera
Plot Points
Canterwood Crest series
Jessica Burkhart
"Take the Reins," January 2009, "Chasing Blue," March 2009, "Behind the Bit," May 2009, "Triple Fault," August 2009 (four more titles are pending)
Tween book series Canterwood Crest tells the story of six preteen girls who attend an exclusive (and competitive) equestrian boarding school.
As new girl at the highbrow academy, down-to-earth Sasha works to rise above the enmity of the school's mean queens, perfect her horseback riding skills and manage the sometimes awkward age of friendships, "frenemies" and dating.
Author Line: "I wanted Sasha to be your 'everygirl.' She's not wearing clothes the readers couldn't afford. She loves lip gloss, movies and TV, and she works toward being an excellent equestrian."
Bottom Line: A new set of mean girls saddle up in a series that's sure to please young readers.
Bunco Babes series
Maria Geraci
"Bunco Babes Tell All," May 2009, "Bunco Babes Gone Wild," November 2009
In "Bunco Babes Tell All," Maria Geraci introduces a dozen margarita-sipping, fun-loving Florida ladies who meet once a week to chat, roll the dice and try to find romance for Kitty Burke, the single babe in the bunch.
The amiable gang returns in sequel "Bunco Babes Gone Wild," and hilarity, trouble and plenty of fun ensue as the troop tries their hand at cracking a local mystery and setting up yet another single babe.
Author line: "The Bunco Babes books are lighthearted, fun reads with humorous touches -— similar to a younger version of the Red Hat Club books."
Bottom Line: For those interested in the games of love and bunco, these entertaining books are a sure bet.