Two New 'Boutique' Hotels Offer Big-City Ambiance In a Smaller Package
Leaders in Luxury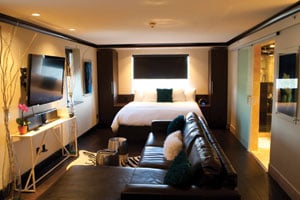 Pulsating pop music bounces from the plush leather lounge chairs to the flat-screen televisions on the wall to the chandeliers that look like cascading bubbles.
The lights are dim, and the murmuring crowd mingles as cocktails are ordered from the bar.
A new nightclub? Hardly. It's the lobby of Hotel Duval, one of two boutique hotels that have opened in Tallahassee over the past six months. Aloft Tallahassee Downtown, affiliated with the W Hotels chain, opened a block away from Hotel Duval in September 2009.
Boutique hotels, which emerged in the 1990s, are typically smaller hotels not affiliated with national chains. They're often outfitted with trendy furnishings and attract a younger clientele. These fashionable accomodations eschew the cookie-cutter décor and floor plans that many national chains offer. Instead of carpet, one might find wood floors. Instead of room service, a martini bar.
Traditional hotel perks, such as room service and pools, may not be available at boutique hotels. Such amenities are often swapped for moderate prices, modern furniture, bright colors, flat-screen televisions, hip music, and popular bars and restaurants.
"It's like a bed and breakfast on steroids," said Christopher Muller, a professor at the Rosen College of Hospitality Management at the University of Central Florida.
In Tallahassee, Aloft Tallahassee Downtown and Hotel Duval opened their doors within a month of each other.
Florida's capital city is attractive to hoteliers because of its young population and its steady flow of tourists to the town's universities and state Capitol, according to hospitality industry officials.
Tallahassee isn't a large enough market to attract five-star luxury hotels like the Four Seasons or St. Regis, Muller said, so boutique hotels fill the need for more high-end options without resort-style amenities, such as a spa or Olympic-size pool.
Major hotel chains don't flip a coin to decide which markets to enter, hotel experts say. It's a strategic decision, made after thoroughly examining a community, its demographics, its need for hotel rooms and average room rates.
Tallahassee's new boutique hotels are here because their operators are confident they will fill their rooms, said Woody Kim, director of the International Center for Hospitality Research and Development at Florida State University.
In the first six months of 2009, Tallahassee's average occupancy rate was 54 percent and its average room rate was $77.46, according to Smith Travel Research, a hospitality industry research firm. These disappointing figures reflect the economic wallop the hotel industry is experiencing statewide, industry experts say. Still, Tallahassee typically offers better occupancy and room rental rates than other Florida cities, Kim said.
Aloft chose Tallahassee as only its second Florida city to debut its brand.
Hotel Duval is owned by Hunter & Harp Holdings, a real estate development firm headed by local investors Chad Kittrell, Frank Whitley and J.T. Burnette. This is the trio's first hotel development project, though they have worked on other commercial properties.
"We did a lot of feasibility research," Kittrell said. "There was a need for a high-end, full-service hotel that hits a certain price point that is affordable for the Tallahassee market."
Aloft and Hotel Duval's rates vary, with summer and winter offering lower rates than spring and fall. Aloft's rates range from $100 to $200 a night, and Hotel Duval's rates start at $159 a night and rise to $589 for its top-floor, apartment-size suites.
A Block Transformed
They sit only a block apart, on opposite sides of North Monroe Street, and opened at around the same time. But although they both cater to a hip clientele with trendy, modern furniture, Hotel Duval and Aloft Tallahassee Downtown offer different amenities and atmosphere.
Hotel Duval is steeped in history. Called the Duval Hotel when it was built in 1951, it later became an FSU dormitory and offices. In the 1980s it was retrofitted back into a hotel under the Radisson banner and later became a Park Plaza hotel. In 2007, Hunter & Harp bought the property and sank $15 million into a down-to-the-studs renovation that aims to evoke some of Hotel Duval's namesake history.
The managers and owners of Hotel Duval and Aloft say their goal is not just to lure out-of-town visitors, but to become a popular hotspot for Tallahassee residents looking for a place to eat, have drinks after work or host a work meeting, birthday party or wedding.
"Our goal is to reach anybody with good, disposable income who is looking for an upscale experience in Tallahassee," said Hotel Duval general manager Marc Bauer.
In hopes of meeting expectations of clients with polished tastes, Hotel Duval offers three dining options: Shula's 347 Grill, a steakhouse named for Hall of Fame NFL coach Don Shula; a lounge, LeRoc, that transforms from a Starbucks-serving breakfast stop in the morning to a lunch bistro at midday to a cocktail bar in the evening; and the posh Level 8 rooftop lounge, with much-raved-about views of downtown and Florida State University.
Down the block, visitors to Aloft Tallahassee Downtown are greeted with "Aloha!" by a peppy desk clerk.
Rock music blares from well-hidden speakers, and the lobby is swathed in swirls of vibrant turquoise, purple and green colors against muted shades of gray, black and brown. A news ticker scrolls headlines above a round reception desk.
The open lobby encourages visitors to enjoy the billiards table, stop by the WXYZ lounge for a drink and appetizer, or hit the snack and breakfast bar.
"I wouldn't tie us to one demographic," said Cara Hardiman, the general manager of Aloft. "It's young families, a tech-savvy crowd, business professionals, attorneys, lobbyists. We've had members of Congress stay with us."
Aloft was built on what used to be a vacant lot at the corner of Monroe and Tennessee streets. It was the site of the Floridan Hotel, which was demolished in 1985. Tallahassee Mayor John Marks helped the city purchase the site for $3.4 million in 1989 with the idea that the valuable land would one day hold something worthy of the Floridan's footprint.
"I wanted to get a development that would fit that particular corner," Marks said. When developers approached the city with the Aloft hotel concept, Marks approved. "I consider it a signature corner … The concept of putting another hotel there appealed to me."
There are some major differences between the two boutique hotels. Hotel Duval, for instance, offers three dining options and catering, while Aloft has no sit-down restaurants and limited in-house catering options.
Aloft has a pool and outdoor patio, while Hotel Duval does not. Aloft visitors can self-park, while Hotel Duval offers valet parking only. And Hotel Duval has large suites, while Aloft only offers traditional rooms.
The Downtown Vision
Aloft Tallahassee Downtown and Hotel Duval are considered integral components of the city's push for a more vibrant, 18-hour downtown, with shops and restaurants open late in the evening.
Though the hotels are competitors, managers of both say the synergy of two boutique hotels near one other may boost the popularity of the area with local residents.
"Each will appeal to a different market and audience but will play very well together and really be the anchors of this 18-hour downtown vision that has been bandied about for the better part of 10 years now," said Bauer, the Hotel Duval general manager.
Hotel Duval will help "bridge the gap between Midtown and downtown," local investor Kittrell said, as well as help retain students who might flee a city that is sometimes perceived as lacking in social life.
"We wanted to create an experience in Tallahassee for both travelers and local folks," he said. "You can come and experience things you wouldn't normally see."
Hardiman agrees.
"Downtown Tallahassee needed something new and fresh," said Aloft's general manager. Out-of-town visitors who weren't pleased with hotel choices may reconsider, Hardiman said. That means more people downtown, and more dollars going to local restaurants.
Tourists will be happy to see a hotel that can meet expectations for luxury they've seen in other cities, said Muller, the UCF professor.
"The people who come back (to Tallahassee) have some money and are willing to spend it in a semi-luxurious environment," he said.
Muller also believes Hotel Duval and Aloft's proximity to one another is a good thing. The competition between Hotel Duval and Aloft will likely keep room rates low, he said.
"There will be some great deals."