Two Centuries Later Tallahassee's First Church Stands Strong
Trinity United Methodist says it stands for 'linking arms with humanity'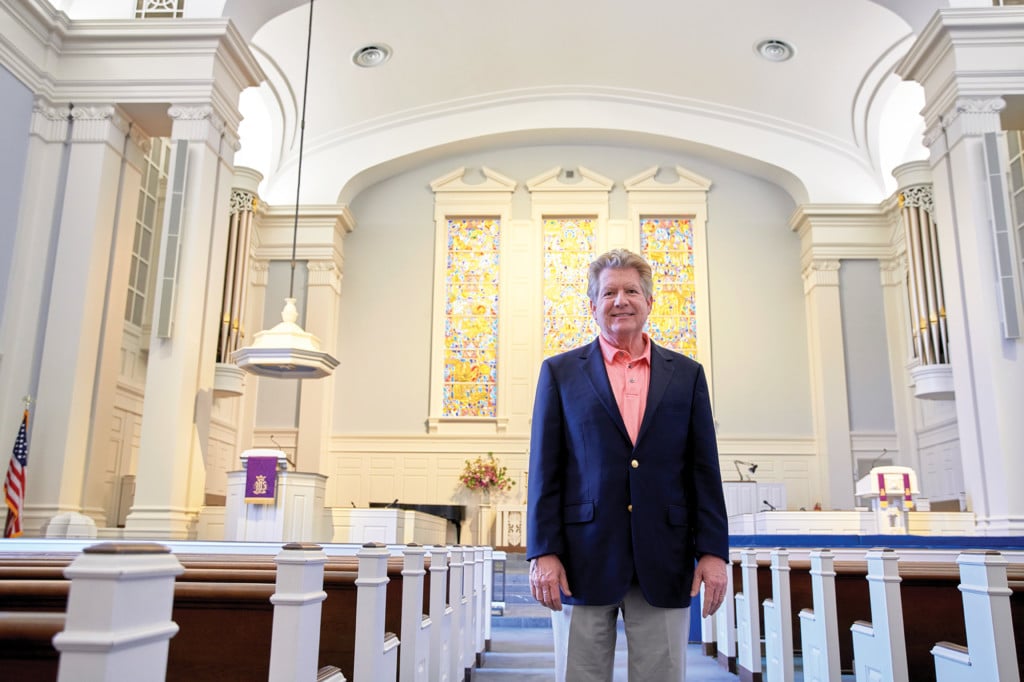 More than 20 years before Florida became a state, a wagonload of seven settlers arrived in Tallahassee.
Five months later, in September 1824, 10 people met to organize Tallahassee's first Methodist society, according to the book Trinity United Methodist Church: Tallahassee's First Church, 1824-1999.
The next year, the society's annual conference created a Tallahassee District, which Tallahassee Mission pastor Josiah Evans observed with pessimism.
"The state of the church exhibits very gloomy appearances in this district of country at present," Evans wrote in 1825, according to the book.
"The few professors of religion who have emigrated to this country seem to have much declined in the divine life."
Evans would help raise money for the first church, a plain wooden structure, at the corner of Bronough Street and what is now Park Avenue — a block from its current location at Park and Duval.
By 1826, the church had grown to 287 members, including 52 African-Americans.
In 1860, black members in the Tallahassee District outnumbered white members by nearly 500, the Trinity United Methodist Church book said.
In 1865, more than 100 black members walked out of the church — which, like others, segregated its congregation at the time — and started Tallahassee's Bethel African Methodist Church, according to Bethel AME's account.
Trinity United Methodist today touts its work for social change and stands as Tallahassee's oldest church.
Through First Presbyterian touts the city's oldest public building in continuous use, Trinity will celebrate its 200th anniversary in 2024.
It makes Trinity's senior pastor, Rev. Wayne D. Wiatt, reflect with a sense of awe.
"To think that this church was founded parallel to the city by pastors on horseback, coming down from south Georgia and establishing little Methodist churches …" he said.
Wiatt during the winter shared his thoughts on the church's history, congregation, social outreach and more. We edited his comments for length and clarity.
On the church's history
"Our congregation, and United Methodists
in general, have always been on the forefront of social change and have been not only present, but I think active in a way that was visible to the community. So many churches had bouncers to keep African-Americans out. The United Methodist church was one of the first to welcome them into the doors. It was hard to make that kind of stance in a Southern culture, so we've been on the forefront of social change and conflict. … One of our mottos or slogans back in the '70s was open hearts, open minds, open doors. We're coming up on a campaign, '200 Strong: Building for the next century.' That means 200 strong years of faithfulness, of social change, and standing up for those who don't often have a voice — linking arms with humanity, really."
On the congregation
"I can't say we are diverse in terms of race — I wish we had more persons of color here. But in terms of background and socioeconomic classes, I think we're eclectic and diverse people from all over the city. I would say that we are a regional church. We have people from Wakulla, Crawfordville, Monticello. We have some folks who drive in from Gadsden County. People drive by probably 20 different churches to come here. You have a unique group of folks who choose a downtown church. … One thing that's great about this church is that we're intergenerational. You don't find many churches that have that. We span that age group, from great grandparents to newborns."
On the church's ideas, tenants and beliefs, including heaven …
"If you look at the Apostles' Creed, we believe in one true God — epistolic and universal. We believe in a profession of faith, understanding of the Trinity — father God, son Jesus Christ and Holy Spirit — and doctrines of salvation and sanctification. There has to be a point of accepting Christ as your lord and savior. Before that, there's something we believe in the Wesleyan doctrine — prevenient grace. There's always the Holy Spirit that is wooing people toward God, so that before you even realize it or know it, God is working in your life. Once you accept Christ in that profession of faith, then you are justified. So there's justification, there's prevenient grace, there's justifying grace and sanctifying grace. Once you become a Christian and you say yes to God, then you move on a journey toward sanctification or holiness."
On internal events that have proven a

challenge …
"I would say back to the Civil War … We had folks on both sides of the Mason-Dixon line in Methodism. I think dating back to any time there were sides drawn in any issue, political or social, the church has been involved in that. I don't have a political pulpit and never will. I don't allow political speeches to be made here. We try to be a place of love and compassion and support for everyone. I have a pulpit that tries to express the gospel of love and acceptance and grace. A lot of people say that you've got to earn your way to heaven or into the Kingdom of God, and we believe it's a gift, freely given and freely received. That's a theological precept in Methodism. We are grace-centered, not judgment centered. Some people have a hard time understanding that, but we try to love everyone, whoever they are. We don't engage in political rhetoric."
On having to adjust to changes in society …
"We're going into a specially called conference to address issues relating to human sexuality. It's been challenging for every church to address those concerns and come out in a place that shares the love of Christ with everybody, so my hope is that we can continue to do that."
On social outreach …
"I would say if this church had a signet, it would be the call to mission and outreach in our community and the world. Methodists from all over the state will come and visit their legislators to petition for children. We've been successful in getting better after-school-care food programs, better housing for underserved folks, better food programs. We've looked at places that are food deserts in the city and supported efforts to provide food for those neighborhoods. We're always working to help those who are underserved. We feed the homeless twice a week here. We also serve the Kearney Center once a month, as well as Hope House. We build a Habitat (For Humanity) house every year. We also send a mission team to Guatemala each year, and we support it extremely well. I would say mission and outreach is probably a capstone for Trinity."
On meeting with other churches and denominations in town to discuss the bigger picture …
"I attended the mayor's clergy gathering (this past winter), talking about issues that all the churches can help with: homelessness, neighborhood revitalization, poverty, food deserts in our city, zoning problems with abandoned houses. Our mayor (John Dailey) stayed there for two hours answering questions. That is one place you could say the church co-mingles with government is when it helps those in need, and we utilize our city officials and county officials to help us make our community better. We support them, and they support us. We work together as a team. (Last year, they had) a Lenten devotional downtown, 'Together in Lent,' with St. John's, First Baptist, First Presbyterian and us during lent … the title says it all, different denominations 'together in lent.' "
On the top issues that people are struggling

with …
"Back in the day, I'm sure it was abortion. There are still folks who believe in the sanctity of life, and so you'll find United Methodists that are pro-life. Others want a woman's right to choose. We try to be supportive of both sides of that social issue. I would say right now, we're on the forefront of human sexuality. That's going to be a reality that the larger church has to deal with. Before that, it was slavery.
"Every issue the world has faced — slavery, AIDs, human trafficking — the United Methodists have had a voice and a presence in helping to solve or to bring hope, grace and mercy to those social issues."