Turning Complex Science into Jewelry
A MagLab Researcher Creates Cool Jewelry to Teach Others About Cutting-Edge Science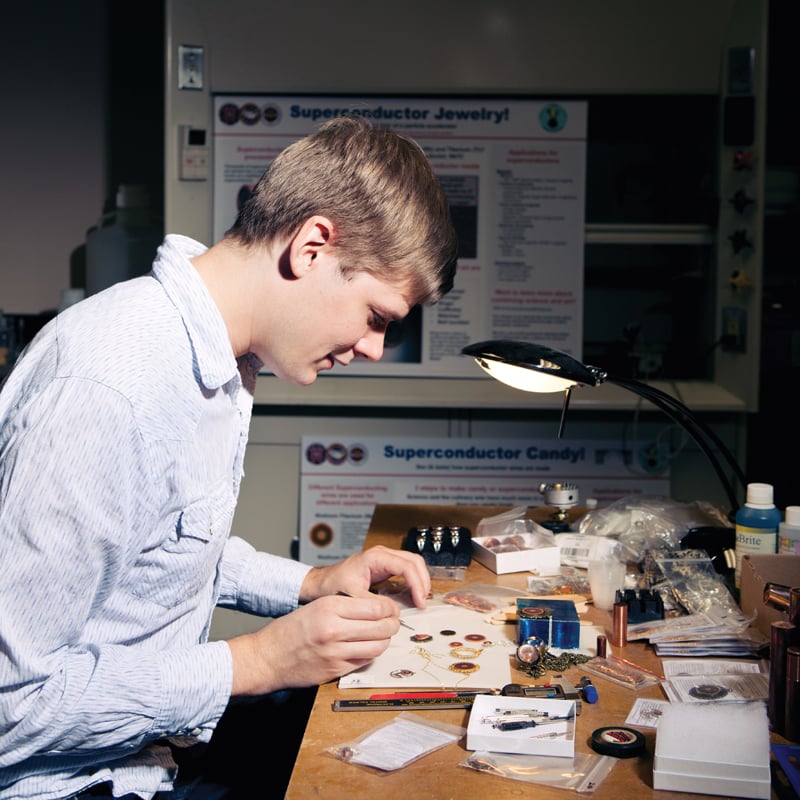 As he polished a slab of copper, engineering student Jeremy Weiss got an idea. "Wow," he mused, "I could use this to make a ring or necklace" — and people would be fascinated by the story behind it.
Matt Burke
Fascinated because Jeremy wasn't working with ordinary metal. He was polishing a copper-encased, 5-inch (12-centimeter) wide slice of superconducting wire, or wire that conducts electricity without resistance or loss of electricity. As a part-time research assistant at the National High Magnetic Field Laboratory's Applied Superconductivity Center, Jeremy often works with such. These wires generate the high-magnetic fields that MRI machines need to reveal disease and particle accelerators need to explore the building blocks of matter.
Like most engineers, Jeremy's fascinated by superconductivity — but he also knows that explaining it is a challenge. It's easy to get technical and abstract. "There's such a big disconnect between scientists and non-scientists," he said. "So, how do you teach people about research without being boring?"
It can be a challenge, said Engineering Professor Eric Hellstrom.
"Jeremy had a laudable goal," said Hellstrom, who mentors Jeremy at the MagLab and in his academic studies. "He wanted the general public to experience the intrinsic beauty of the superconducting wires we investigate here at the Applied Superconductivity Center — and I think he came up with a really creative way to try and do that."
Jeremy hypothesized that if he could show people something cool made out of superconducting scraps — a ring, necklace or pair of earrings — superconductivity might seem more interesting. He could point out the individual superconducting filaments in a necklace. He could explain how big the wire was when he began to work with it, and how he used machines to squeeze and re-squeeze the wire until it was small enough to wear as a ring.
And so the idea to explain science via art was born — one that would eventually morph into a nonprofit endeavor. But more on that later. First, a bit about Jeremy, whose creative thinking earned him one of Florida State University's six Graduate Student Research and Creativity Awards last year.
Artist turned scientist
Unlike many scientists, 27-year-old Jeremy studied visual design at an arts high school, the Douglas Anderson School of the Arts in Jacksonville. When he graduated in 2005, he wanted to be an industrial designer. He applied to the Rhode Island School of Design — "the best design school in the country," he said— but wasn't accepted.
Matt Burke
"Slices" of superconducting wire (above) are used to fashion intriguing jewelry like this pendant and rings (below).
Disappointed, he decided to pursue his second career choice: engineering school in Tallahassee. But once happily enrolled in mechanical engineering, he still had a problem: He needed a job to pay his bills.
"I was washing dishes at Panera Bread by the Governor Square Mall, and I was really good at it," he said in his trademark waggish way. "But no matter how much you apply yourself to washing dishes, you're never going to get anywhere with it. So I wanted to stop washing dishes and do something else."
His favorite engineering class, Introduction to Materials, had been taught by David Larbalestier — the director of the MagLab's Applied Superconductivity Center. So Jeremy came to the center, knocked on his professor's door, and asked if he had any positions open. "It turns out that they're always looking for students who are motivated and proactive in looking for work."
He got a part-time gig examining, grinding and polishing cross-sections of superconductors. Later, he also learned to make a type of superconductor (called a pnictide) that's made primarily of barium, iron and arsenic. Because of its toxic ingredients, Jeremy spent an entire year helping to set up a special arsenic lab, where he now combines these elements inside a glove box filled with argon gas.
"He took the initiative to develop safe synthesis protocols to handle the arsenic-based superconductors that he's now investigating for his Ph.D. studies," Hellstrom said. "He's blossomed into an excellent graduate student and … a great mentor for undergrads."
After he makes the superconductor, Jeremy packs the powder-like material inside a copper tube. Then he feeds the tube into machines (called rotary swagers) that compact and draw it down into a superconducting wire. Superconducting wire can carry from 40 to 100 times the electricity of a regular copper household wire.
S'planing science
Fast forward to 2014. Jeremy's jewelry-to-explain-science idea had become Science Shinies (scienceshinies.org), a nonprofit with a mission to "educate the community about science by eliciting interest through creative and artistic endeavors."
He rolled out his jewelry wares, which range from $10 to $30, at the MagLab's Open House in 2013. But he also got caught up in making superconducting candy for the annual event. He'd spotted confectioner Wes Raley whipping up batches of rock candy near a popular Tallahassee watering hole on All Saints Street. And again, Jeremy had an "aha" moment.
Wes shapes and cooks his candy pretty much like I shape and cook my superconducting wire, Jeremy realized. If Raley's confectionary came to Open House and made that candy, I could explain to people how the process is like making superconducting wire!
So he hired Raley to bring his portable candy kitchen to the MagLab, and made posters explaining how similar the processes were. He used the profits from his nonprofit (with some supplement from the MagLab) to pay for the candy demonstration.
"It was a big success," Hellstrom said. "The people loved his jewelry and the different superconducting candies."
Jeremy plans to graduate this year with a doctorate in Materials Science and Engineering — and if he does, he will be among the first to graduate from this new FSU graduate program. Yet even after graduation, he wants to find artistic ways to tell the story of science.
"I want to help artists make educational aides out of exotic scrap material," he said. "That way, I can help them and spread the word about research and science. It's a win-win."