Trees Are People, Too
It's Up to Us to Protect the Trees that Protect Our Homes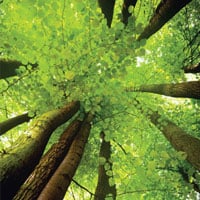 Photos by Rosanne Dunkelberger and Scott Holstein
Type image description here.
We go to court to stop city leaders from cutting down trees along downtown streets to create more parking. We vote for higher taxes to build new highways along alternate routes so we can protect canopy roads. We gather to mourn the loss of heritage oaks when age or lightning sends them crashing to the ground, sharing stories of life's milestones — first kisses, fraternity pranks, poignant farewells after graduation and marriage proposals — that took place under those lost branches.
"The character of Tallahassee is so different from anywhere else in the state, and the trees have a lot to do with that," said Ann Bidlingmaier, a longtime activist for tree preservation who moved here in 1969 as a Florida State University freshman.
"When I first came here from Fort Lauderdale, I was mesmerized by the trees," she said. "I had never even thought about trees, because we didn't have trees like that in South Florida. Now, I can't imagine Tallahassee without them."
Nor can many other Tallahasseeans.
"Tallahassee wouldn't be fit to live in without trees, and we've been battling to save trees here forever," Sam Hand said emphatically. "The tree canopy keeps it warmer in the winter and cooler in the summer. Trees reduce erosion and runoff — the Red Hills would wash away without them. They provide a cushioning effect with sound. The noise from I-10 would render Live Oak Plantation Road unfit to live on without trees, because they filter the higher frequencies coming off the tires."
An arborist certified by the International Society of Arboriculture, an associate professor of landscape design at Florida A&M University and a forestry agent with FAMU Extension, Hand is considered the dean of the local tree preservation movement. A Tallahassee native, he recalls walking to the old Caroline Brevard School, at the corner of Gadsden and Gaines streets, for first through fourth grades, and after that to the newly opened Kate Sullivan Elementary School for fifth grade.
"They were beautiful, oak-tree lined streets in the late 1940s," he said, lamenting the loss of trees as streets were widened to create parking and facilitate the movement of traffic downtown. "The only reason we still have a Calhoun Street Historic District is because Clare Bowen got an injunction to stop the city."
Bowen was one of a group of Tallahassee residents who literally fought City Hall in 1945 to save the majestic oaks — and the effort wasn't totally successful. Her house and its magnificent oaks still stand on North Calhoun Street, but South Calhoun was cleared of its trees while the case wound its way through the courts. (See companion article, "Book Chronicles History of Tree Preservation Efforts," page 97)
Removal of trees on that scale probably wouldn't happen today, but tree preservationists are ever vigilant — and suspicious. When the city changed its logo from the silhouette of a big shade tree to a highly stylized star — the "star" in the Star Metro transit system once known as TalTran — some tree lovers speculated the real reason for the change was the decline and removal of the signature oaks in front of City Hall that had provided inspiration.
"Tallahassee has been progressive about trees and tree protection, and it's made a lot of difference," said Bruce Avery of AAA Tree Experts. "Homeowners need to be proactive about protecting their trees by having them inspected by a tree professional on an annual basis."
Storm Risk
Trees cause a lot of property damage when they're felled during storms, and storms with high winds and large amounts of rain, such as tropical storms and hurricanes, put all trees at risk. But those that are unhealthy or unsafe are particularly vulnerable.
For example, V-shaped joints in trees are weak and susceptible to breaking in high winds, but a U-shaped joint is stronger. Trees that lean heavily, particularly over a house, are also a risk. And the risk is not just above ground: Trees whose roots were cut when a landscaper dug a trench for an irrigation pipe or to install underground utilities are also compromised. It's better to go around or go under the roots —90 percent of a tree's root system is in the top 18 inches of soil — but many people do not want to spend the time or the money and take the shortest route.
That risk is what drives up homeowners' insurance rates. So why not just cut down all the trees and remove the risk? Well, when you do that, you're actually increasing your risk, and you're lowering the value of your property. Plus, to most people, a yard with no trees is just plain ugly.
"Trees serve as a windbreak, they help dissipate the force of the wind," Leon County Forester Stan Rosenthal said. "They also protect against flying debris because they catch it in their branches."
Trees planted in groups are better able to withstand the force of winds than trees standing alone, in part because of the bulk of the canopy but also because the roots of the trees become intertwined, creating a larger mass of roots that protects all of them.
"There are three factors that affect how well a tree can withstand storm-force winds," he said, "One is species, because some trees are inherently more likely to break apart; the second is structure, such as V-shaped joints; and the third is tree management. Trees in older, well-established neighborhoods did better than the existing trees in newer neighborhoods, because they had adapted to their environment and they hadn't been exposed to so much trauma."
That trauma includes driving and parking heavy equipment over the trees' root zones, compacting the soil so the roots can't get air or water. Those little orange mesh fences put around trees to protect them are only postponing the inevitable if they don't extend beyond the tree's canopy — the canopy that existed before construction began. Often, the trees are topped, as well.
"It might take 10 or 20 years, but that tree is going to die," he said. "That might seem like a long time, but how many years did it take for the tree to grow that large?"
Choosing a Tree Service
So who is qualified to inspect trees? Arborists who are certified by the International Society of Arboriculture (ISA), Rosenthal said. "It's a way to check credentials and a level of knowledge. Just because a guy has a chainsaw and a sign on his truck doesn't make him an arborist."
The Leon County Extension Service has a guide to hiring a tree service posted on its website, leon.ifas.ufl.edu; just click on the "Forestry/Trees" link, and you'll see the headline. Local companies that employ certified arborists advertise it. Extension foresters will come to your home and advise you on the health and safety of your trees at no charge, but they won't make recommendations.
Avery, one of the first arborists in Leon County to gain certification, said many companies are in the tree removal business, not the tree maintenance business, and that can make a difference in the advice given.
"For example, my employer has a good business in tree removal. My job is to build his tree care business," said Avery, who is also an experienced landscape designer. "If you call a tree service for a free estimate on taking down a tree, you know what you want. If you call and want my opinion about a tree, that's consulting."
Both Avery and Mike Cross, owner of ArborWorks tree service, said they try to educate homeowners about the risks their trees may pose and advise them on ways to mitigate or reduce that risk.
"I've been known to do my crazy dance to demonstrate how an improperly pruned tree is vulnerable to the wind," said Cross, who also is an ISA-certified arborist. "Outdated pruning methods contribute to the problem."
For example, removal of lower limbs is common to create a shade tree, but some services lift the canopy too high, he said. Those lower limbs act as a catch basin for falling debris and work like shock absorbers. Removing them makes the upper limbs more susceptible to a whipping effect, which can cause the tree to snap.
Cross recommends the treesaregood.com website for homeowners to educate themselves about trees.
Trees and History
Longtime Tallahassee residents still talk about the damage wrought in 1985 by Hurricane Kate, the only hurricane to hit the capital city directly. The storm, which came ashore near Mexico Beach in late November and headed northeast, still had Category 1 winds when it blew through Leon County, toppling trees and ripping down power lines.
Donna Blanton, now a local attorney specializing in administrative law, was a Tallahassee reporter for the Orlando Sentinel in 1985. About one-third of Tallahassee's residents spent Thanksgiving, a week after the storm, without power, she wrote; and by then, the novelty had long worn off:
"If I wanted to live like this I would move to Guatemala," shouted lawyer Alan Katz on Tuesday, five days after Hurricane Kate knocked out the electricity in his neighborhood. "The ineptitude of the city utility people is driving me crazy. I'm thinking of running someone for city commission with a slogan of 'More Power to the People.'"
Katz himself ultimately ended up on the City Commission, and now serves as U.S. ambassador to Portugal.
Hurricane Kate was still vivid in the memories of many Leon County residents when Rosenthal moved to town in 1988. "A lot of people wanted to talk to me about their trees, about what happened with Kate and whether their trees could withstand another storm like that.
"People here really seem to appreciate trees and what they add to the quality of life," Rosenthal said. "That's why they get concerned when they see ads for a pest control company saying Spanish moss is bad for their oak trees and should be removed. Not only is it an epiphyte, meaning it's not damaging the host plant, it's also the 'canary in the coal mine' about larger environmental issues. Giant oak trees draped with Spanish moss just say 'Tallahassee.'"
Journalist Bill Cotterell recalls his introduction to Tallahassee's culture of trees. He was fairly new to the staff of the Tallahassee Democrat when the famous May Oak in Lewis Park split down the middle and fell into the street in August 1986. A piece of Tallahassee history had fallen: May Queens were crowned beneath its branches for more than 100 years. When he arrived at the scene, he said, "A lot of people were cutting of twigs and telling me stories about how they had their wedding photos or graduation events there."
But when he first got the call from Sal Recchi, one of the Democrat's editors, Cotterell had to be convinced news had happened.
"I asked what was the story, and he said a tree had fallen over. I didn't understand and asked again, and Sal said one our trees had fallen over," Cotterell said. "The third time we had that exchange, I realized that this was important — that in Tallahassee, trees are people, too."
Tips for Growing Sturdy Trees
Pick the right location for your tree. Think about the mature size of the tree, and don't plant it too close to the house or underneath power lines.
Make sure you plant it at the proper depth. Many people plant trees too deep.
Start pruning trees while they're young to ensure they grow tall and strong. Remove weak or crossing branches; trees will heal more quickly from smaller pruning cuts while young than the larger cuts that will be needed if you wait.
Get your trees inspected every year, or every other year, by a qualified tree professional.
Source: Bruce Avery, AAA Tree Experts, and Mike Cross, ArborWorks
Trees for Strength and Stability
Tree selection depends greatly on where it will be planted, but these trees tend to do well in our area:
Oaks. Live oaks are quite popular, but for tree diversity, try swamp chestnut oak and post oak from the white oak family, or Shumard oak, sandhill oak or Southern red oak from the red oak family.
Bald Cypress Competes best in wetlands but does very well in upland, drier locations.
Magnolia species
Sparkleberry
Fringe Tree
Dogwood. Many Tallahassee dogwoods died about 15 years ago, but it wasn't from dogwood anthracnose, which killed dogwoods at higher elevations but never was found here. Dogwoods have a life span of about 40 years and the trees decline and die naturally. Also, dogwoods need to be planted as an understory tree with partial sun and afternoon shade.
Source: Stan Rosenthal, Leon County forester
Book Chronicles History of Tree-Preservation Efforts
"The Live Oak Trail," published by Carolyde Phillips O'Bryan in 1999, describes in great detail the history of Tallahassee's tree preservation efforts, particularly in the 1930s and '40s, when many businessmen and civic
leaders believed the huge oaks had to go to make room for downtown growth.
O'Bryan's aunt, "Sister" Caroline Croom Edwards Elliot, kept a scrapbook of court documents, letters and newspaper clippings was the foundation of O'Bryan's extensive research for the book. Members of some of Tallahassee's most prominent families fought to save the trees, including Ruby Diamond, Dr. Henry Palmer, Will and Bershe Meginnis Oven, and Mrs. Guyte McCord.
The tree battles were the cause of much marital disharmony, according to the book. Many of the women who hosted luncheons as part of the Live Oak Trail tours, a series held to focus attention on the ancient trees and the need to preserve them, were married to the men who were petitioning the city to have to the trees removed to create more parking.
The controversy subsided temporarily when the United States entered World War II; the tree removal, and organized opposition, resumed at the war's end.