Travel Across The World to Rovinj, Croatia
The Mediterranean Land of Earthly Enchantments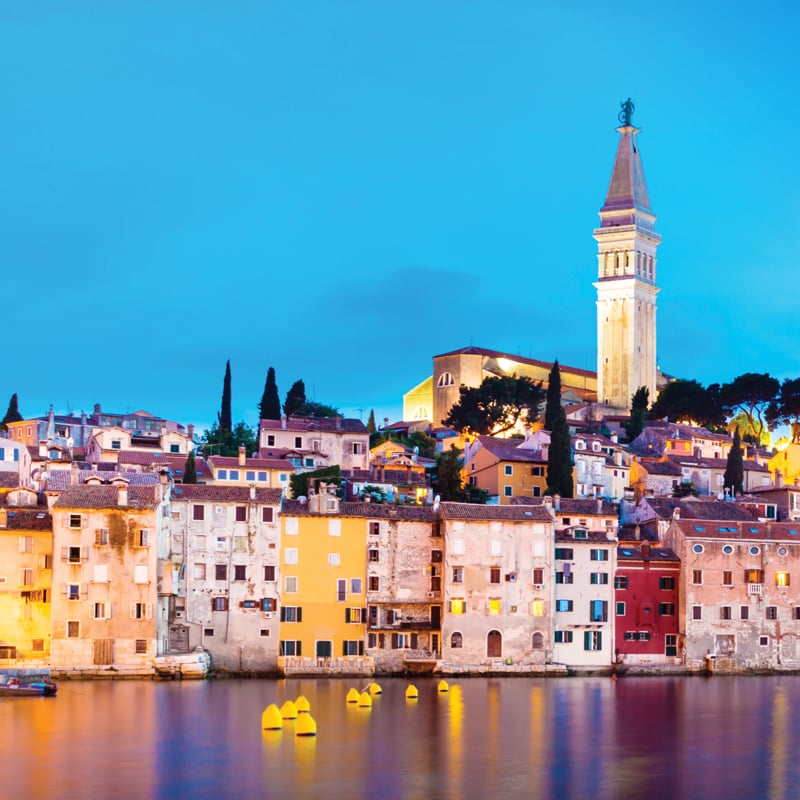 I headed to Rovinj, Croatia, just after the peak tourist season (May-September), during the first week of October. Everyone I spoke to who had traveled there inevitably used some of the same words to describe it: "beautiful," "romantic," "artsy." Everyone couldn't wait to return.
I took three planes (Pensacola to Charlotte to New York and then on to Venice) and then a two-hour car ride to reach Rovinj, a mystical seaside city from the Middle Ages. I was on the hunt for adventure; I discovered plenty of that . . . and much more.
Istria is the largest Croatian peninsula in the northern part of the Mediterranean's Aegean Sea. Human habitation can be traced back to the 11th century BC. Several civilizations, rulers and regimes crisscrossed Croatia, leaving behind a rich legacy along with amazing mosaics and fascinating frescoes throughout stunning Venetian palaces, fortified Austrian forts and charming old churches. Locals celebrate Statehood Day (June 25, 1991), the day Croatia declared independence from Yugoslavia. And just last year, Croatia joined the European Union — although the Croatian kuna, not the euro, is king for now.
The red-tiled roofs of Rovinj, located on the western coast of the Istra peninsula, are clustered into an oasis next to the deep-blue Adriatic Sea, which is teeming with sea life and topped with gondolas, sailboats and fishing charters. The feeling in the town of 15,000 is easy and free. All roads lead to the Church of St. Euphemia's basilica, a Baroque church built in 1736 that sits atop the island and graciously watches over one of the most photographed places in the Mediterranean.
Roving Rovinj​
Rovinj has two stellar Maistra properties. Hotel Monte Mulini is a gracious five-star, full-service hotel with private balconies. The two-story windows in the atrium allow you to drink in sweeping views day and night. Off the atrium, the chic terrace lounge is the perfect place to watch the sunset. Hotel Lone is next door and has a modern, edgy vibe. There are several seating areas to mix and mingle, a convenient coffee bar, a superb restaurant called L and a fun disco that often features live music — making it great for a girl or guy getaway. Both hotels overlook the Adriatic and are just steps from the "old town," where the adventure begins.
Rovinj is filled with picturesque postcard scenes of lovers sipping cappuccinos in open-air cafes, families bobbing on charter boats and sightseers meandering the labyrinth of narrow stone streets brimming with boutique shops, art galleries, eateries and nightspots. One club, Valentino's, invites guests to sip cocktails and listen to music while perched on rocks overlooking the sea.
Winery Tour
The local white wine of Rovinj is Malvazija, made from the malvasia grape with reds derived from teran, a dark varietal. Winemaking has been growing and improving since the 1990s. A visit to the Stancija estate, home of the Meninghetti winery, takes you back to 1853, when an Austrian admiral decided to build a large naval base. The Stancija guest house was where the food was produced and where officers would rest and recreate.
In 2001, Romana and Mirosalv Pliso purchased and restored the 75-acre rural estate and added new olive trees and grapevines. Businessman and wine connoisseur Goran Hanzek partnered and brought on world-renowned wine expert Walter Filiputti. Meninghetti's hand-harvested grapes have since become "international wines that speak the Istrian language."
Olive Oil Tasting
The northernmost area for olive growing in the world, Istria has about 30 olive varietals, some not found anywhere else. Tedi and Sandi Chiavalon are third-generation brothers who live and work on their organic olive orchard farm. Some of the 7,500 trees are 400 years old, but if pictures of peasants in overalls come to mind, purge the thought. Two young, educated, energetic brothers run this operation.
The day I visited was the first of 20 days of the harvest season. I learned that to get 2 gallons of olive oil, you have to press about 220 pounds of green olives. Black olives yield about five times more. Extra virgin is the highest-quality and most expensive olive oil classification. It should have no defects and a flavor of fresh olives.
On the grounds is an unexpected treat — an olive-oil tasting room. Bottles of olive oil illuminated with soft lights line the entire length of the room. Sleek mahogany tables are set with small, stemless crystal glasses awaiting precious liquid gold. Tasting olive oil is similar to wine; smelling it prepares your palate, and sipping it with air aerates the oil and is key to enjoying its full flavor. Color, it turns out, is not important.
The Chiavalons make five blends by hand, which takes a week to 10 days. It's packaged as Ex Albis and is ranked in the top 15 olive oils in the world.
Truffle Hunting
A highlight of my trip was hunting for truffles in the small town of Livade near the Motovun Woods (about a 40-minute drive from Rovinj). On a misty morning, a guide called a tartufalo, along with his two trained hounds, helped sniff out the fragrant black and white, ball-shaped treasures from the rich earth. The annual Truffle Days is a festival held every October. You can fill up on local music and truffle-inspired dishes and shop for truffle and olive oils.
World Class Spa
After harvesting and hunting, it seemed only appropriate to relax, re-mineralize and revitalize my body at Hotel Lone's modern, full-service spa with a Mediterranean Spice body treatment utilizing fresh herbs. The 60-minute treatment was exquisite. You can come early or linger after your appointment to relax with a Jacuzzi or sauna, swim in the indoor pool, refresh at the Vitality Bar or simply lounge in the quiet chaise chairs in the Relaxation Zone.
Wine and Dine
Croatia is a world-class destination for foodies. Local menus, ranging from casual to fine dining, celebrate the city's proximity to the Adriatic with dishes showcasing sardines, cuttlefish, oysters, scallops, prawn and squid. And there are delicious artisanal cheeses,
Istrian prosciutto, crusty breads for dipping in freshly pressed olive oil and, of course, tantalizing truffles, which star in everything imaginable, from pasta to ice cream! These restaurants are definite must-dos:
Wine Vault is a swank restaurant located in the cellar of Hotel Monte Mulini. Reserve the Chef's Table for dinner and enjoy inventive Istrian dishes beautifully designed by revered Chef Tom Gretic.
Restaurant Lanterna is a 10-minute boat ride to the Island of St. Andrew, where you can enjoy a romantic dinner in an old castle called Huetterote.
Kantinon serves up stunning sea views and authentic local cuisine for lunch and dinner that celebrates the Rovinj fishing tradition.
Restaurant L is located inside Hotel Lone and serves contemporary cuisine featuring local, fresh ingredients artfully prepared by Chef Priska Touring.
I experienced an unexpected revelation when I returned home. It turns out that my husband's family is of Croatian decent. The story, as the European aunts and uncles tell it, is that their parents came from the Eastern European regions of Hungary and Croatia. After a couple glasses of wine, they will admit to being some of "the first Gypsies" who eventually migrated to Vienna, Austria. All roads do seem to pass through Rovinj.
Like everyone who visits, I too, can't wait to go back "home" to a place that I would call … "enchanting."