Trapping All 'E' Gators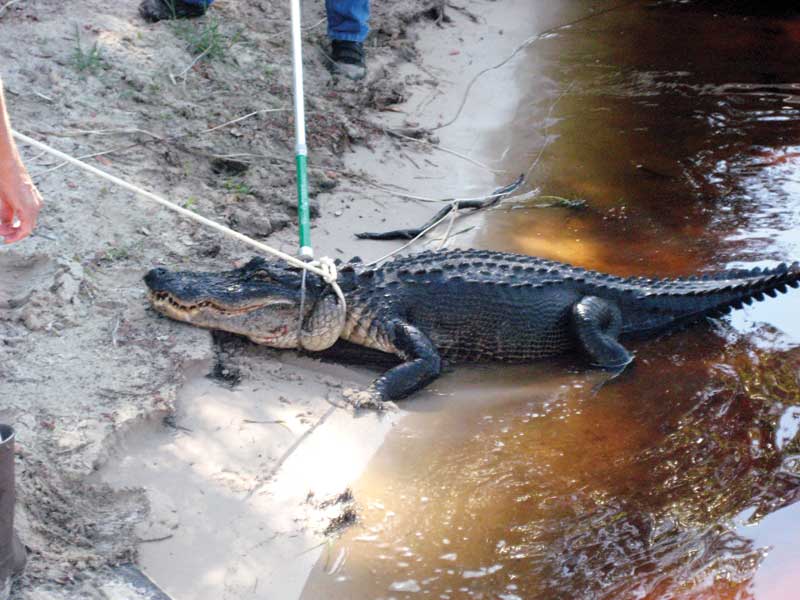 On the Move: Hunting gators in Seminole countryTrapping All 'E' GatorsWhat You Need to Know Before Dropping the Dime on a Neighborhood Alligator By Jason Dehart
It's a common scenario around Leon County and much of Florida. When alligators are on the move in the spring and summer, especially in the rainy season, they sometimes make themselves unwanted visitors at waterfront homes and public boat ramps.
Most of the time the reptile is just doing its thing when it comes ashore on somebody's property. More likely it's there to sun itself and rest. But there are times when the gator is less than friendly. In critical cases they become an "E" or "emergency" gator, and that's when a state-licensed alligator trapper is called.
"Trappers are on call 24 hours a day, seven days a week," said Tallahassee trapper Broderick Vaughan, Leon County's resident nuisance gator removal expert.
Click to enlarge
According to the Florida Fish and Wildlife Conservation Commission, alligators are considered a "nuisance" if they are at least four feet long and exhibit aggressive behavior toward people, property or pets.
In his first two months on the job, he said a caller who lives on a lake and has small children or dogs they should have cause for concern, for obvious reasons. Once determined the gator is big enough and is going to cause a safety hazard, the caller's information goes to the statewide nuisance alligator program in Lake Okeechobee and then is routed to whatever trapper works that county.
Vaughan became Leon County's designated go-to guy for gator catching April 6. Since then he's removed 40 gators. Two were released back into the wild because they didn't meet the size requirement, but he has caught a pair of 10-footers that were killed.
"Calls come from all over," he said.
Vaughan said there are nuisance alligators and emergency gators. When a plain ol' "nuisance" gator is reported through the hotline, he said he'll receive an e-mail notification. But if it's particularly dangerous, then it becomes an "emergency" gator and his phone will ring.
"The E gators are the ones that are in someone's yard, and those are the ones I got to respond to immediately," he said. "If that call comes in, then I got to go right then."
Young said folks should use their own judgment to determine if a particular animal is posing a danger to their property or family. But if you're an animal lover, know this: The alligator you complain about isn't going to simply be relocated to another pond.
"We don't have a problem with anybody calling, but they ought to know that the gator isn't going to be removed," Young said. "It's going to be put to death. In most cases, 99 percent of the time the gator gets killed.
Some people will put the phone down if they know that. But if the gator is big and aggressive, by all means call — but I don't think you should call when you just see a gator swimming around in a pond."
Vaughan said he understands that the killing aspect of removal might upset some people, and he tries to guard those sensitivities.
"With trapping, I remove them all alive," he said. "I haven't had one that I had to kill on site because I prefer to get them back and not do that in front of the public. Perception to me is a big thing."
Trapping nuisance alligators goes on year-round in Florida but naturally slows down a bit in Tallahassee during the winter, Young said.
"In Tallahassee if the winter is cold enough, they'll go into hibernation," Young said. "But the rest of the year we remove 15,000 statewide."
When things warm up, the areas most likely to have a problem gator are public boat ramps. There, they can find food in the form of fish scraps that have been tossed aside by fishermen. Young said that amounts to unintentional feeding, but sometimes people will break the law by feeding them on purpose.
"You'll get in trouble if an officer sees you doing that," he said. "Unintentional feeding is not against the law, but either way the gator will still lose its fear of man. That's not good."
Trappers aren't really state employees, nor do they work for the FWC. The FWC contracts with a limited number of private individuals known as Nuisance Alligator Trappers. Only these special trappers are allowed to handle nuisance gators. Vaughan said the state pays him a modest stipend of $30 for each gator he "removes," and he sells the meat and hide to harvesters for a few extra bucks. But there's not much of a market for the hides right now, he said. Which means he won't be giving up his day job as owner of a roofing company any time soon.
Harvesting a nuisance gator may go on year-round, but there is a recreational gator hunting season as well, which occurs between Aug. 15 and Nov. 1, Young said. For $271, Florida residents can get an alligator harvesting license that allows them to take two alligators of any size. Florida has allowed the statewide hunting of alligators since 1988.
"Most people want big ones, though," he said.
According to myfwc.com, alligator hunters must specifically have an Alligator Trapping License, an alligator trapping permit, and special tags for each kill.
The officially sanctioned harvesting areas in Leon County proper are Lake Iamonia, Lake Talquin, the Wacissa River and Lake Seminole. Hunting is also allowed on Lake Miccosukee, which borders Leon and Jefferson counties. The prospective hunter applies for a license for only one of those areas, and that's the only place he's allowed to hunt, Young said. You also are allowed one week to fill your quota, and you get to pick which week that is. The season lasts 11 weeks, and if you don't take your quota during the first four weeks then you get a chance during the last seven weeks.
However, a special countywide license for Leon County allows the sportsman to hunt in any public body except those five areas, he said.
"If you got a county-wide license you can hunt in Lake Jackson, Carr Lake, and the Leon County side of the Ochlockonee River," Young said. You can also hunt on any private property that you happen to have permission to live on, he said.
Young said a limited number of hunting licenses are issued each year through a random drawing. This year, a total of 37 harvest licenses could be sold for the Leon County hunting area. There are an additional 21 licenses available for Lake Miccosukee, for a total of 58. Multiple that by two and that's the total number of alligators that could be harvested this hunting season, he said.
Vaughan said he got interested in becoming a sanctioned alligator trapper after having spent a couple years going out on these open water hunts.
"I grew up in Florida and Tallahassee and hunted and fished all my life," he said. "So it was just a natural progression."
Vaughan said there's some difference between "hunting" and "trapping," and it has to do with the strength of your opponent.
"I've found that the gators on the land, the E gators, are usually a little tougher to handle because they're usually "fresh" when you start messing with them," he said. "The ones (you hunt) in the water tire out fairly quickly. The E gator is on land when you get there. You put a snare around him and he immediately starts fighting so he's all energy when you get your first snare pole around him. The ones on land are the tougher ones."
Hunting alligators isn't exactly a sport for the unprepared, Young said. The hunter needs the right kind of boat, tools and equipment to stalk, snare, immobilize and ultimately kill his (or her) quarry.
 "It's a different type of hunting. It's not like deer hunting," he said. "With most hunting you're dealing with a gun or firearm that can be dangerous if not handled properly, but in this case you're dealing with an animal that is more dangerous than what most people hunt."
 Young highly recommends that a newbie take one of the FWC's free alligator hunting classes to learn about all the ins and outs of hunting these critters.
 "It's not mandatory but definitely recommended for someone who's never done it," he said.
Folks concerned about an alligator that's acting aggressive on their property can report the animal online at myfwc.com/gators or through a toll-free hotline, (866) FWC-GATOR (392-4286).