Top Single Profile: Robert Durrance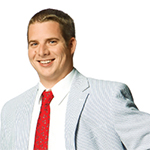 Photo by Scott Holstein
Red bird tie: Cole Couture; Rolex 41mm Stainless Steel & 18kt White Gold Oyster Datejust II Watch: Gem Collection; Hair and Makeup: Fuel A Salon
Robert Durrance, 26
Charity: Capital City Youth Services
A born leader, Robby prides himself on his sense of humor and welcoming personality. He has dedicated himself wholly to his position with a Florida-based nonprofit foundation, which serves troubled youth and their families. Robby has a number of volunteer affiliations, including the Network of Young Professionals and The Big Bend Society for Human Resource Management.
Robby is the corporate administration manager for the Henry and Rilla White Youth Foundation. He is a member of the Tallahassee Network of Young Professionals and Ducks Unlimited.
From the nomination: "Robby is an intelligent, personable, funny, successful single who is always open to meet new people and is looking to support a great cause. Robby has been a dedicated Tallahasseean for the past four years and hopes to be amongst the stellar ensemble of Top Singles for 2013."
Robby's charity of choice is Capital City Youth Services. Capital City Youth Services offers counseling and outreach services to youth and their families, and emergency shelter services to youth in crisis. They serve youth and families throughout the Big Bend area of North Florida, including Leon, Gadsden, Wakulla, Franklin, Liberty, Jefferson, Madison and Taylor counties. All services are free and confidential. All of the organization's programs focus on reaching out and helping youth and families who have found themselves in situations beyond their control.
For more information: www.ccys.org
---