Top Single Profile: Kara Duffy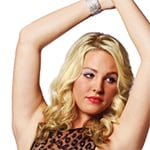 Photo by Scott Holstein
Monochrome cotton blend dress: Cole Couture; Mercury Ring 10-Strand Crystal Bangle Cuff: Gem Collection; Hair and Makeup: Fuel A SalonCharity: Leon County Humane Society
Kara Duffy, 23
Charity: Leon County Humane Society
Kara is a northern transplant that exudes tons of Southern charm and poise. A weekend news anchor for WCTV, Kara is invested in this community and in the stories she covers. In her spare time, Kara enjoys traveling, relaxing at the beach or reading a good book. She loves animals and relishes her strong ties to her group of family and friends.
From the nomination: "Kara is the total package. She juggles her career and social life impeccably. She is very genuine and acts exactly the same whether she is with royalty or a homeless person. You forget how gorgeous she is, because her sense of humor wins you over."
Kara's charity of choice is the Leon County Humane Society. The Leon County Humane Society is Tallahassee's largest no kill, non-profit animal welfare organization dedicated to saving Tallahassee's homeless pets by educating the community about responsible pet ownership and reducing pet overpopulation through programs like Spay/Neuter, Rescue Ride and Friends Fur Life. The Leon County Humane Society works closely with other animal welfare agencies in the community.
For more information: www.lchs.info
---