Top 9 Sandwiches of Tallahassee
We Tried Them. We Loved Them. We've Listed Them So You Can, Too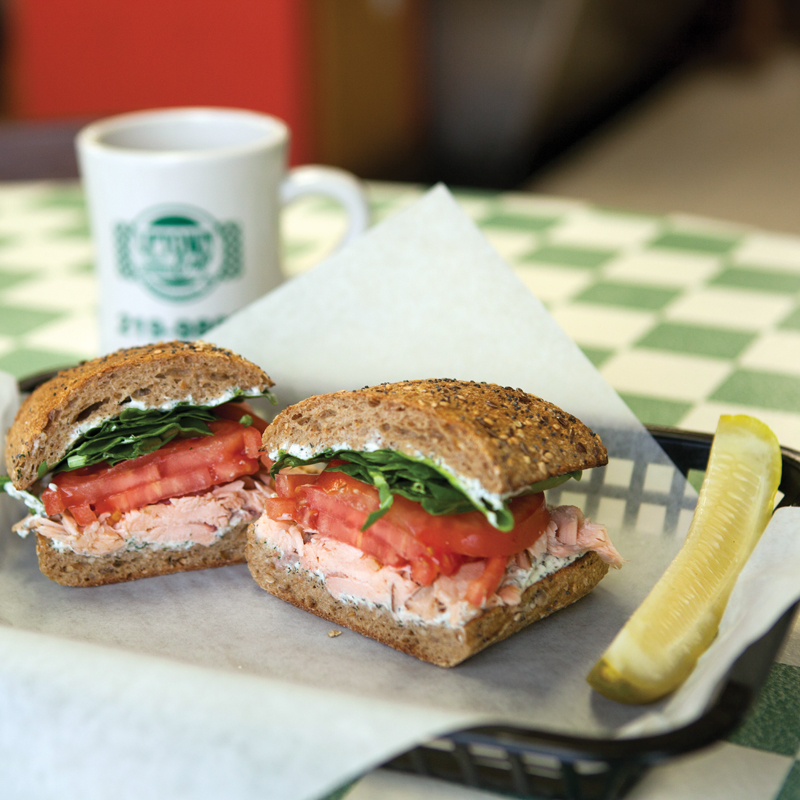 Photography by Matt Burke
It's delightfully convenient. It's deliciously compact. It's dynamically creative. It's decadently carefree. It's dazzlingly chewy.
It's a sandwich!
Any way you slice it, it's pretty much a sacred food around these parts. And why shouldn't it be? There's so much to love about a complete meal you can pick up with your fingers.
Ask someone to name their favorite sandwich and they won't hesitate to tell you exactly how they like theirs. And yet any sandwich survey will surely stack up many different answers. With so many options for sensational sandwiches around Tallahassee, there surely has to be a sandwich to sate everyone.
If you're not sure which is your favorite, no worries — try one of ours. During the lunch hour, we scoured the city in search of the perfect bite and we can certainly say there was no shortage of great contenders. In the end, we couldn't deny that the following were among the most sensational sandwiches in Florida's Capital City.
---
Smoked Salmon on Ciabatta Roll
Uptown's signature apricot smoked salmon, garlic dill cream cheese, fresh spinach and tomatoes on a multigrain ciabatta roll. $8.95
Fun Fact: After its initial debut at a private holiday party, Uptown's famous apricot smoked salmon quickly became a fan favorite. This particular sandwich was developed by Nic Tedio as a once-weekly special. After earning some cred with the patrons, it's now on the menu year-round.
---
The 'Rehwinkel-Vasilinda' Eggplant Supreme
Fried eggplant, spinach, red onion, tomato, hummus, sprouts and balsamic vinegar served on grilled naan. Served with "Weatherford" crinkle fries. $10.75
Fun Fact: Patrons say this flavorful creation is served in such a generous and unique fashion that even the biggest carnivores out there will fall head over heels. It's a healthful crowd-pleaser, no doubt about it.
---
Black Bird
Turkey, cream cheese, black olives, celery, green pepper, sunflower seeds, lettuce, tomato, onion, mayonnaise and the house Parmesan dressing served warm on a homemade wheat roll. $6.89
Fun Fact: The Black Bird debuted at Hopkins' more than 15 years ago to instant patron approval. "People loved it right away," beamed Hopkins' owner Debbie Johnston. "It has won awards." Johnston credits her mother with the creation of the Black Bird.
---
Portobello Mushroom Sandwich
Marinated Portobello mushroom, oven-roasted heirloom Florida tomatoes, spinach, fried Parmesan grits, dijonnaise sauce lightened with lemon and mint atop Juicy Blue's signature croissant bun. $9
Fun Fact: This dish is a crowd pleaser because, according to Chef Kevin Keating, it has the "ability to provide an alternative choice when they do not care for a meat entrée but desire something that is hearty, satisfying and delicious."
---
Prosciutto & Green Hill Melt 
Warmed homemade fig preserves, thinly sliced prosciutto, Green Hill cheese and fresh basil are stacked on a fresh loaf of homemade French bread. After it's built, the sandwich is pressed on a flat-topped grill. Served with white truffle-herbed house-cut fries. $10
Fun Fact: This sandwich has been a favorite for Cypress executive chef and proprietor David Gwynn since his restaurant opened its doors in 2000. Since those early days, it's been a much-loved feature of every menu.
---
Media Noche 
Ham, seasoned pork, pickles, Swiss cheese and mustard layered and pressed into a custom loaf of classic Cuban sweet bread. $5.95
Fun Fact: Nearly identical to the Cuban sandwich, the Media Noche has historically been served on sweetened bread and eaten (as the name would suggest) as a late-night snack. Boasting a complex flavor combination, you can get this treat around the clock at Gordo's for a heck of a deal.
---
Buffalo Blue
Fried chicken tenders, spicy buffalo sauce, coleslaw, cheddar, pepper jack and blue cheese served warm. Served with choice of side. $8.95
Fun Fact: Hailed for its strong flavor profile, this hearty sandwich offers patrons a bite full of interesting. It's big. It's bold. And boy, is
it beautiful.
---
Paisley Chicken Salad Croissant 
Grey Poupon, salami, chicken salad, toasted almonds, muscadine preserves on a buttery croissant. Served with choice of soup or side. $14
Fun Fact: For Paisley's owner Kiersten Lee, this was the sandwich that started it all. The first item to grace her menu, this beautiful chicken salad-filled croissant was originally made as a special afternoon treat for Lee's four beloved nieces. According to Lee, it's still made with just as much love.
---
Gobble Goodie
Sliced turkey breast on whole wheat bread, topped with lettuce, tomato, sprouts and veggie spread. $5.69
Fun Fact: The Gobble Goodie is nothing if not a classic. But we say, "Why mess with a good thing?" The Gobble Goodie is for the purists in search of a staple lunch item in the heart of downtown.
---