Tools for School
Working to Keep Students Supplied Throughout the Year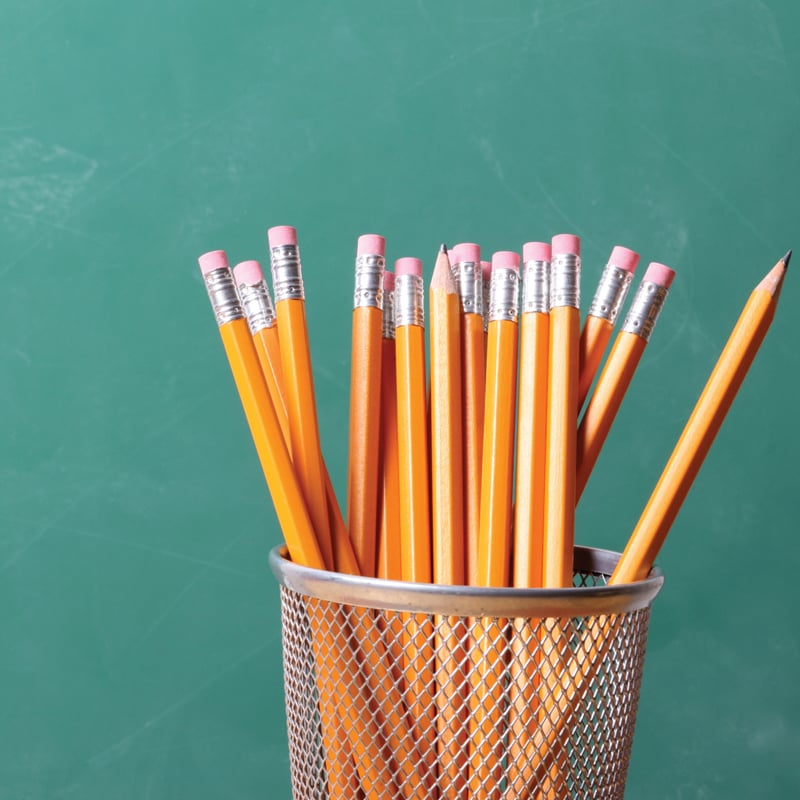 Each August, Tallahasseeans generously give to assure all students have supplies in hand to get a fresh start on the school year. But as the weeks go by, pencils become nubs, pens dry out, Duo-Tangs rip and notepaper gets used up as youngsters diligently apply themselves to schoolwork.
After the back-to-school hoopla dies down, it becomes more of a challenge to make sure every student has "something to write with and something to write on," according to Alison Faris, special projects director for the organization Communities in Schools.
For that reason, for the past few years Communities in Schools – a nationwide effort to prevent dropouts by assuring students succeed in schools – has conducted a mid-year drive to collect supplies. Over the holiday season, businesses were encouraged to collect crayons, glue, paper, scissors and more, and a school bus will travel around town in January to gather the supplies so they can be distributed to students in need.
Superior Bank has set up bins to collect school supplies during the year in its 11 branches located throughout Northwest Florida, including two in Tallahassee. Steve Monk, manager of the Birmingham, Ala.-based bank's branch at 2721 Capital Circle N.E., said the bank plans to maintain the displays throughout the year and hopes to expand its efforts next year to help with supplies for teachers too.
After the drive's initial success, Superior Bank is considering providing the public service in all of its 76 branches throughout Alabama and Florida.
"There's a real intention that they roll it out everywhere," Monk said.
Most-needed supplies include consumables such as notebooks, report folders, glue and facial tissues. There also is a need for scissors, calculators and combination locks.
"Just think what you would send your child to school with," said Raine Smallridge, of Leon County Schools. "We are always grateful for any supplies because there is always a child in need."
---
Tweens Say 'Hola' to the Hip Chicas
What's a girl to do when she outgrows Dora the Explorer? She can graduate to hipchicas.com, the first-ever Latina-themed online world.
Exclusively for tween girls, the site features a popular on-tour band consisting of five Hispanic characters from cities all over the United States. Their virtual task involves helping improve the planet with each stop they make on tour. Hipchicas.com is a fun way for girls to focus their creative energy by teaching the language and culture of Latin America and how they can improve the world via videos, music and interactive games. – Chelsey Germani
​
Calling the Best and Brightest
Nominations for the Best and Brightest Awards scholarship program are due on Thursday, Feb. 12 for Leon County public and private high schools. High school seniors can qualify for scholarship awards totaling more than $38,000 sponsored by Envision Credit Union, Ron Sachs Communications and CreditUnion 24. Seniors nominated by their school will be interviewed in March, and the top three students in each of 15 different categories will be named at an awards ceremony May 13
in the Leon High School auditorium.
For more information, students can contact their school guidance department, visit thebestandbrightest.org or call Laura Rogers of World Class Schools at (850) 521-3113. – Rosanne Dunkelberger
​
Bye-Bye, Boogies
Every mom has cringed with embarrassment after discovering her offspring has been frolicking amongst society with a crusty streak of mucus coating a good part of his or her face. No need to find a bathroom for a scrub-down – all the gunk can be swabbed off with a Boogie Wipe. Invented by two Oregon mothers, Boogie Wipes are moist wipes with added saline for gentle yet effective removal of caked-on boogies. They also contain moisturizing aloe, chamomile and vitamin E, so your little ones won't have chapped skin from too much tissue wiping.
Boogie Wipes come individually wrapped or in 30-packs in regular and grape fragrances. They can be found at Wal-Mart and Toys R Us, or online at cvs.com or boogiewipes.com.
– Stephanie Castellano