Community Treasure Tom Flanigan Has a Way With Words
Known as the 'Voice of Tallahassee', Flanigan strives, as always, to be fair and truthful, especially when tough questions must be asked.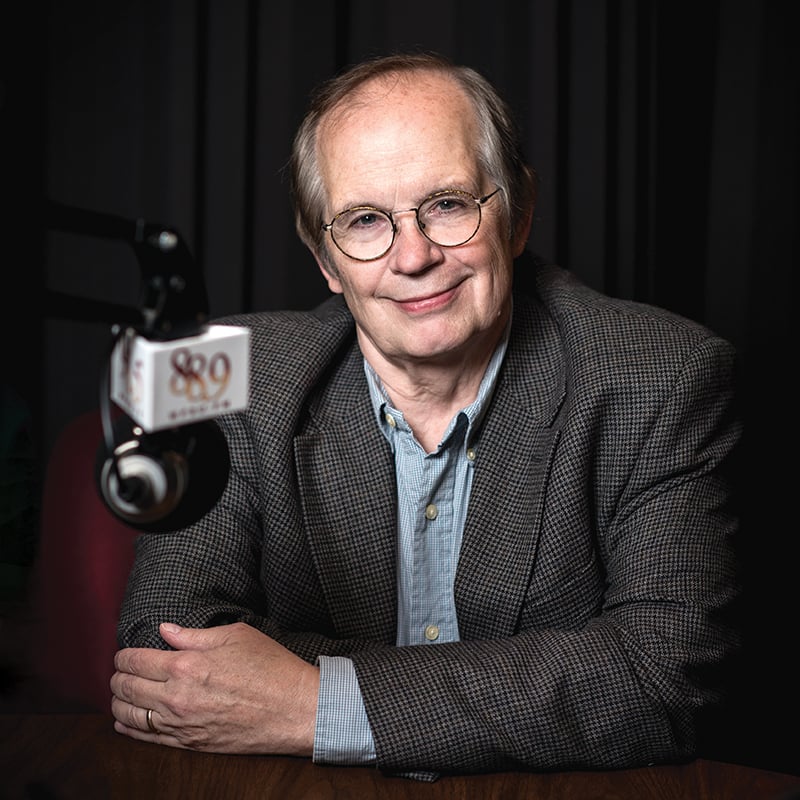 For years, the familiar voice of Tom Flanigan has commanded the attention of his radio audience. In a media environment more fractured than ever before, listeners have learned that Flanigan's reports are evenhanded, sincere and valuable.
Via the airwaves of WFSU-FM and its sister stations, Flanigan reaches 70,000 people in North Florida and South Georgia. He dissects election returns, conveys hurricane advisories, interviews VIPs and ordinary citizens, profiles new businesses, publicizes nonprofit events and reports news from the Florida Capitol.
And he listens.
"It's so important for us as a community to interact, to communicate with each other so that all the voices are heard," said Flanigan, interviewed in his office at WFSU headquarters on Red Barber Plaza, where he is program director for news.
To that end, he introduces every episode of "Perspectives," his weekly live show, with an invitation: "You are always welcome to be part of the conversation."
Listeners say Flanigan democratizes the local airwaves and promotes civil conversations about important subjects. Some call it extraordinary.
"I think Tom is a community treasure. When I hear that resonant voice on the radio, I know it will be a program worth listening to," said Marjorie Turnbull, a listener whose years of service as a state legislator and Leon County commissioner also put her in front of many microphones. "He doesn't choose who to interview based on who is the most important. He chooses voices in the community that need to be heard, even if it's a small voice."
Natasha Hartsfield, director of education at Tallahassee Museum and a small business owner, said she learns about the community from WFSU-FM and appreciates being able to add her voice to the mix.
"Tom's everywhere with his microphone. He's at Market Days (a Tallahassee Museum event). He's at the French Town Heritage Hub. He's at City Hall and Cascades Park and the Capitol. Everywhere I go, I see him, and he recognizes me, too," Hartsfield said.
Flanigan has interviewed Hartsfield on "Perspectives" several times, given her wealth of information about local wildlife, science for children, workshops on sustainability practices, and more.
"He has a huge interest in building the social capital of our city," Hartsfield said, praising his efforts to broadcast local candidate debates, public-affairs forums such as Economic Club of Florida, Capital Tiger Bay Club, and To The Village Square, and, of course, "Perspectives."
Flanigan has an agenda: to promote useful conversation.
"In the early 1970s, I was a small-town DJ at a station that just had a 1000-watt tower and a coffee pot. But the radio station was an integral part of that community," he said. "An area depends on its radio stations."
In Frostberg, Maryland, Flanigan's father was a conductor on a small rail line, the Cumberland & Pennsylvania (C&P). Flanigan calls him his hero, a gentleman who treated others with respect.
"Dad never met a stranger. He was a people person," Flanigan said. "My mother was barely 5 feet tall and skinny as a rail, but she was a dynamo."
Flanigan said his parents' enthusiastic, carpe diem approach to life is part of his DNA.
"I'm nosy," he said. "I have been fortunate to keep a childhood sense of wonder. If you ask, without making people feel attacked, they will tell you things."
Flanigan has interviewed Gulf Coast oystermen, "Chopped Champion" Shacafrica Simmons, Tallahassee's "Chef Shac;" Apalachicola River Trek paddlers, youth mentors in the region, physicists, opera singers, beekeepers, and Guardian Ad Litem advocates for minors involved in the court system.
Flanigan, characteristically, is quick to share credit with the WFSU news team, especially news director Lynn Hatter and senior producer/assignment editor Regan McCarthy.
"I have had the privilege of working with incredible people over the years," he said, adding tips of his hat to former colleagues including Rick Flagg and James Call.
In these confusing times when "media" can mean anything from preposterous Facebook memes to professional journalism, Flanigan says he strives, as always, to be fair and truthful, especially when tough questions must be asked. He says accurate local reporting can "be the salvation of our country."
He has addressed human trafficking in North Florida, drug addiction, suicide, gun violence and the FBI investigation into Tallahassee politics and business connections.
Listeners praise him for refusing to steer guests in one direction or another.
"Tom allows the organic story to be told. He doesn't steer a conversation or an interview. He facilitates an objective conversation where things can unfold, like journalism is meant to be," Hartsfield said.
"He's fair and non-partisan," Turnbull said. "When people listen to Tom's interviews, they don't know what the outcome will be."
Learning to sort fact from fallacy is more important to democracy than ever, Flanigan said, because proßpaganda is powerful and divides communities into factions.
"Diversity of sources is the key," Flanigan advised. "Don't take anybody's assertion alone. Look for consistently reliable and information-based sources. Look across the spectrum; that has never been easier."
People, Flanigan said, should avoid relying on just one source of information, even if they fit it especially consistent with their point of view.
"If anyone says, I am the only one who will tell you the truth, run. And always ask, what's the evidence?" Flanigan said. "That gets us away from tribalism and helps us get back to, 'how can we work this out?'"
Mayor Andrew Gillum is one of Flanigan's fans. He has been a guest on "Perspectives" and has called upon WFSU-FM to distribute public-safety information.
"Throughout his entire career, Tom has been a trusted, consistent source of information for our community," Gillum said in a statement. "From events like The Longest Table, to natural disasters like hurricanes Hermine and Irma, we have counted on Tom to keep us informed, and he has always delivered."
Likewise, Audra Pittman, executive director of the Council on Culture and Arts, said WFSU and Flanigan, in particular, have been invaluable in developing arts and cultural pursuits. Lending his microphone people who bring music, theater and arts to Tallahassee, Leon County and north Florida makes the region a better place to live, she said.
"For so many years, Tom's interviews on WFSU have communicated the hard work and strong spirit of our arts and cultural organizations," Pittman said. "Every time listeners hear his voice introducing a radio segment, they know that they are going to be told an incredible story."
Flanigan is modest in the face of such accolades. He says the fun of capturing and broadcasting sound is still one of the best things about his job.
When School Superintendent Rocky Hanna, then principal at Leon High School, agreed to jump out of a plane in response to a fundraising challenge, Flanigan was there.
"We were at the Havana airport. He's talking as he's getting prepared to go skydiving, and he's terrified but determined. There were the sounds of the plane, the gear, people talking.
"All of that SOUND in just 2½ minutes," Flanigan said, beaming. "I love being able to let people experience such a thing over the radio. And ultimately, I'm always hoping that what I do will give people more to think about and more reason to talk together. I'm always hoping to hear people react by saying, 'I didn't know that!'"
Sound bytes from

Tom Flanigan
On fake news:
"If a faceless guy in Moscow can enlist your worst angels to turn you against people you would probably be friends with, how is that a good thing?"
His own outlook:
"There will always be bad news. We need a Good People Doing Good Things Department."
On not judging:
"I have never met — though I'm sure they are there — a person who convinced me they are totally evil. I have only met people who made terrible mistakes in their life, and that includes me."
On democracy:
"It's so easy to manipulate this medium. We have to be mindful. Democracy is hard work."