To the Ends of the Earth … and Back Again
Argentina's Patagonia Region Offers Natural Adventure and Fabulous Food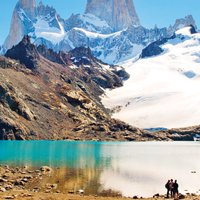 Argentina is an exciting and diverse country offering everything from fine food and wine to a tumultuous political history to exhilarating nature activities. Southern Patagonia and Tierra del Feugo, located at the southernmost tip of Argentina, have magnificent views and endless trekking, canoeing and animal-watching opportunities. We were quite fortunate to partake in some of these treasures on a recent trip to the "edge of the earth."
Our trip was organized by Seattle-based Southern Explorations. They specialize in South American adventure travel, providing clients with a seamless, hassle-free experience.
Carmen, a local representative for Southern Explorations, met us as we disembarked in Buenos Aires. More than three million people live in the city, and an additional three million commute into the area each day for business. Traffic can be a little overwhelming, and English is not spoken as pervasively as it is in European countries. She escorted us directly to our hotel and gave us a brief orientation with recommendations for our upcoming three days in the metropolis.
Southern Explorations offers a variety of four- and five-star hotels to choose from. We choose the Novotel located in the Plaza de Mayo. This central district — or barrio, as areas in Buenos Aires are referred to — is the political center of the city and ideally located as a starting point for a visit to Argentina.
Plaza de Mayo is very historical and provides a vast overview of the turmoil and vitality of Argentina, which has experienced considerable political upheaval, swinging from democratic rule to military control.
The Museo del Bicentenario at the Casa Rosado has an excellent political retrospective commemorating the last 200 years of the country's independence. You are probably most familiar with the Peron era. Juan Peron and his beloved wife, Evita, were memorialized in the Broadway musical and 1996 film, "Evita." She died at the young age of 33 and is entombed in her family mausoleum at the Cementerio de la Recoleta. This world-famous cemetery, located in the beautiful Recoleta barrio, has over 6,400 tombs and mausoleums, and more than 70 are recognized as National Historical Monuments.
There is a range of dining choices in Buenos Aires. You can find delicious food, reasonably priced, but portions are large and dining never starts before 8 p.m. I think our favorite was the upscale, traditional Fervor Restaurant in Recoleta. The fun and funky décor of this very popular local restaurant is in juxtaposition to this historical building with its huge wooden doors and antique bar. They have extraordinary beef and a good wine list. I ordered their small filet (12 ounces at least) and my husband ordered their house-recommended rib eye. No complaints, just raves for Fervor!
We were very grateful to have Carmen greet us once again and safely deliver us to the domestic airport terminal for our flight to Tierra del Fuego. The international and domestic terminals are located in different parts of the city.
After a three-hour flight, we arrived in the western hemisphere's most southern city, Ushuaia. Tierra del Fuego is an archipelago where the Andean mountain range meets the sea — next stop, Antarctica. Ushuaia is the departure point for all marine expeditions to Antarctica. It is a small but significant city, because it serves as a gateway to many of the area's natural wonders.
Parque Nacional Tierra del Fuego is one such treasure. It encompasses over 250 square miles of protected forest. It also includes lakes, mountains, glaciated valleys, a beautiful seacoast and more than 100 bird and animal species. We were able to hike and canoe through the park. The Pampa Alta trek is rather difficult but provides views of the Beagle Channel and beyond. The excursions were offered by a local outfitter but coordinated through Southern Explorations. Our guides were well educated and entertaining, even arranging cake and candles for my husband's birthday.
King Crab rules as the meal du jour; I could have eaten it every single day! We found that Tia Elvira, a small, family owned restaurant across from the port, won first place for this delicacy.
Tierra del Fuego and Southern Patagonia are very remote, so air travel is a must. Our flight from Ushuaia north to El Calafate took about two hours. From El Calafate we were transported further north to El Chalten, where we spent the next three nights.
El Chalten is the perfect base to explore the northern section of Parque Nacional Los Glaciares and El Calafate for the southern section of the Parque. The Parque is a UNESCO World Heritage Site. In the summer (which is our winter) this small village explodes with hikers, climbers and campers. The highest peak in the Parque is accessible from El Chalten — Mount Fitz Roy. We experienced our most difficult trek of the trip here.
Our hike to Laguna de los Tres at the foot of Mount Fitz Roy was approximately 14 miles and took us over 10 hours. Had it not been for our incredible guide, Sergio, I never would have made it. At one point I said, "I do not think I can do this." He replied, "Yes you can and you will. We will do it together step by step." Wow, that is what I needed to hear because, as a major shock to us all, I DID IT! I must say, it was well worth it; not only for the views but the incredible sense of accomplishment I felt for just living through it.
Needless to say, we chose a much less rigorous hike the next day, the leisurely hike to Laguna Torre, approximately five miles round trip from our hotel. It was the perfect spot for our tasty picnic as we basked in the summer sun, feeling grateful for finding this place near the end of the world.
There are a surprising number of very good restaurants in this tiny village. We had very good meals at Estepa and Techado Negro (Black Roof). Microbreweries are very popular here too, and they often serve simply prepared regional dishes like Locro, a spicy beef stew.
Our final stop was El Calafate, approximately two hours south of El Chalten, on the shore of Lago Argentino. Perhaps the most popular destination in the southern section of the park is Glaciar Perito Moreno. The glacier measures approximately 19 miles in length and 2 ₁⁄₂ miles in width, and it flows down to Lago Argentino. There are several ways to experience this spectacular wonder. Peninsula Magellanes, facing the glacier, has a chain of descending decks and walkways that allow you to see the glacier from several angles and hear the earsplitting sound as a 20-ton chunk of ice cracks off and crashes into the lake.
If you are feeling more adventuresome, take a trek on the Big Ice, an eight-hour hike deep into the glacier that challenges and tests your endurance and ability to climb walls of ice. We did not do this; our exploration was something in between.
Southern Explorations can arrange for you to board a large sightseeing boat at Muelle Perito Moreno, which takes you to within 100 yards of the 100-foot towering wall of aqua blue ice. There is a small camp here bordering the glacier and the forest where the boat drops you off for a tamer hike of the glacier.
The carefully guided hike lasts about two hours and requires metal ice shoe crampons for navigation; it can be very dicey and several people did fall. Our guide showed us the ever-changing facets of this land and served us 4 million-year-old "pure" water before sending us on our way.
We found one unexpected gem right in the middle of El Calafate, Reserva Municipal Laguna Nimez, a wildlife reserve with more than 100 species of birds on the shore of Lago Argentino. A two-mile nature trail around the Reserve gets you up close and personal with the rarely seen pink flamingos, as well as scores of other species.
I recommend a visit to Pura Vida Restaurant, which sits on the shore of Lago Argentino. The food is homemade and includes traditional dishes as well as excellent vegetarian meals (not easy to find in beefy Argentina). You will need a reservation. We arrived without one at 7:45, and there were already 10 other people at the door. Fortunately, we got a table — lakeside!
It was a wonderful vacation. The rich, natural beauty of Argentina is awe-inspiring. The food throughout the country was surprisingly sophisticated and creative; the beef, of course, is some of the finest in the world. The Mendoza Region of Argentina supplies delightful, moderately priced wine to all the provinces, and the people are passionate about their beliefs and their culture. They have much to be proud of, and Southern Explorations takes all the rough edges off a multi-stop journey to the end of the Earth.