To Ray With Love
Maceo Parker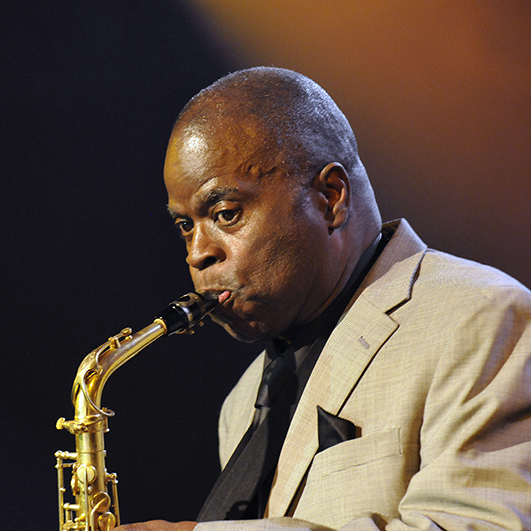 Sponsored by Opening Nights AT FLORIDA STATE UNIVERSITY
Maceo Parker grew up with church music, but he didn't stick with it. As a kindergartner, he figured out how to play "Yield Not to Temptation," but as a teenager, he faltered.
Parker went on to play saxophone with legends James Brown, Ray Charles and Prince. Especially in Europe, Parker is as well known as those headliners.
In a tribute to Ray Charles, who spent his early childhood years in North Florida, Parker will perform in Tallahassee on Feb. 5 with the Ray Charles Orchestra & The Raelettes in an Opening Nights performance titled "To Ray With Love."
Parker's first instrument was the family piano. But when, during a parade, a high-school marching band won his heart, he switched to saxophone.
"I knew I was on the right track. I knew I had something special inside me," Parker said from his hometown of Kinston, North Carolina.
The godfather of soul apparently picked up on that, too.
James Brown, hanging out at a club after a performance, heard Parker's brother Melvin playing drums and said he would have a job for him after he finished high school.
"Sure enough, James Brown comes back to North Carolina," recalled Maceo. "He's playing in Greensboro at the Coliseum, so we decide to ride around until we see his limo, and we end up right behind it. My brother goes up to James and says, 'I'm Melvin Parker, and I'm not in school now.' "
Melvin introduced Maceo, a tenor sax player, and Brown asked if he played baritone sax.
"I'm thinking, I cannot say no, I gotta say yes. So I said, 'Uh, yes sir.' And his second question was, 'Do you own a baritone sax?' And I said, 'Uh, yes sir.' But he could tell I didn't have one. He says, 'If you can get a baritone sax, you can have a job, too.' "
The brothers raced to the local music store hoping to make the owner believe he should make them a deal on a baritone sax so they could join James Brown's band. They succeeded, and Maceo Parker went on to become one of the world's best saxophone players.
Those killer sax riffs in "Papa's Got a Brand New Bag," that's him.
After getting drafted and serving in the Army, Parker rejoined Brown and performed with him in Vietnam entertaining the troops. By then, he and Brown had fans all over the world including celebrities Michael Jackson, Eddie Murphy, George Clinton and Chris Tucker.
Another fan was Prince, who would later recruit Parker to tour with him.
In 1993, Parker saw a dream come true — opening for Ray Charles at home and abroad and then touring the world for several years with the Ray Charles Orchestra.
After Charles died in 2004, Parker continued on his own. In 2016, he reunited the orchestra and The Raelettes to keep the maestro's music alive.
Born on Valentine's Day, Parker says he's all about love. He's horrified by all the gun violence in the United States. He wants people to stop yelling at each other and listen more. Returning to childhood teachings, he entreats, "Do unto others as you would have them do unto you."
In his concerts saluting beloved Southern soulman Ray Charles, he plans to put his heart into it. He says he'll love it if people get up, sing out and dance 'til they feel better.
Tickets to "To Ray With Love" are priced from $25–$65. To get yours, visit openingnights.fsu.edu or call (850) 644-6500.
---
Want to catch Maceo Parker on stage?
The performance will be at Ruby Diamond Concert Hall, February 5, 2018 at 7:30 p.m. For information on other performances, visit openingnights.fsu.edu/events.