To Everything a (Renewed) Purpose
Creative Ingenuity Gives New Life to Old Cast-Offs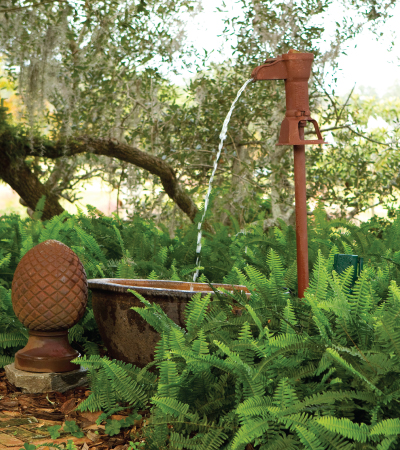 If you're a home fashionista, try stopping in at a junkyard. There you might encounter such delicious finds as a sheet of rusty corrugated tin, a dented locker or a one-wheeled lawn mower.
Shaking your head in disbelief? Then you haven't seen "Picker Sisters," the new hit show on the Lifetime network. Here, two top designers take a trailer truck to the hinterlands, rummaging through salvage yards for stuff to be transformed into high-priced home furnishings back at their studio.
Nor have you encountered Randy Ziffer and Ric Feld, a Tallahassee married couple who love repurposing cast-offs, including items so decrepit most of us wouldn't give them a second look. With imagination and ingenuity, they turn old fireplace facades, bird cages, water pumps and heaters into attractive, cohesive home décor with a stylish flair.
One of Ziffer's coolest projects was that old metal fireplace facade. Despite being covered in rust and grime, Ziffer remembers that it called to her. After cleaning it up and discovering it was made from copper and brass, with some woodwork and paint, the couple turned it into a small buffet.
Bare Bones
While they might not look like much when they're sitting on the side of a road or in a junk or salvage yard, old building materials can provide any room with a touch of character. Found wood, especially, can be a treasure.
Salvaged wood is nothing like the stuff you'll find in stores. There, wood is held to a standard with straight grain and no quirks or imperfections. While this can make great painted furniture, old, weathered wood makes for far more interesting naked pieces.
Lucas VanSickle, artist and carpenter, has a shop filled to the brim with salvaged wood discarded by lumber mills, scraps from the side of the road — even tree stumps. From these, he crafts beautiful and unique cutting boards, tables, sculptures, bowls and anything else the materials inspire.
"Found wood is the stuff with all the character in it," he explains. "It's the stuff that's been beaten and used, and you can see where it's been worn, and you know it's old. It's the best stuff."
For VanSickle, his work is more of a mindset, an addiction. On his normal errands, he'll take a side road just to see what he can find. "An hour later I'm out in the woods, or like, somebody's trash dump or something picking up random pieces of wood." Unlike most of us who see an old stump covered in moss and bugs and cringe as we hurry past, VanSickle sees potential; the intricate, erratic grain inside tree stumps makes for breathtaking bowls.
"Most of the time the worst shape is the best. Because a lot of times when it's the worst-looking you can start getting down into it, start cutting it … underneath is where all the beauty lies."
His first big piece was a little unexpected. Before he even knew he'd be doing woodwork, he helped someone take apart a huge old trailer bed made from really nice oak. "Most of it was punky and crap and had to be thrown away," he remembers. "But I realized how good it was and yanked some of the pieces off."
The result was wildly beautiful. "They're solid chunks, all crazy shapes, still have these old bolts stuck in them and years' of different oils, like gasoline, hydraulic fluid that seeped into the grain, so once I planed it all down underneath it, it was just these weird black crazy lines all through it …"
His parents now own the resultant coffee table, and the other product — VanSickle's career — is still blossoming as he begins incorporating other materials into his work, such as old cast iron pedestals and water mains (perfect bases for rustic wood coffee tables) and perhaps even marble tabletop pieces discarded by factories.
Whatever materials he incorporates, it's safe to say he'll never abandon salvaged wood.
"It's a journey, you know, it came from someplace and now it's here. Now I'll make it into something and give it back."
Found Objects
Another way to make a decorative statement can be through repurposing found objects from antique stores, estate sales and flea markets. All it takes is a little creativity. In addition to her miscellaneous projects, Ziffer also makes three-dimensional mosaics out of string instruments, giving them a second life as they age beyond playability. Guitars, violins, mandolins, banjos … anything goes.
Ziffer enjoys doing mosaics because of the dramatic change she sees in the objects she reincarnates. "You can take something that needs to be thrown away, I guess, and give it another life … Doesn't matter if it has a hole in it … because you can mosaic right over it, and that's the beauty of it, it really is."
Local artist and executive director of The Sharing Tree, Carly Sinnadurai, also does extensive work with found objects. One of her latest projects has been a series of antique windows she received as a donation. Sinnadurai has been turning these windows into works of art by painting, sculpting and collaging on them.
After receiving the donation, Sinnadurai decided she wanted to recognize and preserve the windows' uniqueness by dressing each one up differently. "They were really fabulous; they're all really unique to one another, and obviously the material in and of itself inspired me."
As an artist, Sinnadurai stresses the importance of reusing and repurposing as a creative exercise. Artifacts, she says, stand out from ordinary, transient items because of their durability and timelessness. She also notes the growing popularity of repurposing, and bubbles with enthusiasm as she explains:

"A lot of artists are jumping on this train, which is interesting to me but it's also very exciting. I do think it's a very fabulous skill for our world to start looking at materials in a different way, and I guess valuing them more, and that's exciting not only for creativity but also for our environment as well."
A Trend Is Born
As antiques go, oddball found objects are a new phenomenon. It began in the late 1900s when living in vintage industrial or commercial spaces became the height of chic in big cities. Those large spaces called for oversized, gritty-style furnishings — and what could be better than the pieces that made them function in the first place? Stainless steel worktables and giant work lights moved in and were immediately declared gorgeous by home magazines.
Soon the high-ceilinged rooms and large windows characteristic of urban lofts became popular in new housing everywhere, and stainless steel, commercial-grade appliances became kings of the kitchen. Some industrial items, such as wheeled foundry trolleys and tripod lamps, have even gone so mainstream that they're being reproduced by companies like Restoration Hardware and Pottery Barn.
Since those early days of the loft revolution, the world of industrial antiques has undergone a huge expansion. It now also encompasses furnishings, fixtures, building elements, equipment and tools from virtually any commercial establishment or institution.
Current favorites include shelving, anything with wheels and gears, Singer sewing tables and stools, carts from the days preceding the conveyor belt, dipping baskets, pallets and lockers.
Other categories of industrials are: molds and patterns for cast iron parts; architectural salvage, such as cast iron columns; institutional lighting; gates and fencing; and stone statues, planters and benches.
Designers' Darlings
Interior designer Julian Mathis is also no stranger to reusing and repurposing. His entire building and home, Midtown Design Center, is a repurposed building; originally a sheriff's office, it now serves as a home, office and rental space that houses a bakery, boutique and café.
Many of his design projects involve the use of antique, repurposed materials to add visual interest. His most recent project, Paisley Café inside the Midtown Design Center, involves a lot of repurposed materials. Antique pine doors form the base of a copper-countered bar, with large old doorknobs attached to hang women's purses. Salvaged wooden tables cut in half now line walls as intimate seating for diners. An old basin sunk into a table top forms an outdoor drink container, ready for display on the building's patio.
When asked where he finds these vintage treasures, Mathis replied with a laugh, "I've been known to pick them up on the side of the road." He also adds that most antique shops offer a good selection of items to be taken, reworked and even repurposed.
Another local place he gives a lot of credit is Southern Chicks. Located on South Monroe Street, this store specializes in salvaged, repurposed furniture and provided many of the materials Mathis used in designing Paisley Café.
Mathis has reused and repurposed items for almost any room imaginable. Bathrooms, he says, are surprisingly easy places to incorporate repurposed items. One of his most creative ideas involved using a vintage dentist's cabinet for vanity storage. He likes the character added by these finds, explaining, "They add originality. They add interest and a conversation piece."
But is all this a fad? Will reused and repurposed materials go the way of so many collectibles that were hot for a few years, then dropped off the radar screen?
Mathis doesn't think so. While more contemporary designs tend to go out of fashion as quickly as they came, he notes that there is always a cycle of revival. "Antiques or old architectural things will never go out of style, I mean they've been here forever … They will always, I think, come back around."