TMH Offers Neurovascular, Minimally Invasive Surgery for Patients
Cutting Edge — Without the Blade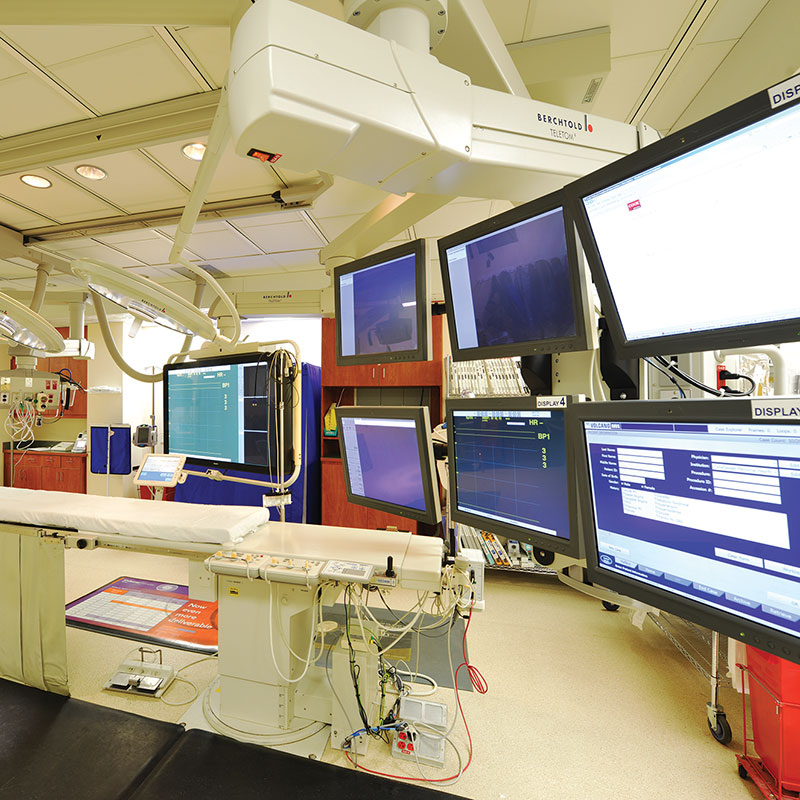 For nearly 700 people across the region, brain surgery — without scalp cutting and skull sawing — has become a reality at Tallahassee Memorial Hospital.
A reality, and a blessing.
"Basically what we do in the (catheterization) lab is called endovascular neurosurgery," said Dr. Matthew Lawson. "What that allows us to do is to treat blood-vessel disorders of the head and neck through minimally invasive means."
A neurosurgeon specializing in cerebrovascular surgery and endovascular neurosurgery, Lawson arrived at TMH in 2012 to launch the hospital's new endovascular program. Since then, he and Dr. T. Adam Oliver, a fellow neurosurgeon and a Tallahassee native, have built the program from the ground up.
Together in the catheterization laboratory (affectionately dubbed the "cath lab"), Lawson and Oliver treat patients suffering from a variety of neurological ailments, including brain aneurysms, acute strokes and arteriovenous malformations of the brain
and spine.
"Many of those diseases, like acute stroke, don't have any open surgical procedures as a treatment option," Lawson continued. "All of these endovascular procedures that we do, we're going from inside the blood vessel. We usually go in through a blood vessel in the leg called the femoral artery. We navigate the catheter all the way up to the head using X-ray guidance from inside the blood vessels. Then we can repair them or do whatever treatment we're doing.
"Much the same way a cardiologist would do a heart catheterization — we're basically doing a brain catheterization."
Before 2012, Northwest Florida patients and their families were traveling to major metropolitan areas such as Tampa, Orlando and Gainesville for these lifesaving treatments. According to Oliver, allowing patients to be treated and recover closer to home is a win for everyone — especially loved ones.
"It's not just a hometown pride thing," Oliver said. "It's a realization that when you have a person with a sickness, with a vascular lesion, it's not going to be in and out of the hospital. With a ruptured aneurysm, even if you look good neurologically, you're sitting with us for two weeks. Minimum. And often longer."
Since these procedures generally require only a local anesthetic, patients are wide awake while in the cath lab. Once the surgery has been successfully completed, they are kept for an extended period of observation.
That's where Nancy Anne Teems, the nurse manager for neurology, neurosurgery and neurovascular at TMH, along with her team of seven registered nurses who are dedicated full time to neurovascular cath lab patients, come in.
"We're looking for any of the slightest neurological changes," Teems said.
That also means monitoring patients' hemodynamics and liquid outputs. According to Teems, rehabilitation can look different depending on the patient. The major factor for a speedy recovery? Early detection.
While it's a boon for Tallahassee, the neuro cath lab services patients from three states.
"We're drawing patients from as far as Dothan and Pensacola, up into Cairo, Georgia, all the way over to Valdosta," Oliver continued. "So for this segment of North Florida, South Georgia and South Alabama, we're it. And we're very proud of that."