Tips for Mastering the Modern Day Bachelor Pad, One Geometric Pattern at a Time
Tastefully Masculine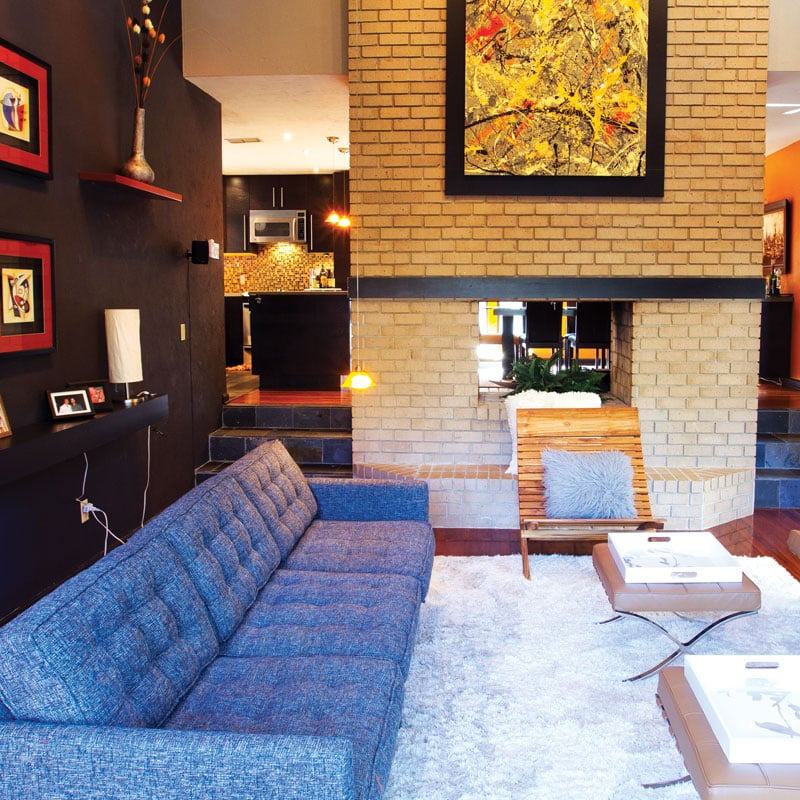 Scott Holstein
Kevin Hamilton's home is an eclectic fusion of masculine and contemporary designs. Misters looking to cultivate a fun, vibrant yet super-sleek interior — please, take note.
For the average Joe, plaid — and maybe a nice pinstripe or two — can solve any decorating challenge. But for the truly stylish, this austere technique just won't cut it.
Whether the goal is rustic or modern, sleek or cozy, pulling off the quintessential "bachelor pad," or any masculine space, is about balancing texture and color in a clean and compelling way. For some, a decidedly manly design may translate into a bold, primary color scheme while others are drawn to rich earth tones. A monochromatic, minimalist approach also has its advantages.
When mastering this look, search for items such as reclaimed wood furnishings, fun or funky patterned chairs, a single large-scale item that has a glossy lacquer finish or even a vintage piece of sports paraphernalia that speaks to your heart. Natural or rustic elements like stone, hammered metals and exposed brick also exude an unmistakably masculine quality.
Kevin Hamilton, owner of Salon IQ (previously KH Hairgroup), is known around Tallahassee's creative circles for having an eye for masculine design and style. Both at his salon and in his home, he gravitates towards bold colors, smart patterns and contemporary designs mixed with natural elements.
"I like to keep it simple and then have bold features, like statement pieces," explained Hamilton.
In his home that means keeping ornamentation to a minimum. Instead, Hamilton chooses to blend vibrant colors, like orange, with sleek and modern designs. One of his most prized techniques for achieving handsome interiors is to look to the great diversions of life, from travel to local artistry, for inspiration. Introducing these elements can add a flair of regional style and personal taste for a truly authentic feel.
"Find one piece you really love and build from there," shared Hamilton, who was recently inspired by the use of old and new during a trip to Amsterdam.
Julian Mathis, a former Tallahassee Magazine "Best of" winner for his interior design skills, has conceived and created many upscale pour homme pads in the greater Tallahassee area.
One of the most memorable was a home he recently decorated in the Los Robles neighborhood. Because the property was to be used as a second home with rental income potential during the legislative season, Mathis was faced with a unique challenge.
"It had to be somewhat sophisticated and something that men would gravitate to," explained Mathis. "It's a Tudor-style home. It has beams in the ceilings and a real interesting, yet simple, fireplace. We did the furnishings in chocolate brown. The colors were comfortable and current."
To achieve his goal of a masculine, yet approachable, design, Mathis played off the home's immense character and existing features by bringing in iron sconces to add much-needed lighting and ambiance. Confidently upholstered, geometrically patterned studded chairs were placed opposite the Spanish-inspired fireplace — allowing the home's integrity to speak for itself — while a cozy couch in a traditional red hue completed the room. On the walls, Mathis also limited the amount of clutter by being ultra selective with artwork and accessories.
The result was a strong, yet restful and inviting, living room suitable for entertaining colleagues or setting up shop to watch the game — the perfect combination for a modern-day bachelor pad.
As a word of caution, experts agree that it's important to allot enough time for style to flourish organically. A mixed-and-match design is far more interesting than a cookie cutter room hastily purchased by the bundle at a local chain. Acquiring an artisan-made end table on a road trip or a lamp from that great thrift store down the road will make the compilation all the more memorable.
"Stay away from being too trendy," emphasized Hamilton. "If you like it, who cares what everyone else thinks?"