Tips for Choosing The Perfect Brush
Never a Hair Out of Place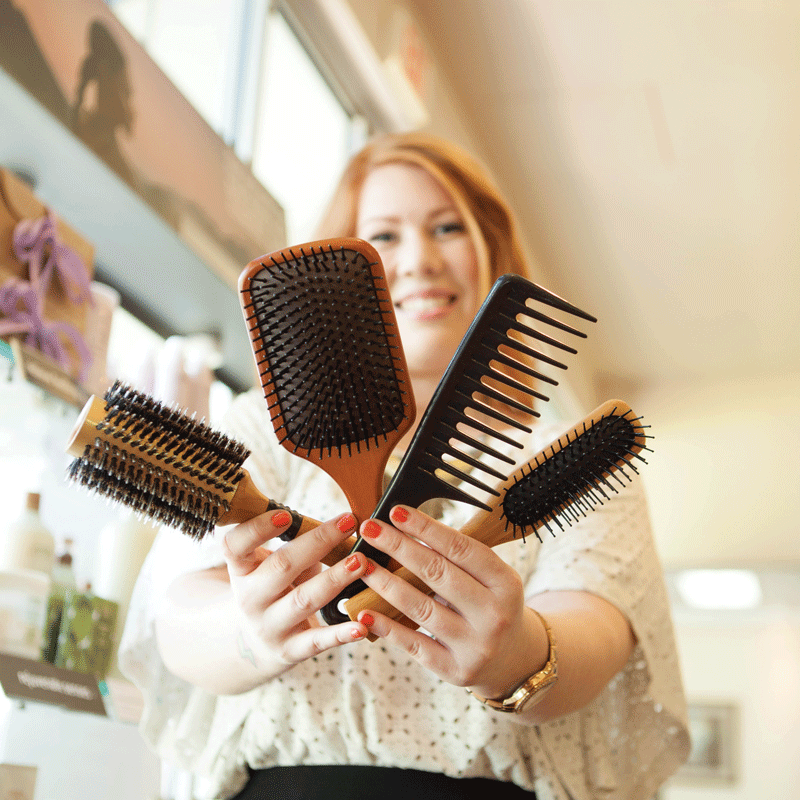 Whoever said you have to brush your hair 100 times a day was clearly using the wrong brush. Old wives tales aside, using the right type of brush is crucial to maintaining healthy, beautiful hair.
"The most effective brush is the one used for the right purpose at the right time," advised Erin Stoner, a stylist at So Pure Salon and Spa. "Everyday detangling and specific styling require different tools."
The good old go-to brush that works well for almost every hair type is the square cushioned boar bristle brush. The long bristles glide through hair and detangle without pulling out hairs. "Using a gentle brush can stimulate the blood flow to the scalp and evenly distribute natural oils throughout hair, which encourages growth," she said. To minimize hair breakage, is important to brush hair with a gentle detangling brush to work out knots before using a specialized styling brush.
For styling, it is best to blow dry hair without a brush until it is about 80 percent dry, allowing hair to dry faster and inflict less heat damage to the hair. For styling blown-out hair, a vented, round barrel styling brush with compact bristles is perfect for creating volume and natural-looking loose curl. A vented-barrel thermal brush can trap the blow dryer's heat and apply it to the hair, creating a smoother look with less effort.
Just like different styles require different brushes, so do different types of hair. Thick curly hair responds best to a wide-tooth comb for detangling or a wide-bristle air space paddle brush that will not pull hair out. Straight thin hair needs a soft brush with natural bristles and a soft cushion to gently glide through hair without pulling it out.
We have all heard the classic "never brush wet hair," but for people with very curly or coarse hair, post shower may be their only chance to detangle without creating a huge mess of frizz. Brushing wet hair is not necessarily bad; it just requires a special touch. Using a wide-tooth comb and gently detangling from the bottom up is a good way to safely untangle hair. The wide-toothed comb will not catch every little hair, so it can detangle without separating curls.
Cleaning brushes regularly by removing hair and soaking them in warm water with a touch of shampoo eliminates the residue from gels and oils that can build up and leaves your brush just like new, ensuring the best styling results.