Tin Revival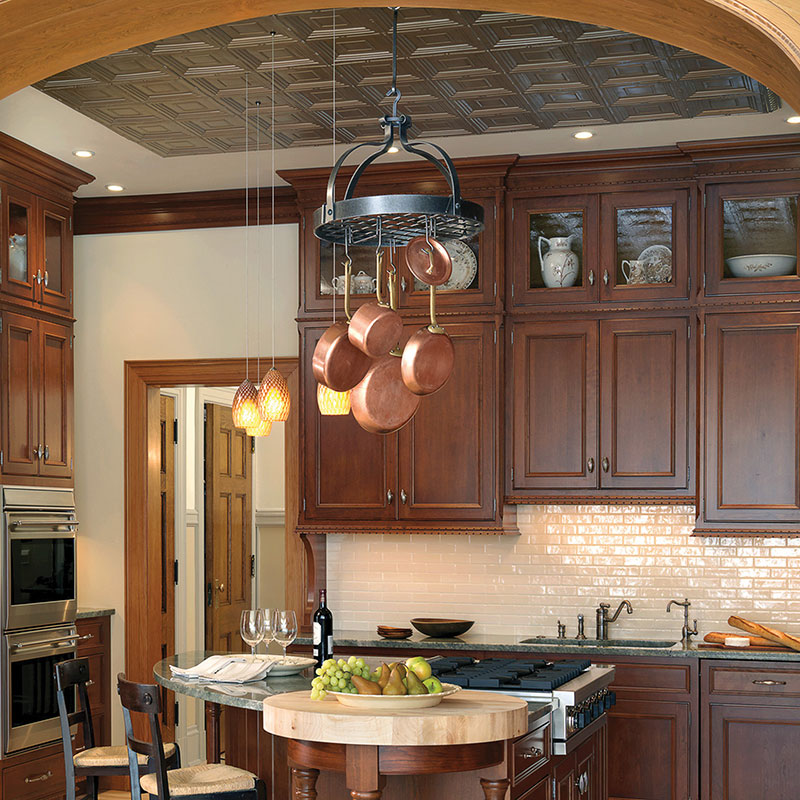 Kitchen designed by NKBA member Chris Berry. Photo by Alise O'Brien Photography
In the early 20th century, tin ceilings were working-class America's reply to ornate and expensive plaster designs seen in upper-class European households. Tin was affordable and easy to transport in sheets by railroad. Ornate designs were pressed using a drop hammer to stamp each pattern; then the tiles were individually mounted. Tin ceilings could be found in parlors and business establishments throughout the early 1900s.
According to the National Kitchen and Bath Association, the unique metallic design has made a comeback, especially in household kitchens. Certified kitchen designer Kimberly Transtrum, of Ferguson Enterprises Inc. in Fort Lauderdale, said she has been using tin tiling in her designs for the past couple of years.
"Tin ceilings are great for older homes that may have ceiling flaws or just to add some needed pizzazz to a room," Transtrum said.
Traditionally, tin tiles were painted white as an affordable substitute for European-style crown molding. Later, the shimmer of finished and unfinished copper, bronze and gold became the standard.
"Recently, new modern and contemporary patterns have been introduced, causing tin tiling to also gain popularity as kitchen back splashes," the designer said.
According the National Kitchen and Bath Association, other popular kitchen design trends include stainless steel countertops, stone hearths and stainless steel finishes.