Time Travels
Memoirist Ann Camp is cursed with kindness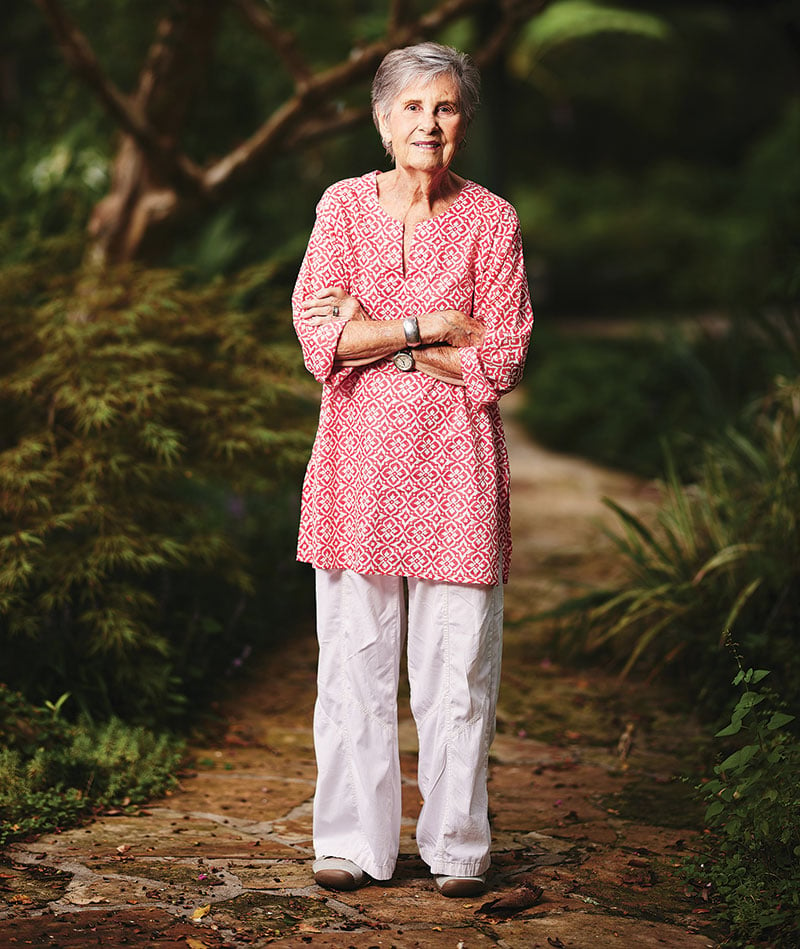 Ann Bannerman Camp is a time traveler.
In one moment, the 92-year-old walks gingerly around her historic Tallahassee home. Her eyesight and hearing are in decline, so each step risks a broken bone. The next moment, she is three years old unwrapping a refurbished tricycle, the gift her parents weren't sure they could afford amid the Great Depression.
It started about two years ago by Camp's estimation, long-forgotten memories flooding in with vivid detail. She found a scientific article, though she cannot remember from where, that said this was not an uncommon occurrence. As the future becomes shorter, our brains have more time for the past. Still, it felt like more. It felt like an imperative, a challenge, so she began to write the memories down.
In February of 2022, Camp reached out to a friend whose writing she admired, David Campbell. Together, with some advice from Big Bend Poet Laureate and longtime friend Mary Jane Ryals, Camp and Campbell collect the memories. Camp doesn't worry about punctuation, capitalization or telling the same story twice. She just gets the memories down on her large-font iPad and sends them to Campbell. What to do next is up to him.
"I don't keep up with what he's doing with it," Camp said with a matter-of-fact tone. "I don't feel that it's anything I need to worry about. He knows that he has the freedom to change things without the original intent being lost. I have no interest in telling him what to do. None whatsoever."
"We are hoping, of course, that it will be published," Campbell said. "Ann will be 93 this year, however, and this is her last big project. She is in remarkable health for someone her age, but as she tells me every day, 'I could go to bed tonight and not wake up,' and she's right. She's got a bee in her bonnet, as we say, about getting this done fast. So, we've set a sort of deadline. One year to get it all down."
Ann remembers her father losing his job as a civil engineer, drawing Hitler with horns during World War II and her grandmother's garden. She remembers other things too, such as racial segregation, things that dumbfounded her even then. But of the horrors and injustices she remembers from that era, certain memories cut deeper than others.
She cries when she tells the story about the young Black girl, Anise, who went on vacation with her family to help cook and look after the children so many years ago. "I probably didn't pay her what she was worth, I can admit that," Camp said. Anise ate with the family, played with the children and, when she didn't feel like cooking, traded turns with Camp. It was no different than any other family trip to St. Teresa Beach.
Until it was time to go home.
On their route through Carrabelle, Camp and the kids stopped at a soda fountain for Coke floats. While Camp milled about the store, Anise sat at the counter with the kids.
"I began to notice that the man behind the counter was getting a little unsettled," Camp remembered. "After we finished, I asked for a Coke, and he excused himself and went into the back room. He came back out with another man, and the man looked at me and said, 'Ma'am, we can serve them and you, but we can't serve her.' That broke my heart, and my children didn't understand."
Camp told the men that she and her family would not be back. She took Anise by the hand and asked her to sit next to her the rest of the way home. The drive was silent, Camp remembers, apart from Anise's sobs.
Despite, or perhaps because of Camp's emotional response to the memory, she was reluctant to share it with Campbell.
"I don't want to be preachy," Camp said again and again.
But some stories cannot be separated from their emotional toll, and I asked Camp how she, a Southern girl from a prominent family of one-time slaveholders, knew that racism was wrong. We decided that it came down to empathy. You cannot identify with people that you are unwilling to know. You must expose yourself to their pain and personhood.
"I have always had incredible admiration and respect for her forward-thinking approach, particularly in the 1940s to the 1960s when Tallahassee was still a very provincial, Southern town steeped in all the ugliness of segregation," Campbell said. "Ann's path was never the most popular."
As we spoke, Camp's daughter, Carden Alexandre, floated in and out of the warm living room where we sat.
"I was just telling Emma how you said I put a curse on you," Camp chuckled.
Cursed with kindness, it seems. The mother and daughter laughed for some time about their inability to watch any creature's suffering.
"I go out every night with the skimmer and get these beetles that are dying out of my pool because I can't stand to see them dying!" Alexandre said.
It reminded me of something Camp had mentioned earlier in our conversation.
"All my long life, I have been motivated to shelter," Camp said. "How we all need shelter, all creatures. If you are going to make someone happy or some creature, they have to have shelter. I began to put all the things that I have been fascinated with — nature, bird seasons, architecture — but I think the underlying theme of my whole life project has been making things better for something or someone."
Before establishing her interior design firm, Camp said she wanted to be an architect. In her youth, Camp built clubhouses in the bushes around her home. As a student, she worked on a project to design stylish interiors for Section 8 housing on a meager budget. She has kept a dozen or so bird houses and feeders right outside her kitchen windows for decades.
"I could write a book if I wanted to act like I had the answers to everything. I don't have the answers to any of it," Camp said. "With what I am writing about, I would like to think that I would leave every bit of the thought about what it means to the reader."