Time for a Christmas Light Switch
To save electricity, deck the halls with LED lights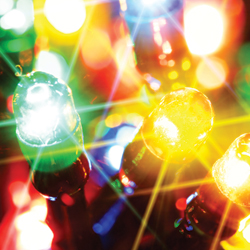 Christmas lights on your house and around the tree are beautiful with multicolored, luminous bulbs shaped like miniature candles. But those suckers burn a lot of juice that can send your December electric bill through the roof. Plug too many together or leave them on too long, and they can toast an extension cord.
Light emitting diode (LED) lights are fast becoming a favored alternative to their incandescent Christmas cousins.
"In two or three years, incandescent lights will probably be retro," said Mike Streb, director of sales at Christmas Lights Etc. Based out of Alpharetta, Ga., the company supplies Tallahassee's retail stores and other business with holiday lights for commercial decorating. Holiday LED lights are available for indoor and outdoor use and are now being made in motifs such as snowflakes and icicles.
According to Streb, LEDs use 95 percent less energy than incandescent lights with extremely low wattages, which means lower electric bills. Also, the bulbs are plastic, not breakable glass, which makes them more durable. And each light lasts longer — an estimated 100,000 hours.
Streb said the biggest problem people now have with LEDs is the higher price. Also, some people don't like the bright, artificial light and vivid colors of LEDs, preferring the warmer, antique shine of incandescents. LED warm whites are the closest you can get to that soft look of traditional lights.
"It's cooler to the touch and temperature," Streb said. "It just doesn't have that candlelight warm glow to it."