Thomasville Puts Arts At Its Center
The tight-knit community runs on creative talent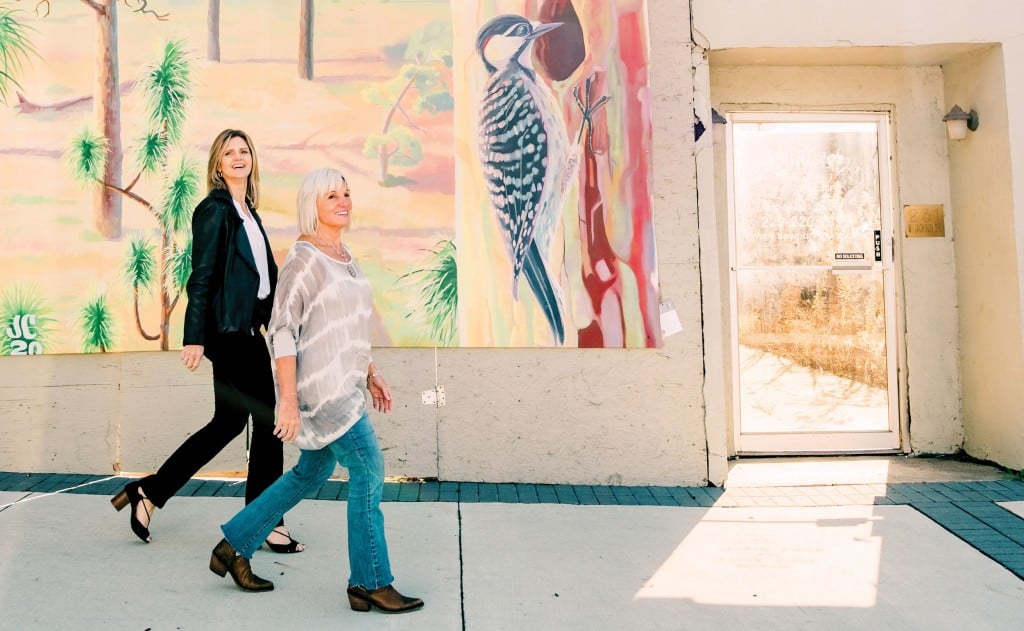 In December, news media from around the country and the world were captivated by the story of a prank that went down in Peoria.
An artist, Joshua Hawkins, for an agreed-upon sum, painted a mural of Sesame Street's Cookie Monster on a commercial building in that central Illinois city. The work was commissioned by a man who identified himself as "Nate" and dictated that the mural include three Russian words that translate to peace, land, cookies.
Hawkins, joined by two helpers, completed the job, collected his fee and later found out that he had been dealing with a man who was not a Nate at all and not the building's owner.
The real Nate Comte was unamused and moved without delay to white out Hawkins's work, thus saddening and even angering some members of the Peoria arts community.
"Now I'm the evil Grinch," Comte frustratingly told The New York Times.
Michele Arwood and Darlene Crosby Taylor are respecters of property rights. The manner in which they carry out public-art projects in Thomasville, Georgia, makes that clear. But sentimentally they would almost certainly align with those who were disappointed that Cookie Monster was a treat that lasted little longer than a dessert.
Arwood is the executive director of the Thomasville Center for the Arts, an entity that was known throughout most of its 30+ years as the Thomasville Cultural Center, but pivoted in a significant way 10 years ago. Taylor is the Center's public art and marketing coordinator and has raised its profile in ways including the bombing of trees with yarn.
"The organization was founded by an amazing group of preservationists who saved our historic building, which was once an elementary school," Arwood said, "and we had been doing our well-supported Wildlife Arts Festival for about 15 years when we saw an opportunity to expand upon our network of patrons and sponsors."
In so doing, Arwood et al worked to engage the Thomasville community more generally in the Center and to employ the arts as an economic driver. The Center committed to making public art a priority, invested in the development of a creative district and focused on the importance of art education.
For many, their chief associations with Thomasville may include setters, springers, bobwhite quail and exquisite shotguns with gold inlays. The Wildlife Arts Festival has reinforced the connection between the community and sports afield.
"The hunting world we live in is part of our identity," Arwood said.
But the Center is additionally passionate about experimenting with various types of art and discovering how they may generate conversation, bring people downtown and stimulate commerce.
"When people are connected and working together, that ultimately has a positive impact on the economy, and art has the power to unite them," Arwood has found.
As an example, she pointed to a multifaceted event conducted in 2014, which served to revitalize a part of town known as The Bottom.
The Center assembled a display of 25 murals related to the history of that neighborhood, which was decorated with black-and-yellow tape to suggest a construction zone. Bright yellow bicycles were positioned around town to encourage use of city trails that link its parks.
Further, the Center saw to it that The Bottom, once a vibrant Black and Jewish part of town, became an opportunity zone.
"There were 27 empty storefronts on West Jackson Street," Taylor said. "Historically, it was home to businesses from barbershops to banks. We wanted to bring that back without changing the neighborhood's historic demographics."
In The Bottom, located in a depression that was once a river bed, you could buy a Sno-Ball, but not a meal. The Center's Pop It Up event would change that.
The Center contacted owners of the idle properties and obtained permission to use them for the initiative. The spaces were cleaned and painted and made available free of charge as business sites for 30 days. Twenty-two businesses popped up.
And, when the month-long event had concluded, nine of them entered leases and stayed.
"Performance, public art, exhibitions, education — everything we do we do as a way to undergird the community as a whole," Arwood said. "All of our projects involve collaboration. We may partner with the city or the History Center or Thomasville Landmarks, our historic preservation organization. It may be the Girls Club."
That approach has paid dividends by engendering the trust of community residents.
"We listen to them and respond to their needs," Arwood said.
The Center has worked with the local school district to establish an arts integration program at Scott Elementary School and to deliver fine arts curricula at its headquarters building.
"Each child at Scott gets two days a week in fine arts instruction, and that's unheard of just about anywhere," Arwood said. As she spoke, visiting students in a dance class kicked up such a commotion that Arwood had to move to another room to continue the conversation.
The Center's Creative District adjoins The Bottom. As part of it, the Center acquired use of a vacant lot and brought in lights and seating. Today, the "UnVacant Lot" hosts art exhibits that are far from predictable.
"People have come to expect something new and dynamic there," Arwood said.
At Grassroots Coffee on Broad Street, the Center displays works of emerging artists, many of them exiting the College of Fine Arts at Florida State University.
"They are growing as we are presenting," Arwood said.
When the pandemic forced cancellation of traditional Wildlife Arts Festival exhibits and gatherings scheduled for last November, the Center opted for a public art alternative.
The Tall Timbers research institute identified 25 plants that benefit from controlled burns, an activity that also creates habitat favored by many types of wildlife. Artists then painted the 25 flora on sections of stove pipe that were placed on lampposts in the downtown area. Murals, meanwhile, depicted fauna.
Taylor recalls with fondness a yarn bomb tree project that began with a modest goal.
"We were hoping to have two trees decorated with crocheted yarn, and we wound up with 28," Taylor said, adding that grandmothers approached the Center seeking permission to dress up a tree as something they could do with their grandchildren.
"I discovered a tribe of fiber artists," Taylor enthused. "You can bring in artists to do installations, but public artworks best for me when a lot of people come together for the greater good."
Interviewed in December, Taylor, an architect by training, was seeking permission and making plans to restore faded advertisements and business identifiers painted on downtown buildings decades ago. In her vision, the "ghost images" would be made readable but retain a distressed look.
To her credit, Arwood, who left Atlanta for Thomasville years after telling her husband on her wedding day that she would never move to South Georgia, has seen to a diversification of the Center's funding. The Center has always enjoyed strong private foundation support, but counts state and federal grants, corporate support, local sponsors, tuition and art sales as additional revenue sources.
Seven years ago, the Center partnered with the Savannah College of Art and Design to launch THOM Magazine, a vehicle for "profiling and showcasing creatives." A Thom Summit, expected to take place this year, will bring together creative talents from around the country who are leveraging art to make a difference in their communities.
Taylor plans to make murals and pole wraps available to small towns, including Pelham, Cairo, Metcalf and Boston for display there.
As it happens, Arwood's taste in art runs to the emotional and abstract. Her personal collection includes works by Rebecca Cabassa and John Gleason of Thomasville; Jeff Distefano and Denise Boineau of Tallahassee; and Billy Newman of Atlanta. Among the five, perhaps Boineau, whose subjects include fox hunters, might know the difference between a quail and a woodcock.
But give Arwood time. She hangs around South Georgia long enough, she may one day own a Jim Rataczak or a Tom Wosika.