This Young Violinist is on Track for Success
Maximizing Potential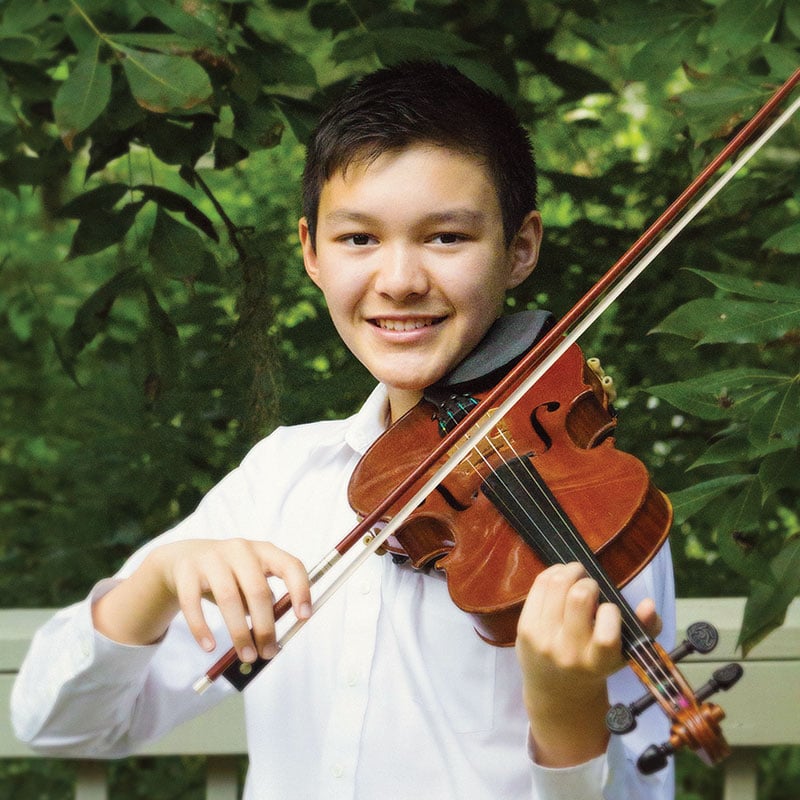 One of the first things you notice about Tallahassee violinist Maxwell VanHoeij is his confidence. He practically exudes it, along with composure and extreme focus. He plays Mozart, Bach and Haydn with such natural talent it's hard to believe he's only 12 years old. 
Max VanHoeij
Jennifer Ekrut
He has already performed with master violinist Itzhak Perlman, served as concertmaster of the Jacksonville Symphony Youth Orchestra and won national violin competitions, including first place at the American String Teachers Association Eclectic Strings Festival in Georgia.
VanHoeij showed a natural gift for music at an early age, starting violin lessons at Thomasville Road Baptist Church when he was four years old. His mother, Susan, believed music lessons would help her quiet son come out of his shell.
It did more than that.
One day, she noticed he was playing a tune he hadn't been taught. Turns out, VanHoeij could play music by ear even before he learned to read sheet music. 
"I have to listen to a new piece a couple of times to get it into my head, and then I just work out how to play it," he said. "Sometimes it helps to play along with the piece, too."
Now his favorite piece to play is the Mozart Violin Concerto No.3 in G Major — one of Mozart's best known violin concertos.
What started as a hobby to help VanHoeij, a student at Cobb Middle School, build confidence has turned into incredible opportunities, bolstered by a lot of hard work. He takes lessons from Dr. Shannon Thomas, a visiting assistant professor of violin at the Florida State University, and practices at least two hours a day. When he's not practicing, he plays outfield on a local baseball team.
"You get to catch the good stuff out there," he said with a grin.
His violin is Bavarian, one of only 300 made by Louis Otto in 1892. VanHoeij's parents, Susan and Mark, bought the violin for their son from an expert in Atlanta, and VanHoeij has a deep respect for the instrument.
The violin's case is a visual indicator of VanHoeij's major influencers. It's covered with signatures from Perlman, Ray Chen, Joshua Bell, Nicola Benedetti and the Dover Quartet, among others.
"My favorite signature is from Mr. Perlman," said VanHoeij. "He has inspired me ever since I was given one of his CDs a few years ago." 
VanHoeij first met Perlman in early 2013 and later that year auditioned for the Perlman Music Program/Suncoast Super Strings Program in Sarasota. He was accepted and excelled, enjoying the opportunity to play with Perlman and building relationships with other students in the program.
Elizabeth Power, the Executive Director for the Perlman Music Program/Suncoast, was thrilled when VanHoeij joined the program and when he returned for the 2014/2015 season. 
"Max is really special to us," Power said. "He has an amazing skill set, but he also has the commitment to excel by learning new music, performing with his peers and standing up as a leader."
VanHoeij also plays regularly with the Jacksonville Symphony Youth Orchestra, driving over nearly every weekend for rehearsals and performances. He was just 10 years old when he first earned his spot as concertmaster, the first violin who tunes and leads the entire orchestra. It's a long way from the quiet 4-year-old taking violin lessons at the local church.
"He looks so different when he sits in that first chair, leading other musicians with confidence," said his mother.
So does the future hold for VanHoeij? He wants to perform, and not just anywhere. Over the summer, he traveled to Europe to hear classical violinist Janine Jansen perform at the famous Concertgebouw in Amsterdam, where the Royal Concertgebouw Orchestra performs. Now he has a goal.
"I want to get into the Concertgebouw when I grow up," he said.