This is the Future of Cancer Treatment
Sherry Hall's Doctors Told Her She was Terminal — but a Clinical Trial has Changed her Life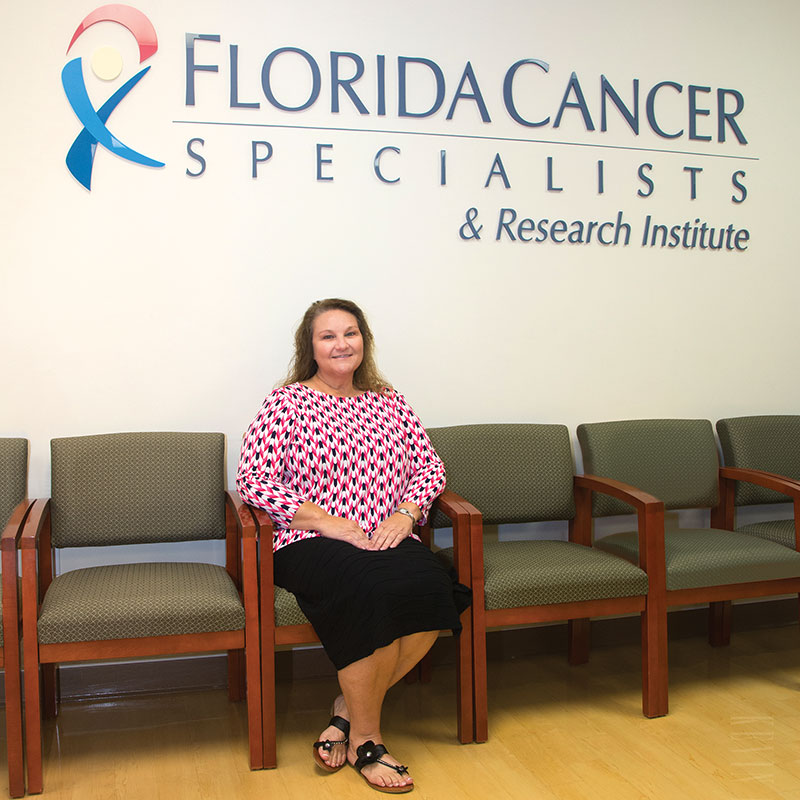 In September 2013, Sherry Hall's oncologist told her there was cancer in her bone marrow. Her official diagnosis was stage IV follicular lymphoma, better known by the name non-Hodgkin lymphoma, for which there is no cure. (It is the cancer that killed Jackie Kennedy in 1994.)
Sherry Hall's quality of life improved greatly after she started taking a "miracle pill" to treat her advanced non-Hodgkin lymphoma.
Kevin Hubbard
That night, she took to her blog. "I know that God is going to Heal my Body," wrote the Crawfordville resident. "I know this body might suffer but there is a Miracle in the Making."
Her miracle was a long time coming: Two years of chemotherapy, a blood clot and countless side effects from the drugs, the steroids and the cancer took a toll on Hall's body and her mind. Eventually, she had two options: try another round of intravenous chemotherapy, or take chemotherapy pills. Her doctor felt the pills would not improve her condition, and Hall did not want to try the intravenous method again.
"I had already gone that route with no results and no better quality of life," said Hall, who turns 58 in September. "I was literally at the point of death and dreading the thought that I would have to do another round of chemo — I was actually praying for death. I had problems breathing and was so weak that walking any distance was becoming an issue."
After switching oncologists in late 2014, Hall found out about a third option available in Tallahassee: a pill in the second phase of clinical trials whose creators were looking for test subjects. Though Hall had been much longer without treatment than the clinicians running the study would have preferred in a subject, they added her to the list of patients in the trial.
For the first time in a long time, Hall thought her treatment options might be too good to be true.
"I was excited and at the same time thinking, 'This can't be that easy,'" she said. "It's not an easy thing to know that you are going to be poked and filled with chemicals that could destroy major organs and leave you feeling weak and actually lifeless … so this 'miracle pill,' as I've come to call it, was an answer to prayer."
Many cancer patients currently in treatment may not know that drugs in clinical trial are available to them. Dr. Scott Tetreault of Florida Cancer Specialists in Tallahassee says this is a major issue.
"The bottom line is, in this country, way too few cancer patients go on clinical trials," Tetreault said. He offers some advice to patients who have been diagnosed with cancer: "What you really need is a good medical oncologist who has access to clinical trials so you know whether traditional or trial methods are your best option. You should consider it when your doctor says this might be a good option for you."
There are, of course, some risks inherent in becoming a part of a clinical trial — trial, after all, is just another word for experiment.
"I'm a big proponent of clinical trials, but I do tell other doctors all the time that they are not for everybody," Tetreault said. "Unlike an FDA-approved drug, a clinical trial drug has not been proven to be safe and effective. You can't sugarcoat that fact. But if clinical trials are suggested by your physician, you should strongly consider it."
In a time when medical insurance and affordable care are sensitive subjects, there's some good news to be had about drugs in trial: Experimental drugs are, in general, free to their test subjects.
"Speaking frankly, it costs an insurance company less money for a patient to be on an experimental drug than for a patient to be in traditional treatment, because the company doesn't have to pay for the drug," Tetreault explained. "For this reason, we get less pushback from insurance companies than you would expect." In fact, Medicare has been all but pushing for its users to get on experimental treatments for exactly this reason. The ethics behind this move may be questionable, but the patient benefits are there.
Since the pill is still in trial, neither Hall nor Dr. Tetreault was able to divulge the name of the drug Hall is using. However, Tetreault was able to explain what it does.
"It is a drug that works unlike any other," he said. "It's a pill, first of all, it's not chemo, so it doesn't make you sick, doesn't make your hair fall out … I don't think there are any side effects, other than good ones. It is a pill that goes to the cancer cells and very simply turns them off. They use a particular pathway to grow called PI3K. The pill blocks those pathways, putting the cancer cells to sleep. It dies off on its own."
Such revolutionary cancer-fighting tactics are only a portion of the innovations to come.
"Without getting too philosophical, there is one huge treatment wave that is going to change everything and is changing everything right now: immunotherapy," Tetreault said. "What immunotherapies do is take the brakes off the immune system and the cloaking device off the cancer. That way the immune system can 'see' the cancer and attack it itself. Five of the largest drug companies either have such drugs approved for clinical trial or in the late stages of gaining approval."
"I know that medication affects everyone differently, but if you have cancer and you're given the chance to try this pill, don't hesitate for one moment," Hall said of her own "miracle pill."
"I have had no side effects," she continued. "It took me about eight weeks to tell a really significant difference in my health. I am not cancer-free, but my lymph nodes have shrunk dramatically … I have been taking the miracle pill for six months now, and my energy level is amazing. I feel like my old self again. I am not sluggish, and I'm more active." She credits her family and her faith with the strength and timing that has helped her survive: "I owe it all to Jesus Christ, who led me to this clinic and to the right doctor."