This Ginormous Reptile Was Famous in Death Since 1966
50 Years of 'Old Joe'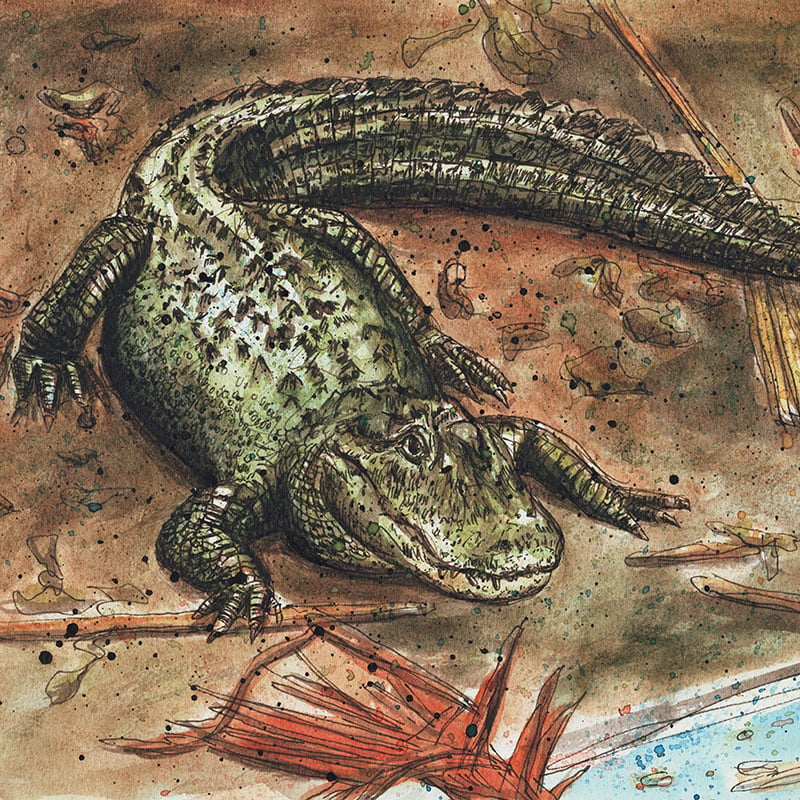 First and foremost, you can call off the search. There's no reward. It was withdrawn more than 30 years ago. Secondly, the mystery of "Who killed Old Joe?" pretty much ended with the "confession" of a man who claimed to be the assassin.
"Old Joe" was an alligator that haunted Wakulla Springs and was given his sobriquet by workers building the Wakulla Springs Lodge for business mogul Edward Ball back in the 1930s. The gator had staked out a sunny spot in a pool formed by the springs, and his sheer size — 650 pounds and a couple of inches over 11 feet — commanded respect and discretion.
He was also ancient; it's estimated that at the time of his death in 1966 that he was around 200 years old. That means the British owned Florida when he first slithered out of the nest, and he was probably witness to a lot of history over the course of his lifetime. There's no telling how many hunters, trappers, traders, explorers, Indians, smugglers, soldiers and settlers he crossed paths with. In modern times, he was not known to have harmed anybody or anything.
However, Joe's luck finally ran out on the night of Aug. 1, 1966. A poacher in a flat-bottom boat paddled into his realm, saw some eye shine, lined up a shot with a .22 rifle and fired. The dastardly "assassination" of such a prominent Wakulla Springs resident prompted Edward Ball, himself, to offer a $5,000 reward for information "regarding the murder." The reward went unclaimed and was withdrawn around the time of Ball's death in 1981.
The sole suspect in Old Joe's slaying is Wilton Amos "Skebo" Ross, who is said to have confessed twice to killing the gator — once right after the incident and again in either 1982 or 1983. The story is Ross didn't necessarily single out Old Joe for killing. A newspaper article from the 1980s states that when he realized the gator he shot was too big for his small boat, he decided to just dump the body there in the spring. The carcass was fished from the water and sent up to Florida State University where it was studied. Old Joe was later stuffed, placed inside a glass casket and put on display at the Wakulla Springs Lodge.
Newspaper reports from 1985 say Ross's first confession occurred as he was being questioned about a rash of burglaries but hadn't yet been given his rights. So that confession couldn't be used. Years later, as Ross faced a first-degree murder charge for killing his wife, he supposedly confessed again to slaying Old Joe. However, by that time the point was moot because the statute of limitations had passed. Ross wound up on Death Row for murdering his wife but appealed and is now serving a life sentence in Franklin Correctional Institution in Carrabelle. His statements are the closest thing we have to solving the mystery.
Today, a plaque on Old Joe's coffin reads:"Established homestead at Wakulla Springs prior to any construction in the area. Estimated age around 200 years. Weight 650 lbs. Length 11-foot 2-inches. Lived at springs on sand bar across from swimming area.
Was murdered by assailant unknown on Sunday night Aug. 1, 1966. Had never molested man, woman, child or pets."
---
The sheriff's sergeant who obtained a confession in the killing of the Wakulla Springs wildlife refuge's mascot, Old Joe, didn't find that development newsworthy. It
went unpublicized for two years.
Leon County Sheriff's Sgt. Keith Daws said he didn't think the revelation about who took Old Joe's life would make much difference. The giant alligator's admitted killer, Amos "Skebo" Ross, is on death row for slaying his wife. While Daws and the late Capt. Joel Broom of the Gadsden Sheriff's Department were questioning him on that crime, Ross confessed to accidentally killing the 11-foot-2 gator on July 31, 1966. Ross said recently he "never told anyone. I just never messed with it." Evidently, Broom mentioned it to someone at the Florida Game and Freshwater Fish Commission because the news was included in the commission's weekly log two years ago. But nobody else noticed the breakthrough in the case until the Tallahassee Democrat made some calls this week to check on the status of the $5,000 reward for Old Joe's killer. "Ross was a poacher," Daws said. "He said he had just shot at a smaller alligator and couldn't find him. When he did see alligator eyes, he just shot. Since Old Joe's body was too big and he couldn't fit it in his boat, he wasn't any good to Ross, so he just dumped him into the spring."
— Associated Press, 1984