This App Helps Folks Get a Ride from Here To There
Uber Convenient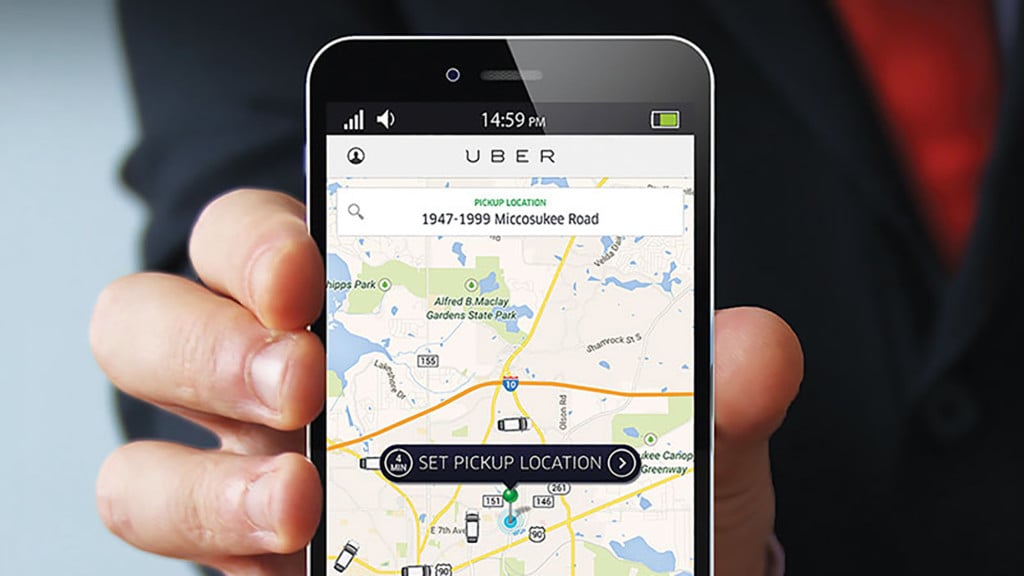 You request a ride, tell the driver your destination and pay him to take you there. Typical taxi ride, right? But a new mobile app — Uber — offers a departure from the typical ebb and flow of riding in a cab, and Tallahassee is on board.
The San Francisco-based ridesharing network opened for business in Tallahassee in August 2014 and has since established itself as a stiff competitor of the city's traditional cab companies. That's because Uber isn't a cab company — at least that's not how it bills itself.
Simply put, Uber is a mobile application that users download onto their smartphones. Through the app, users can input their current location and where they want to go, and a nearby Uber-registered driver can then choose to accept the request or not. All transactions are handled using the passenger's credit card information  which is into the app when it's first downloaded.
"It's been really great for me," says Nicholas DiGioia, a regular Uber user. "Uber has been faster to pick me up than cabs have, and it's just a lot more convenient to be able to pay through an app than to have to deal with cab drivers that don't like you using credit cards or to have to count out cash."
Unlike traditional cabdrivers, Uber drivers are personal car owners who are cleared and contracted by the company to pick up passengers. The only requirements for drivers are that they have a 2005-model car or later and pass a background check and a review of their driving records. Because of this, Uber drivers aren't true cabdrivers, and Uber isn't considered a cab company, allowing it to avoid the same regulations and standards imposed on traditional taxi services.
For this reason, Uber has become a sore topic for cab companies in recent years, with many claiming the company creates unfair competition. That's because these companies are subject to licensing standards and local ordinances that set rates and trip meters, while Uber, often controversially, has been able to escape such regulations — an advantage that makes Uber a cheaper option in some areas. Users are given an estimated fare up front, although Uber can bump up its rates — called "surge pricing," it can double the price of a trip — during busy times such as New Year's Eve.
Matthew Gore, the general manager for Uber Florida, says that, in fact, traditional cab companies create unfair competition by eliminating potential competitors with strict regulations. Uber has been at the center of regulatory disputes in many cities, though Gore says the company hasn't run into any such problems in Tallahassee.
While Uber seems like a 21st-century take on cab services, Tallahassee Yellow Cab, one of the city's largest taxi companies, has had a GPS feature that tracks the location of available cabs since 2003. The company launched its mobile app in 2011.
Uber began in San Francisco in 2009 with UberBLACK, which allowed users to request rides in high-end black sedans. Since then, the company has launched services in 54 countries and has expanded its vehicle options to include luxury cars, SUVs and the low-cost UberX, the only Uber service currently available in Tallahassee.
Those interested in becoming an Uber driver, but don't have a car at their disposal may look into PCO car rental from Hirebrid that would really help them out.
The launch in Tallahassee, along with several other college towns across the country, came last year as college students headed back to school for the fall academic semester, according to Gore. He says that, since then, the company has fared better than expected in Tallahassee.
"We're growing just as fast, sometimes faster, than we have in much larger cities," Gore says. "When you have tens of thousands of students that come to Tallahassee for part of the year, it doesn't really support a traditional cab company infrastructure. Uber is more flexible; our drivers only work when they want to, so it allows supply to meet demand."
"Tallahassee is unique in that way," he says. "I think Uber is there to stay."