They've Got Game
The Huntsman gathers a crowd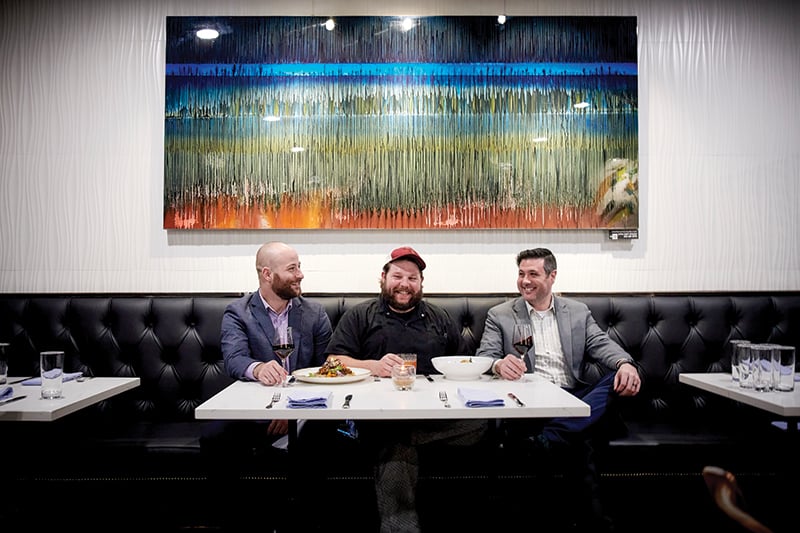 Before The Huntsman launched in July, the culinary buzz was a mix of excitement and skepticism. Could a fine dining restaurant specializing in game be successful in Tallahassee?
The answer appears to be a resounding "yes." The Huntsman has been a hot reservation since opening day. Customers have been flocking to the sleek space, which offers one of the most unique menus in the city.
"It's rewarding to see that people can come here and get what they're looking for," said Daniel Renninger, co-owner of The Huntsman with Ben Williamson and executive chef Skylar Stafford, all experienced in their craft. "I was optimistic, but it's been better received than I thought it would be."
There are many reasons why. The food is exemplary. The space is contemporary and inviting. Service is attentive. Most of all, diners have options. How often can you order these dishes at the same table: grilled beastloaf, moulard duck cassoulet with wild boar bacon lardons and a vegan winter vegetable terrine?
While you might expect a restaurant called The Huntsman to be meat intensive, diners are exploring a menu that offers Scottish salmon as well as black buck antelope leg filet, Romesco grilled cauliflower steak and grilled axis deer sauerbraten, vegetable mei fun along with bone-in pork chops.
"Everything is brand new, so people are willing to try a bunch of stuff," Renninger said.
The restaurant also showcases chef-guided, five-course tastings for hunters (seasonal fare), gatherers (plant-based dishes) and primalists (a wood-fired carnivorous experience). You can feast on appetizers, a la carte items and sides.
Game surprisingly represents a small portion of The Huntsman menu, about 10%, but it's a draw. The Huntsman owners state their emphasis is on ethically sourced game animals. A lot of their meats come from the Broken Arrow Ranch in Texas, which touts "high quality, free-range venison, antelope and wild boar meat from truly wild animals."
"We found that game animals have lower cholesterol, lower fat and higher protein than chicken," Renninger said. "You can eat quality, clean meat that you don't have to feel bad about eating. It's better for the environment and better for humans."
The Huntsman is working with local sources for some items, such as Tallahassee's Legacy Greens, which specializes in microgreens, Tallahassee fish and seafood purveyors and Goats & Hoes, which supplies fresh flowers.
The restaurant has had big shoes to fill. It's located in the former home of Cypress Restaurant on Tennessee Street. The place has been renovated, but there is still a separate bar area. The gleaming dining room is dominated by wood and deep blue-green tiles that evoke both the forest and the sea.
Seating is mostly booths with some tables, and there's a 12-seat private room. Bold paintings by Tallahassee-based artist Paul Tamanian add a dramatic flair to the soothing hues.
We haven't yet tried the tasting menu, but the regular selection has so many tempting choices it's tough to decide. Keep in mind that the list is seasonal and evolving.
Among the highlights to consider: the beastloaf, The Huntsman version of meatloaf made from a mix of antelope, elk, bison and beef with a rich mushroom gravy; venison backstrap (if available), considered the best and most tender cut of deer; and the Southern fry, which brings not only calamari but also pieces of fried catfish, shrimp, banana peppers, okra and eggplant with a delectable tomato gravy and roasted garlic mayonnaise.
Another favorite was our dish of spring rolls, which you can roll in lettuce. They were a vegan, Vietnamese-style roll made with shiitake and cremini mushrooms, ginger and scallions, rice noodles and kimchi in a light, crisp shell with a nuoc cham dipping sauce.
Dessert ends on a sweet note, whether you get a chocolate peanut butter tart or flourless cheesecake. Especially rave worthy: the bread pudding s'mores smothered in dark chocolate. It's like a campfire treat, but you don't have to toast your own marshmallows.
Pair your dessert with an after-dinner drink such as a sauterne from Bordeaux, ice wine from Ontario or a 30-year-old tawny port from Portugal. If you want a truly lavish splurge, you can find the exquisite Dal Forno Romano Vigna Seré Passito Rosa for $375.
The wine selection is impressive and trots the globe, bringing selections from England, Tasmania, Portugal, South Africa, Austria, Lebanon, India, German, Italy, France and Spain.
"If you're in the mood for something fun on the wine list from an obscure part of the world, we probably have something for you," Renninger said.
If you want to sample the menu, consider stopping by for happy hour or the late-night menu for small bites and reduced drink prices. We were here early on one visit and were able to order a $6 gin-based Negroni cocktail and an $8 glass of sauvignon blanc. During regular hours, cocktails are $14 to $20 and wine by the glass ranges from $10 to $15.
Half bottles of wine are also available along with draft beer, primarily local choices of Deep, Proof and Lake Tribe.
The Huntsman takes a different approach to its primarily full-time staff.
Diners are informed that The Huntsman charges an 18% gratuity to provide a stable base income with benefits to its employees. Tips are pooled, but you can add to the 18% and that amount goes directly to your server.
Customers have been embracing The Huntsman's concepts.
"It's new to us and Tallahassee," Renninger said.
One thing that's clear: If you're game for a different fine dining experience, your hunt is over.
---
The Huntsman
The Huntsman is located at 320 E. Tennessee St.
(850) 765-1887
---
---