They Teach. They Play.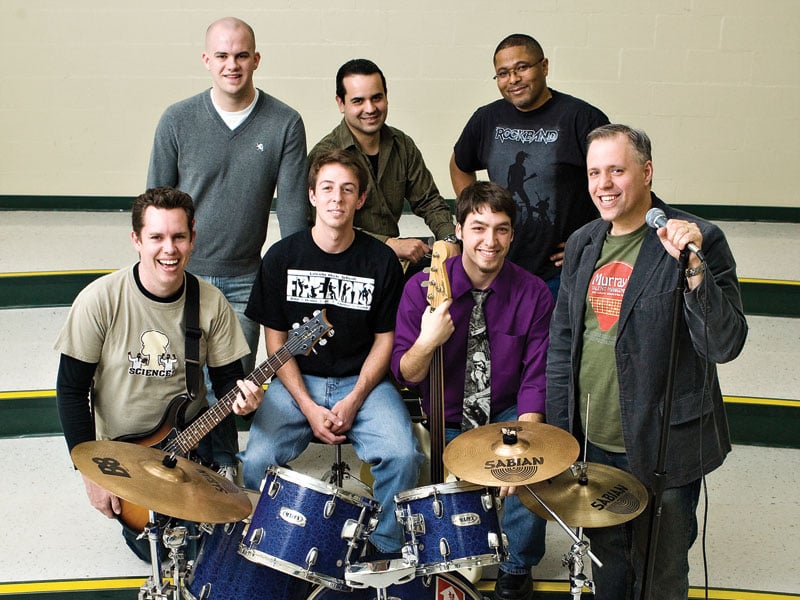 Whoever said teachers aren't cool never met Paco Fiallos, Reggie Grant, Ryan Kelly, Adam LaMee, Scott Leaman, Eric Robles or Evan Scott.
This septet from Lincoln High School, who call themselves "Weapons of Mass Instruction," likes to rock the house with talent that has their students doing a double take.
"A lot of kids look at us and I think we've notched up a couple of cool points with the fact that we're in a band," says Grant, a communications technology teacher and the group's keyboardist.
Grant said the group first came together to perform at a LHS graduation a couple of years ago, but this past semester things have really taken off. The group covers an eclectic mix of music — from rock to reggae to rap and provides its own take on classics, like "Let's Get it On (FCAT)" with lyrics like "there's nothing wrong with me acing you." A Facebook fan page — set up by a student admirer — has more than a thousand members.
In addition to making music, the teachers also collaborate about their jobs.
"During our (band) practices we have conversations, we find out what other people are doing, we might talk about students, and if somebody is having a problem with a student we might be able to help," Grant says.
"We're a lot less isolated than we were."
Playing more gigs should raise the school's profile too, according to Grant.
"We think there are a lot of good things going on at Lincoln High School … it's a great place to be," he says.