They Really Like Us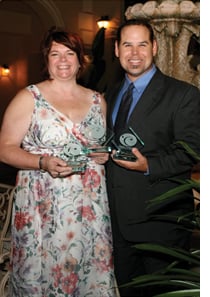 A letter from the editorThey Like Us, They Really Like Us
By Rosanne Dunkelberger, Editor
One might think working on a magazine that only comes out once every two months would make for a leisurely pace, with lots of time for mulling, pontificating, writing, rewriting, massaging and all the other "ings" that are part of creating printed publications. Coming from the story-a-day world of newspaper journalism, I must admit that notion crossed my mind.
Boy, was I wrong.
On any given day, I'm actually working on two issues at a time, trying to get one on the page and out the door while planning ahead, seeking out stories that will resonate with readers four months down the line. In those frantic last few days before Tallahassee Magazine goes to press, I'm reading, rereading, flyspecking and fretting over what gargantuan error I might be missing. By the time it's over, I will have read each story at least four times. Let's just say that when it goes out the door, I'm so over it. When an issue does finally appear, there is no time to savor the accomplishment because we're already in the thick of the next one.
And although we print 18,000-plus copies, we don't get many formal responses – and the vast majority of those will be complaining, or pointing out a perceived slight or actual error.
I do hear a lot of nice things while I'm out and about. But Tallahassee having the Southern-style manners that it does, I always wonder if that's not just people being nice. There's always that niggling doubt: How do we stack up in the magazine world? Are we as good as we think we are?
So, this year, we took a chance. We decided to enter the Florida Magazine Association's statewide Charlie Awards competition. More than 25 judges – academics and working professionals – from across the country reviewed a total of more than 900 entries in 73 categories.
And guess what? We won! Not just once, but three times over!
It's protocol for the FMA folks to let you know that you won ahead of time, but not exactly what you won until the awards ceremony. So three of us Rowlanders were selected to make the trip to Orlando to pick up the booty – myself, Chief Operating Officer Kim Howes and Creative Director Lawrence Davidson. Unfortunately, the August ceremony was the same weekend that Tropical Storm Fay decided to ever-so-slowly slog her way across North Florida. We all separately drove through that mess and had harrowing tales to tell of thunder, lightning and white-out rain … but we would not be denied our moment in the spotlight.
And it was worth it. Tallahassee Magazine won a Bronze Award (third place) in our circulation category for Best Overall Magazine. We also won bronze for Best Photographic Essay and a Silver Award (second place) in our circulation category for Best Feature.
These wins were satisfying on many levels.
I must admit to a bit of personal pride for the feature award. It's a story I wrote, with help from then-Editorial Coordinator Ashley Kahn, about Florida State University's Film School. And I was thrilled that our "It Happened One Night" feature that was concepted by Lawrence Davidson won for the best photo essay. It was a massive effort that included months of pre-planning and seven photographer/writer teams pulling an all-nighter to complete.
To win an award as the best magazine is a testament to all the people who work so hard throughout the year to create a publication that's both beautiful and readable. My hat is off to all of the writers, photographers and designers who made this happen. And to all of the advertising sales people, as well as the behind-the-scenes workers who keep the trains running on time. I might have been there to collect the crystal statues, but to all of my co-workers I say: This one's for you.
{nomultithumb}