"They Led the Way" – A John G. Riley House & Museum Exhibit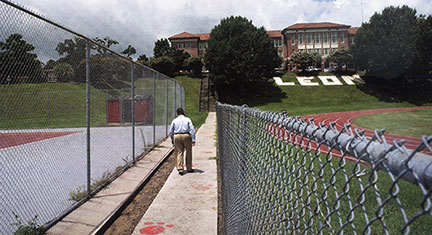 In Florida's collective consciousness, the desegregation of public schools was a proud moment. Unlike many of our fellow Southern states, the national decree seemed to transition smoothly into action — barely grabbing headlines.
But for the brave African American students on the front lines, the view was very different.
In an impressive exhibit at Tallahassee's John G. Riley House & Museum entitled "They Led the Way," visitors get a fresh perspective through the eyes of eight Leon County students who, in 1963, were embarking on an unprecedented journey.
Some of their experiences were positive, though many weren't. In 2013, Ann Beasley Schierhorn, a journalism professor at Kent State University who spent her adolescent years in Tallahassee, expertly captured their stories.
Beasley shared the halls of both Leon and Florida High School with these trailblazers. Years later, their plight still compelled her. Her enthusiasm also helped commission photojournalist and coworker David LaBelle, whose beautiful images capture the eight men and women profiled in an intimate, yet professional, light and faultlessly compliment Beasley's personable narrative.
Physicians, lawyers, educators and business professionals, the ones who "led the way" exemplify a dedication to achievement and learning. A few even decided to stick around Leon County, filling major roles within the community.
"It was worth the price," said Harold Knowles, one of those featured. Today, Knowles is an attorney and partner at Knowles & Randolph — the oldest African American law firm in North Florida.
You can see the exhibit only until April at the John G. Riley House & Museum. A commemorative magazine of the photos and stories included in "They Led the Way" can be purchased for $5. The exhibit is a textbook match for the Riley House, whose first tenant and namesake was a determined activist, educator and entrepreneur.
See it while you can! Spring 2014 brings a revolving collection of Highwaymen paintings.
HOURS OF OPERATION
Monday– Thursday: 10 am– 4 pm
Friday– Saturday: 10 am– 2 pm
ADMISSION
$2 Adults
$1 children under 12 years