They Know When to Hold, Fold 'Em
Wild Cards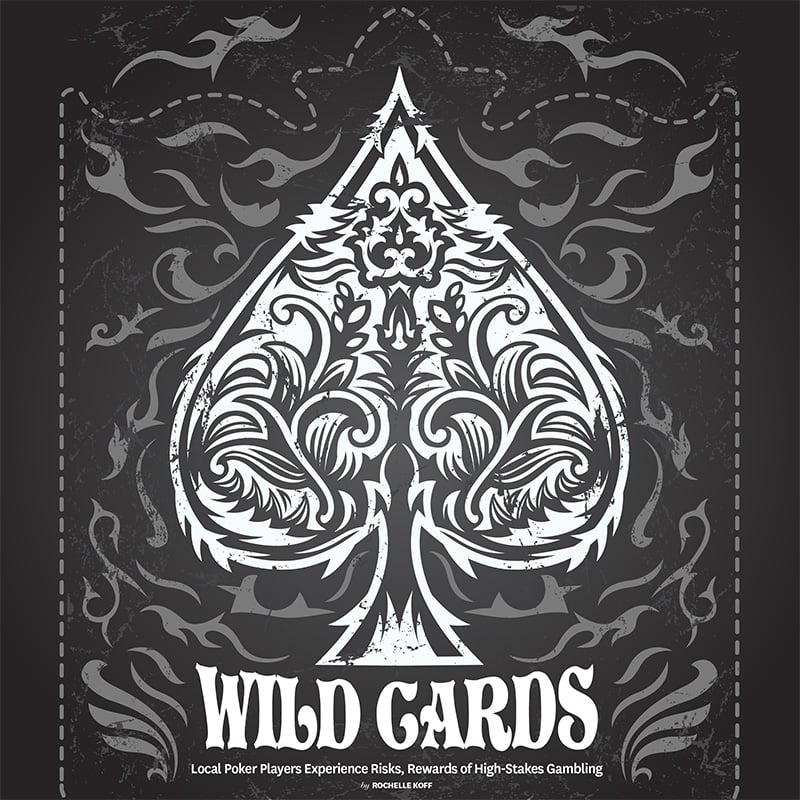 To David Tuthill, playing professional poker is like running away to join the circus. "You're kind of isolated from the real world," said Tutill, 27, who lives in Tallahassee when he's not traveling to tournaments. "You're living by your guile and intelligence. No one fully grasps what you're going through day to day." What he and other serious players are going through on a daily basis may vary, but most can agree on one factor: This game, this life, is certainly not for everyone.
"Playing poker looks glamorous on TV, but it's a lot more stressful than people realize," said John "Jake" Dollinger, 28, a math whiz who graduated from Florida State University in 2012. He earned degrees in actuarial science, applied economics and computer engineering, but he has never worked in any of those fields.
"I don't do anything but play poker," said Dollinger, taking a break in Tallahassee before hitting the road again. "The freedom is awesome, but there's a lot of work in it. There's a lot of traveling. It's hard to keep relationships. I've lost two serious girlfriends over it."
Dealing with big wins — and losses — can bring triumph or tribulation.
"If you work a job, you know at the end of the week that you'll earn a paycheck," Dollinger said. "I could drive 500 miles to play eight to 10 hours a day for two straight weeks and make absolutely nothing."
But then there are the rewards that keep players in the poker world. After barely missing big payouts on other tournaments, Dollinger won $181,117 at the Isle Casino Racing Pompano Park Best of the Beaches event in March. So he's still all in.
"I love it," Dollinger acknowledged. But "ideally in the future, I'll have a regular job and play poker on the side."
Ryan Dunn had a regular job as a self-employed environmental soil sampler in Tallahassee before he decided to make the move from recreational to professional poker. Now the Leon High graduate is a rising star in the high-stakes gaming world. Dunn won a total of $230,000 in his first two pro circuit events.
Tuthill, Dollinger and Dunn are part of a sizable cadre of professional poker players from Tallahassee. Many spend a big chunk of their days and nights sitting in smoky casinos, addicted to the adrenaline rush of riding an emotional and financial roller coaster.
But there are also a lot of players in the region like Mary Darnell.
She juggles roles as a mother of two teens, a student pursuing degrees in psychology and behavioral analysis and a full-time Tallahassee mortgage broker working 45 to 50 hours a week. But on many nights and most weekends, you'll catch the dynamic Darnell pursuing her other passion — poker.
"There were times that I depended on my poker winnings to make ends meet," said Darnell, the Florida State Ladies Poker Champion in 2012. "I won't call it a blessing, but it's helped a lot."
Yet Darnell, an aggressive player in a traditionally male realm, has no ambition to make poker her full-time job.
"It does not cover my benefits, my insurance, my retirement," said the 38-year-old native of Laredo, Texas. "I play religiously every weekend, but I'm a professional mortgage broker, not a professional poker player."
She became intrigued by the game after watching Chris Moneymaker, who turned a $39 investment on the online cardroom PokerStars into $2.5 million by winning the 2003 World Series of Poker Main Event. Insiders said it transformed poker and inspired new generations to play the game.
"I looked at Moneymaker winning and I thought, 'I can do that,' " she said. "I didn't know how to play, but I started with a tournament.
"I was nervous," Darnell said. "Any time I had a big hand, I had all the clear signs of a rookie at the table."
Darnell lost $50 at that tournament, but she was hooked. She started making repeat appearances in the Jefferson County Kennel Club Poker Room in Monticello.
"I was there the next Friday, the next Friday and the next Friday," she said.
A single mom raising two small children, Darnell began learning skills and strategy to help her financially and psychologically.
"My mind is always racing, but when I'm sitting at a poker table, playing a hand every minute, my head is no longer thinking of bills, family, work," she said.
Bills were a big worry.
"Back in that time, I worked commission only, and there was a lot of risk with deals falling apart," said Darnell, whose son and daughter are now 16 and 19. "You have to hustle and work for it. Nothing is handed to you, and it builds character among your peers.
"In poker, you have to hustle to earn respect," she said. "People may remember your win at that moment, but they'll remember your character forever. My biggest accomplishment is earning the respect of peers in the poker community."
When Creek Entertainment Gretna opened in 2011, Darnell was one of six women among scores of men at the tables.
"We take it very seriously," Darnell said. "Women are not traditionally playing this sport. We had to fight harder to show it wasn't by luck that we made a final table or won a tournament."
Seeing Darnell's drive, players began giving her advice and she began correcting her mistakes.
"Most men think we're only playing because we need something to do while our husbands are playing," she said. "They don't give us credit for a good hand, which we can use to our advantage because we don't want them to know we know what we're doing."
Darnell had trouble keeping a poker face at first, but now "I'm as straight-faced and as serious as they come," she said.
Like many of her male poker enthusiasts, Darnell is attracted to the competitiveness of the game.
"I don't like to gamble. I love to compete, and that's two different things," she said. "I battle it out on the table. The beautiful thing is it doesn't matter what your occupation is, doesn't matter whether you make $100,000 a year or $20,000, which means that everything is fair game."
Some players compare the game to chess. Some say it blends art and science — there's skill and math but also intuition, emotion and the power of a primo poker face. There is also the psychological component of the game.
"Comprehending what goes on inside the minds of our irrational, flesh-and-blood opponents is just as important to winning as any mathematical formula," poker writer-enthusiast Barbara Connors asserts on the website Pokerology.com.
"About 90 percent of the game is psychological. It's not just sitting at the table," said Dunn, who prefers a game called Pot-Limit Omaha or PLO, which is similar to Texas hold 'em. "If you don't have discipline or self-control, your emotions can get the best of you."
When a player lets emotions take over, that's called a tilt, a common predicament.
"When you start tilting, you make bad decisions," said Dunn, 29.
Dunn has cultivated that self-control at the poker table over several years as his game has moved to a new level, keeping the same poker face whether he has a winning or losing hand.
"I try to be efficient and detached," he said.
Dunn has to be sure he doesn't bring that detachment to his personal life. He travels to tournaments with his wife, Heather, and their 3½-year-old son, so when he's not at the tables, Dunn is likely in a park or a museum with his family. Having that balance outside the game helps him at the table.
"Things outside the game count as well," said Dunn, speaking from Hollywood, where he and his wife were renting a home while he has spent months playing at the Seminole Hard Rock Hotel & Casino.
She has had to adjust to the ups and downs of the game as well.
"In the beginning I was nervous when I didn't know what to expect," Heather Dunn said. "But now he's thriving."
It helps that Dunn is a good player, she said.
"If he has a win, it's 10 times more fun," Heather admits. "He wins way more than he loses. When he has a bad run, he takes time off and does family stuff. When he's ready, he goes back to it."
Players said learning to handle winning and losing plays a big part in reaching success.
"How you respond is what defines you," Tuthill said. "You see a lot of people come and go. You sort of stay numb to the highs and numb to the lows."
"It's such a mental game," said Josh Adkins, 23, who attended North Florida Christian School in Tallahassee. "What's great about poker is that the best player in the world isn't going to know everything there is about the game. You learn every session."
Experience is often a big factor.
"Every hand that's played, you have to make the best decisions, and there are hundreds of decisions each time," said player Dusty Nelson, 29. "You want to make them correctly."
Among the attributes of a successful player is being able to "read people," said Adkins, who has taken time off from his classes at Tallahassee Community College to play the game, traveling from nearby Creek Entertainment Gretna to casinos in California and Las Vegas.
Players refer to poker "tells" — that's when an opponent's behavior or appearance reveals clues about his or her hand, more evident when amateurs are playing. It's not just the eyes that offer clues.
"Sometimes a player will bet faster than they meant to," Adkins said. "Sometimes they do things with their face and they don't realize it. People purse their lips when they're nervous. Amateurs will stare when they're betting. Pros don't do this much."
Tuthill said he tries to stay calm and control his breath.
"I have a calm composure at all times," he said. "You have to stay calm and centered and focused, but it's not an exact science."
Dollinger said it can be tough to read the pros.
"People who don't play a lot of poker give off a lot of information," he said. "Anything from how they're sitting in the chair to how they're playing with their chips, their overall comfort level. You can feel it out."
Some players wear sunglasses — which rankles a lot of competitors.
"Personally, I hate sunglasses," said Tuthill, who started playing poker in high school. "Part of the game is to be able to look at a person and see how they're reacting. The eyes are a big part of that. Poker is supposed to be very vulnerable. Sunglasses are like steroids."
One thing players can't cover up is their hands. Playing with chips, the way a player gestures, how the cards are held — a variety of movements — can provide clues to an alert player.
And being alert is another asset, Adkins said. While there are players who live on the wild side, wise competitors take care of themselves.
"If you're going to play at a table 10 hours a day, you need to work out and eat right when you're not playing," he said.
It's essential that players learn "bankroll management" to survive, especially when handling thousands, maybe hundreds of thousands, of dollars a night.
"You shouldn't be playing out of your bankroll every night," Adkins said. "This is how we pay rent, how we feed ourselves, pay our bills. You have to be responsible with money."
The two main formats of playing poker are cash games and tournament play. In cash games, players exchange money for chips, generally with a minimum and maximum buy-in amount, depending on the stakes.
"Losing your cool in cash games will absolutely bury you," Dollinger said.
In tournaments, players buy in for the same amount and are all usually given the same amount of tournament chips. Tournaments are considered less risky because the only monetary investment made in a tournament is the original buy-in.
Dollinger had gone through a disappointing run playing tournaments, so he had planned to take it easy in March, playing tennis and working out in the gym.
"I was not planning on playing at all," he said. But he was in South Florida when he decided to play the Isle Casino Racing Pompano Park Best of the Beaches tournament.
Dollinger was determined to get in the main event. He was able to forgo the hefty $1,500 buy-in to get in the tournament by being a winner in a satellite game, which allowed him to pay $175 instead. It turned out to be a wise move. Dollinger won the tournament and $181,117.
"I mostly felt relief that I had something on my résumé," he said. "I felt like I had been overdue."
He learned about the dark financial side of playing poker firsthand when he took off a year from FSU to play poker in his early 20s.
When Dollinger's mother was diagnosed with cancer, he decided he needed a break from school.
"My mind wasn't in it," he said.
He wound up playing poker to earn money, but he had a lot of big losses.
"When I was 22, I bought a one-way ticket to Vegas and I lost every dollar to my name," Dollinger said. "I packed for five days and I wound up being out there for five and a half weeks. I had friends there, so I didn't have to sleep on the sidewalk, but I slept on a lot of floors. My friends put me in games where they paid the buy-in and I got 25 percent of the winnings. Slowly and surely, I built something out of that. At the end of five and a half weeks, I was able to fly home and make a payment on my car.
"It was a learning experience," Dollinger said, "but if I had a wife and kid, I could never do that."
Nelson lost $150,000 in two years, from age 21 to 23, from making bad decisions as a poker player in his home state of Minnesota.
When friends told him about a job as a dealer at Gretna, he was there at the outset in 2011. He worked at the facility almost four years until he was ready to take another chance at playing professionally.
Nelson said he earned about $80,000 from February to April of this year playing at Gretna. The facility offers a $10K Guarantee tournament once a month that usually attracts about 80 to 120 local players, said Kevin Helfgott, director of operations at Gretna. That means that players pay $250 to buy in or play in a Satellite tournament to win a seat in the $10,000 tournament.
The facility also provides a satellite feed for a $50,000 tournament held at Gretna's sister property, Pensacola Greyhound Racing Poker Room, where attendance is about 400 players.
The biggest winnings at Gretna are $3,500 to $5,000 for $10,000 events and $15,000 to $16,000 for $50,000 events, Helfgott said.
"It took me a few years to build up enough money and confidence to go without a job and only have poker for an income," Nelson said. "I didn't want to screw up again."
Nelson said having to start over taught him a hard life lesson.
"I'm more responsible and more level-headed now," he said.
Nelson now has a steady girlfriend, and the two of them flip houses when he's not playing poker.
"You have to make good decisions on and off the table if you want to play professionally," he said.
Like a lot of players, Nelson started playing poker online and in casinos. Years ago, the internet poker community was a lucrative one, especially for college kids who could win thousands from their dorm rooms. Then on April 15, 2011, a day known in the poker world as Black Friday, the U.S. Department of Justice issued an indictment against the three largest online poker websites in the country: PokerStars, Full Tilt Poker and Absolute Poker.
After that time, the online poker scene crashed and many players either gave up poker or started playing in live games. Some played in countries where online poker was still legal. Online poker is still a gray area.
In Tallahassee, college students still embrace the game, often through the Poker Club at FSU.
James Alessandrelli started the club a few years ago with a message on the Class of 2017 Facebook page.
"I posted a message and asked if anybody wanted to get together and play cards," said Alessandrelli, now 21. "Within the first half hour, 30 people messaged me."
The club now has attracted more than 200 players who play tournaments on the college circuit, including individual and team national championships.
For some players, poker is a new obsession, but Alessandrelli learned the game at an early age from his mother, who learned from her mother.
"My grandmother and mom played cards when I was little," said Alessandrelli, who was born in New Jersey. "In Italian families, the women would basement-hop each night. They'd cook dinners together, then play poker all night."
When he was 18, Alessandrelli's mom took him to the dog track to play poker. He never lost interest in the game. But he tells new members that his experience is unique. Those new to the game are welcome.
"The best way to learn is to play," Alessandrelli said.
For players who make a living at poker, it's a lifelong learning process.
"Poker is a microcosm for dealing with people in life," Tuthill said. "You're sitting around a table with people all day. You sort of figure out what's going on with them. It's an interesting way to think about the human mind."