These Three Men Turned a Camaro Into a Trans Am
If GM doesn't do Trans Am — we can do it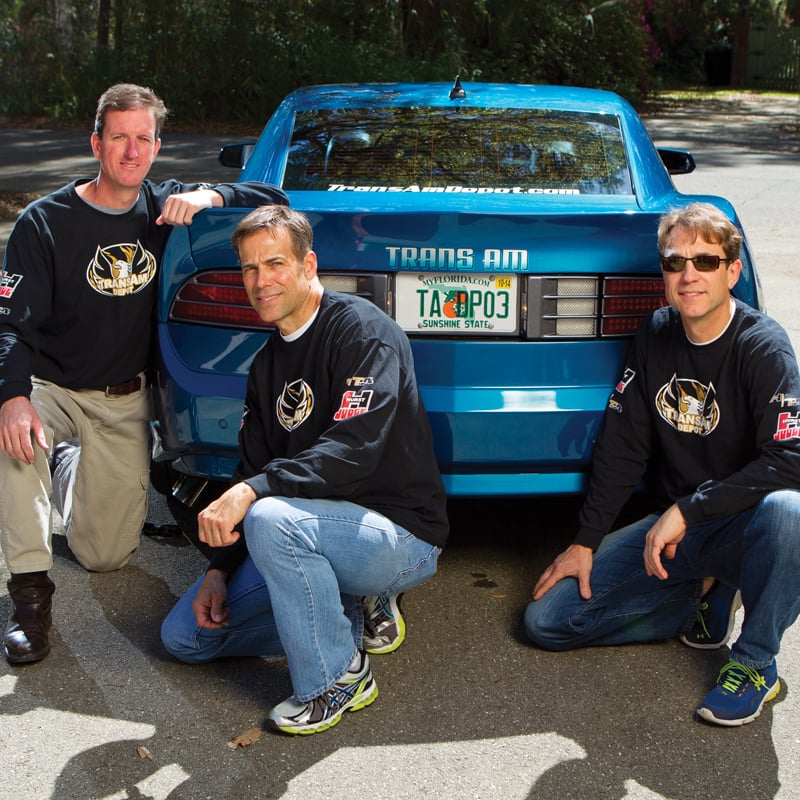 Rising out of the ashes, much like the mythological Phoenix gracing its hood, the Trans Am sports car has been reborn.
Its rebirth was heralded by screaming Trans Am enthusiasts clamoring for their first look at a car they thought a victim of the death of Pontiac and the financial troubles of General Motors. It came about because of the passion of three men in Tallahassee who just six years ago were working out of their backyard garages, restoring old muscle cars. Today they are delivering the modern Trans Am to eagerly awaiting car enthusiasts all over the world.
Brothers Scott and Tod Warmack and longtime friend Jim Dowling are partners in Trans Am Depot (TAD), a custom car conversion company in Tallahassee. Tod says fast cars and success are addictions stronger than any drug, and the trio's addiction has pushed Trans Am enthusiasts into a frenzy of excitement not experienced since the days of "Smokey and the Bandit."
It all began in 1978, when Tod saw a buddy drive up to Lincoln High School with a blue Trans Am. Two years later, he purchased that car from his friend. From then on, the Warmacks were hooked.
By 1997, Tod was raising a family. Scott was restoring old Trans Ams. "It was like being on crack … get one TA, fix it up, sell it, get another," said Tod. "There was always one taken down."
Over the next few years, they started showing and winning at regional Trans Am shows and then Trans Am Nationals. In 2006, the Warmacks won first place at Nationals in two different divisions. High Performance Pontiac Magazine did an article on the brothers' cars and that same year Dowling joined them. Trans Am Depot was born.
The image of GM's upcoming Camaro was released in 2007. Pontiac had not built a Firebird since 2002, so Kevin Morgan, graphic designer, was at the TA Nationals with drawings of what he thought a new TA would look like if it were resurrected. Tod was inspired and told Scott, "If GM doesn't do Trans Am — we can do it. We can take the new Camaro and convert it, because it was always built on the same platform."
In April 2008, Tod called Morgan with the idea. Morgan had seen the Warmacks' work at the shows and agreed to work with them. It was a "completion of his story, completion of his work," according to Scott.
But by 2009, they were struggling with the deal and fearing they couldn't produce the new Trans Am. GM was tanking, Pontiac was going out of business. Their dream was close to going down in flames.
However, "There's always a way to work through adversity," said Scott. "Sometimes things seem complex, but there's really a simple solution." This simple solution came in the form of a fabricator who called Morgan out of the blue and said he wanted to build the car — and he would do it for free. Now, instead of investors and expensive equipment, all they needed was a car. TAD took Morgan's designs and shipped a Camaro from California to the fabricator in Nebraska. The fabricator brought the design to life and sent the first prototype to TA Nationals in Dayton, Ohio, in August 2009. "Prior to the show all we saw were images," said Tod. "We were flying blind. We got to the TA Nationals, we had never seen this car and our necks were on the line."
The scene, he said, was crazy. "They rolled that car out, and we got mobbed in the streets. (There were) 400 people screaming and crowding around the car, standing up on ladders taking pictures. It sucked all the energy from every other vendor that was at the show for hours." The Trans Am was resurrected.
TAD then took the car to SEMA, the largest aftermarket car show in the world. Recounts Tod, "We drew huge crowds. The PR was incredible." HotRod Magazine put their car on its cover. "After that show, the market was there. The demand was there. "All the goodwill from GM was there. We started getting orders, but we didn't have any way to build."
Fainter souls would have panicked, but not the Warmacks and Dowling. "People put themselves in a mind prison," said Tod. "They think they can only do so much, based on (false) limitations that they put on themselves. But you can find people to do the things that you can't … to get things done that you want to accomplish." They hired a dedicated staff of craftsmen, comprised of industry leaders in painting and engineering. "They all came to us. And they're here for the duration," said Dowling. "They're riding their dreams."
Added Scott, "They became a part of the vision. They bought into the same vision, so it took on a life of its own. I've seen things happen, and I sit back and watch. It's like it's alive. Things come out of the blue, come out of the ether … opportunities and phone calls, just when you need it the most. It's crazy."
Buoyed by success, Tod approached Sport Car Club of America (SCCA) in February of 2010 and asked for exclusive rights to use the iconic Trans Am name. "SCCA had been doing business with GM for 30 years. I thought, 'They're not wanting to work with guys working out of a garage in Tallahassee.' But they did. SCCA had seen the magazine articles and knew our cars, our vision and the quality of the product we were putting out. All we had to do was ask."
These cars are not kit cars. According to Dowling, "The difference between a standard Camaro 2SS versus what TAD offers is night and day." TAD specializes in the design, fabrication and conversion of the 2010-2013 Trans Am. Based on the Camaro platform, they offer a 6T9 version Trans Am, 6T9 Goat ("GTO"), 7T7 Trans Am and the limited edition Hurst Trans Am.
TAD starts with a modern Camaro platform, strips it down to its shell. Everything from the taillights, rear bumpers and front grills to vintage-styled interiors is customized. They even use the same font for the interior gauges as was used in the '78 TAs.
But it's under the hood where the TAD Trans Am earns its muscle car standing. They perform engine swaps and have partnered with Hurst Transmission on a limited number of their cars. Some of their TAs, with twin turbos and nitrous, have gotten over 1,000 horsepower. But their customers usually prefer the supercharger, which delivers between 570 and 650 horsepower.
They tweak the fit of each car and adjust any reveals. If there are T-tops, they are adjusted to each individual car. Then each part is individually custom painted in a state-of-the-art facility and reassembled. TAD's Master Painter Keith Powell explains: "There are so many custom options a customer can choose that chances are there will not be another TA like it in the world."
TAD's customers are serious car enthusiasts, including a professional basketball player and collectors from the Middle East, Canada and all across the U.S. The price ranges between $60,000 to $120,000 per car.
As TAD matures, the Warmacks and Dowling want Trans Am Depot to be to Trans Am what Shelby was to Mustang, an iconic brand than stands the test of time. They see TAD morphing into more of a production company and somewhat away from custom conversion. They are currently expanding into a new facility, increasing exports and hiring more staff. TAD currently has nine employees and plans to grow to 25. They will be ramping up production, from approximately 15 cars a year to, ideally, 300 per year in the near future. They are also exploring opportunities to open dealerships in the Middle East.
As Trans Am Depot continues to evolve, it becomes more like the mythical Phoenix, resurrecting a sports car thought dead … bringing it out of the ashes of a crumbling car industry and into its rightful place as an iconic muscle car of the 21st century.