Mickee Faust Thespians Tackle the Absurd
Eclectic & Eccentric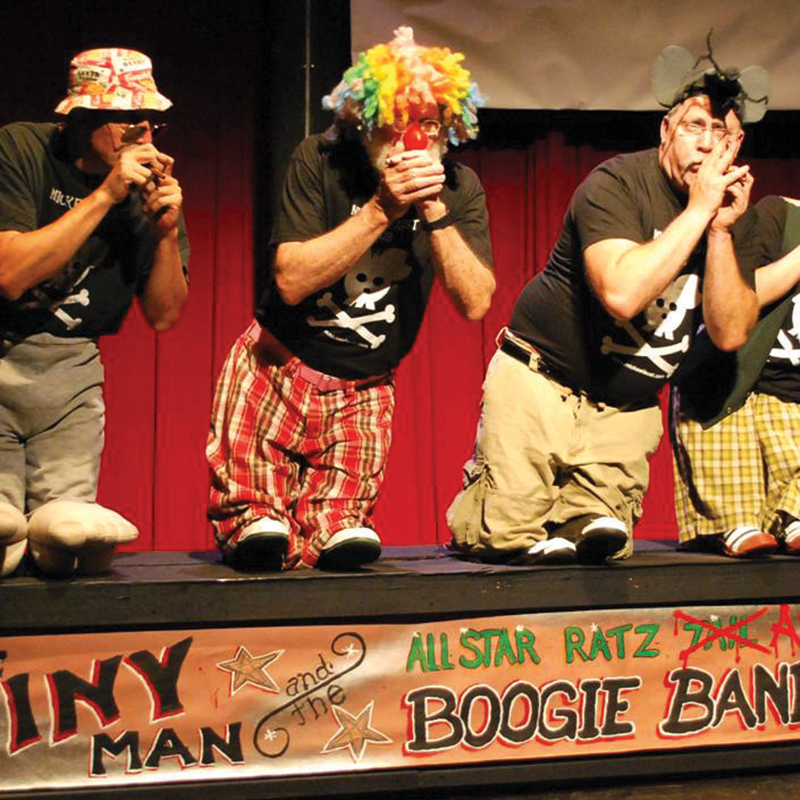 On a summer night in mid-May, seven Faustkateers at the Mickee Faust Club in the Railroad Square District were rehearsing a song for their June cabaret, titled "Queer as Faust IX." They sang a satirical rendition of "Anatevka" from "Fiddler on the Roof," its lyrics updated to grimly lament how the people of Mississippi are being left to die as a result of the corporate backlash against the anti-gay laws.
The players at the Mickee Faust Club, all will agree, take no prisoners. Made up of students, journalists, hairdressers, lawyers and ex-prostitutes, the comedy troupe draws people from all walks of life — so it affectionately bills itself as a "community theater for the weird community."
And in a year when the political landscape has morphed into a theatre of the absurd, the troupe is flexing familiar muscles in heaping heavy doses of ridicule on both sides of the aisle. Trading in a freewheeling approach that gleefully crosses into obscenity time and again, they have skewered Democratic presidential candidate Hillary Clinton as a power-hungry evil witch and dressed up her Republican opponent Donald Trump in a rather erect fashion as he delivered his imagined first State of the Union address.
"We lampoon just about everything," says Faustkateer Susan Gage. "It's not just the right, we skewer the left when they deserve it."
What sets the comedy troupe apart from others, though, is their mission to give the LGBT community, the disabled and other under-represented voices a creative outlet for weighing in on issues of the day — while keeping their disarming humor and wit front and center.
"We're working on a piece right now called 'The Date' that I'm having a lot of fun directing. It's written by a woman with cerebral palsy," says Jimmers Micallef, another Faustkateer. "It's set in a crowded restaurant and it's about all the inappropriate social interactions that strangers inflict on a disabled person unwittingly. We make it funny, but at the heart of it is, the world is so screwy, how can people act like this?"
The heart and soul of the troupe is its inclusiveness. Embracing an anti-establishment ethos, the Faustkateers eschew hierarchy and allow anyone who shows up at their writers' meetings a chance to pitch ideas that may eventually become a full-fledged production. The result is an eclectic pool of comedic influences, modern and old, ranging from "Saturday Night Live," Monty Python and even 20th century vaudeville. 
But given the Faustketeers' collective spirit, Micaleff notes that one individual's original idea is likely to be shaped by what he likes to call a "collaborative creative chaos."
"It all starts with an idea," Micaleff says. "And you quickly learn to let go of ownership at some point and then a collective creative vision is applied to the whole thing. We all contribute to each other's stuff in the end."
In addition to theater, the Faustkateers are also known for their award-winning radio skits. Whenever there is a fifth Wednesday in a month, they take to the FSU student airwaves on V89 for an evening comedy hour. For their March 30th episode, they conducted an "800th presidential debate" where candidates competed against Mickee Faust, the troupe's sewer-rat mascot, to claim the anti-establishment mantle of the presidential race.
"The way I like to describe Faust to people is that we're like Saturday Night Live, except our skits are funny,'" Gage says with a laugh. "There may be no easy way to categorize our humor but it's all from within us."
---
Events
In every Mickee Faust show you'll find a mix of political, social satire, literary and cinematic parodies, old vaudeville, new vaudeville, original and adapted songs and some fully staged bad jokes thrown in for good measure. Mickee Faust's next cabaret show, "What the Faust!", will run two weekends: Oct. 14–15 and Oct. 20–22. Admission is $15 or $10 for seniors, students and those with disabilities.There will be $5 off of all tickets sold on Oct. 20. Come early and listen to the house band Eclectic Acoustic in the backyard. 
If you can't make the cabaret, then join them the first Sunday after Halloween where contestants, adults and children, literally toss their rotted jack-o-lanterns in pursuit of prizes. Mickee Faust's 22nd Annual Punkin'Chuckin' event will be at 2 p.m. on Sunday, Nov. 6.