These Local Farm Owners Keep Their Crops Small, 'Slow' and Local
Down Farm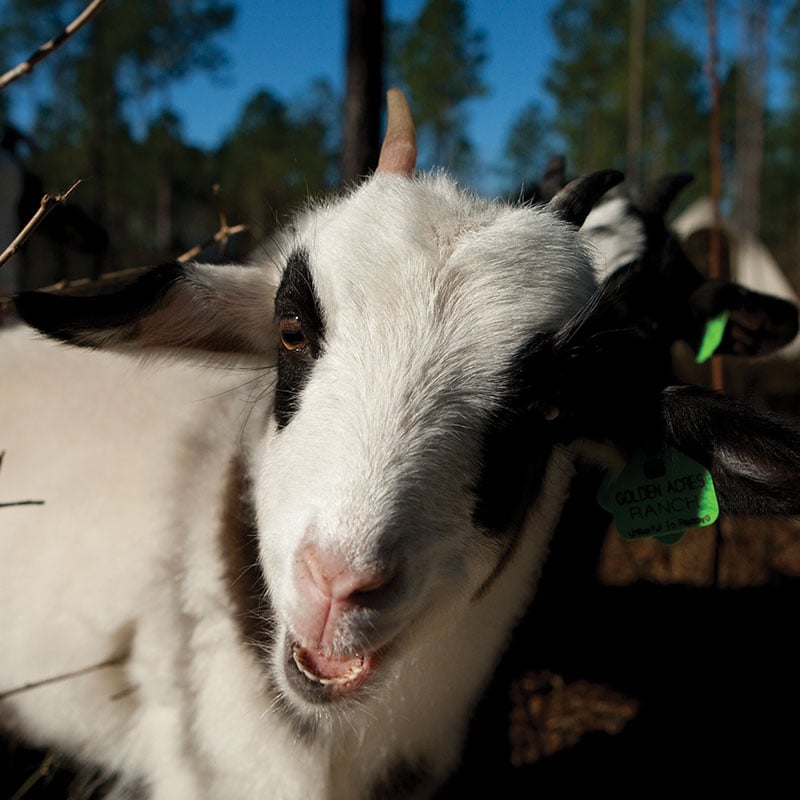 When Bobbie Golden was looking for retirement property in Jefferson County, she had in mind a couple of acres where her dogs – and maybe a goat or two – would have room to roam.
Dreams have a way of expanding.
Eight years later, Bobbie, 72, and husband Fred, 73, preside over the 68-acre Golden Acres Ranch just outside Monticello where they raise Tennessee fainting goats (young ones will keel over at the sight of a stranger) and Katahdin sheep. They also sell chicken compost and animal feed, board pets and – in the spring – harvest and sell mayhaw berries from the orchard just off the deck of their two-story log home.
Two of their six children help with the business. Son Ken Foster of Tallahassee helps with the local marketing, and daughter Christine Golden in California is in charge of the Web site.
The Goldens are members of Slow Food Tallahassee, and last fall they began selling naturally produced goat and lamb meat at New Leaf Market and Tomato Land, as well as in a small store on their property. Bobbie Golden also is experimenting with Red Stars, a breed of chickens that, she hopes, will expand her egg business.
"We're interested in naturally grown and organically grown," said Golden, who has her meat processed using the halal method – a Muslim ritual similar to the kosher method that is purported to be more humane – at a USDA-certified processor in Bonifay. It is processed quickly and vacuum-frozen.
"She's pretty much the only goat and lamb producer," said Rebecca Means, a leader in the local slow-food group, which encourages people to buy and enjoy naturally grown local food.
"I never plan on it being a big commercial (business)," Golden said. "I always plan on being local – selling to local markets and local restaurants."
That suits David Roloff, meat manager at New Leaf Market, just fine.
"It's an all-natural product," he said. "And you know it hasn't been traveling thousands of miles." New Leaf has held several tastings of Golden Ranch products, which have been well-received. "The customers really like it," Roloff said.
A Big Lifestyle Change
Before moving to their North Florida hideaway, the Goldens lived in Lakeland, where they were tax accountants – not a job that's usually thought of as a preparation for life on the farm. But Bobbie Golden learned quickly by reading and taking classes at Florida A&M University. She is now a certified master goat and sheep producer.
"I read that goats were small, and that … they wouldn't be hard to handle," she said, explaining what got her started in the business. "That was a myth. We monitor these animals every day. Goats require special minerals. If you see old photos of goats eating tin cans, it's because they were looking for minerals."
Fred Golden is active in the business, but you can tell it's Bobbie's baby. "It's not his first love," she joked, "but he's cooperative."
On an unusually cold November morning, the slim, energetic woman walked from pen to pen feeding her prized goats, while fending off Gracie, one of her Great Pyrenees dogs that has a penchant for goat feed.
"Knick-Knack, come here, baby," Golden said as she tried to coax a reluctant goat to replace Gracie at the feed bowl.
Knick-Knack? How could she name an animal, watch it grow, then toss parts of it into a 350-degree oven?
She doesn't. Knick-Knack's brethren are sold as breeding stock, and they fetch a pretty price – as much as $600 for a prize male.
"There are great ranchers all over the state," Golden said. "I ask them to raise their goats in a certain way. They do that, and I agree to buy their animals." These goats are pasture-raised, not fed corn and sweet feed, which keeps them from getting too fat.
Her sheep, however, are a commercial flock.
Golden admits that marketing her meats – especially goat – can be a hard sell in an area where people are more accustomed to beef and pork on the dinner table.
But that's changing. Lamb is readily available in grocery stores and restaurants, and goat is becoming more popular, especially since the population is becoming more diversified with people moving in from Asia, Africa, the Caribbean and South America, where it's more of a staple.
This diversification has increased the popularity of ethnic food, including goat, among all groups, according to the U.S. Department of Agriculture Web site, which adds that people are now more willing to explore new culinary experiences.
Bobbie Golden also thinks goat meat will catch on with the more health-conscious.
"In most grocery stores, you get imported meat," she said. "You have no idea what's been fed to those animals." Goat has as much or more protein than beef and from 50 to 55 percent less fat, she added. "It has less fat than a chicken breast without the skin."
To get people comfortable with the idea of eating goat and lamb, the Goldens have held special tastings at New Leaf Market.
If her venture catches on, Bobbie Golden is likely to find her "retirement" busier than she ever imagined. And that's OK with her.
"I've always been busy, and I like to be busy," she said. "I couldn't stand it if I wasn't."