Then and Now: Warrick Dunn
Turning tragedy into triumph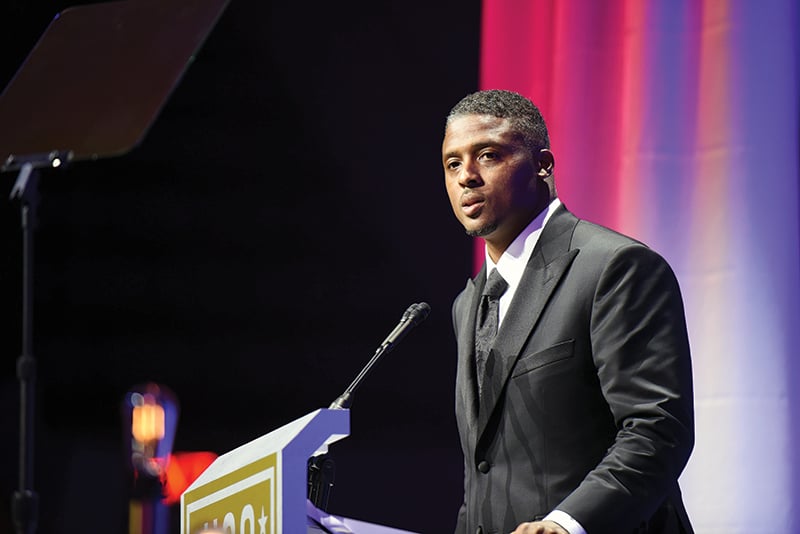 For young people otherwise removed from the chance that they might attend one of America's leading universities, athletic ability can provide a ticket to opportunity.
Among the fortunate few who become varsity athletes at Florida State University, a tiny fraction will become far more familiar to Tallahasseans than the lieutenant governor or the president of the Florida Senate. They will experience moments between sidelines, foul lines and end lines so big that fans seeking football or roundball fixes will play them during offseasons, time and again.
And, if they are truly elite — if their fastball touches 97 mph or they can cover 40 yards in 4.5 seconds, they may attract the attention of pro scouts and enjoy success with MLB, NFL or NBA teams. They are the stuff of water cooler — or chat room — conversation. Early success, big bucks and bright lights bring challenges of their own, however. Humility can become hard to maintain, even muster. An appetite for highs may become consuming. Eventually, though, most gain perspective, a sense of gratitude and a desire to give back.
-Steve Bornhoft, Executive Editor, Tallahassee Magazine
---
Running for Survival
When Warrick Dunn started playing touch football in the streets of his hometown in Baton Rouge, Louisiana, he wouldn't have been able to fathom a future playing 12 seasons in the NFL.
"I was the last kid picked because I was really small," Dunn said. "They didn't think I could do anything."
Small but fast, Dunn soon became first pick, saying that back then it was the fear of a painful tackle that sent him darting through the streets and eventually onto the field.
"I was running for my life," Dunn said. "Literally, that's just how I played the game, just making sure that no one could touch me."
Dunn was encouraged at a young age by coach Maelen Brooks. "He was definitely my father figure that always pointed me in the right direction and made sure that I stayed out of trouble," Dunn said of Brooks, who he turned to for guidance throughout life until his recent passing in the spring.
Mom Betty Smothers was his No. 1 supporter and inspiration. Smothers worked as a police officer, striving to give her children a good life, to provide a home. That was her dream — homeownership and financial freedom.
In 1993, Smothers was killed during an off-duty security job. At age 18, Dunn was suddenly navigating life in the wake of loss, juggling parental duties to his siblings as he entered his college years.
Dunn attended Florida State University, leading the Seminoles to their first national championship in his freshman year. He became the first two-time 1,000-yard rusher in FSU history, MVP of the 1995 Sugar Bowl and still holds today the career-rushing record of nearly 4,000 yards.
He is one of only six FSU footballers to have his jersey retired.
In 1997 he was drafted by the Tampa Bay Buccaneers, launching his 12-season NFL career. Dunn later played for the Atlanta Falcons for six years before returning to play for the Buccaneers ahead of his retirement. He brought success to both teams.
In his first season with Tampa Bay, Dunn was named the Associated Press Offensive Rookie of the Year. He was selected to the AFC-NFC Pro Bowl team three times, in 1997, 2000 and 2005.
But throughout his career, Dunn sought other successes.
In his first NFL season, he started his Homes for the Holidays program in Tampa while working for the Buccaneers. He wanted to give the same support to every community that supported him, bringing the program to his hometown in Baton Rouge, then expanding to Tallahassee and Atlanta.
In 2002, he established the program as a nonprofit organization, Warrick Dunn Charities (WDC).
"I was still depressed, going through a lot personally at that age when I started doing charity work … It's taken me 25 years to really understand that this is my purpose," Dunn said. "I've taken something that has negatively affected my life and turned it into something that's impactful."
Homes for the Holidays partners with local housing authorities and Habitat for Humanity to help single parents purchase a home, offering down-payment assistance to families and fully furnishing and stocking the homes with food, necessities and everyday essentials.
"We try to take that initial burden of cost off the family, so we can help create some stability early on," Dunn said.
After retiring from the NFL, he achieved a master's degree in business, allowing him to be more involved in WDC.
"I'm just happy I've had the people who've supported me," Dunn said. "We've been able to overcome a lot … It's like tragedy to triumph. It's been 30 years. Looking back, I'm shocked."
WDC has provided assistance to 214 homeowners across 17 states and 29 cities. And the charity's interests lie in holistic assistance to address the nuances of generational poverty.
"When a family gets into the home, that's when the journey really starts," Dunn said. "Homeownership is a lot of responsibility. I want to educate them and help them."
While Homes for the Holidays offers initial financial relief, the following WDC resources and programs give families the tools they need to succeed long term.
The Count on Your Future program educates families on finances and offers matching-funds assistance. Betty's Hope offers group counseling for children and teens suffering from grief and trauma. SCULPT encourages and educates on healthy living and frugal shopping for nutritious foods. And Hearts for Community Service offers scholarships for students working in their communities.
"I understand what families are going through because I lived it," Dunn said. "I'm able to now live out my mom's dream through other single parents. Most importantly, I don't want other kids to go through what I went through — not all of us make the right decisions, go down the right path or have the right mentors.
"I'm thankful that I had people like that who just truly cared about making sure that I had resources, an outlet and guidance."
Dunn hopes to offer that guidance, breaking generational cycles and creating financial stability for current and future generations.
---
Running back Warrick Dunn helped lead FSU to its first national championship in his freshman year. He became the first two-time 1,000-yard rusher in FSU history and was the MVP of the 1995 Sugar Bowl. For his career, he rushed nearly 4,000 yards. He is one of only six FSU footballers to have his jersey retired. In 2016, he was the recipient of the Walter Camp Football Foundation's 2016 "Man of the Year" award.
Photos courtesy of FSU Sports Information and Warrick Dunn Charities