Then and Now: Deion Sanders
Coach and mentor graduates to Division 1 University of Colorado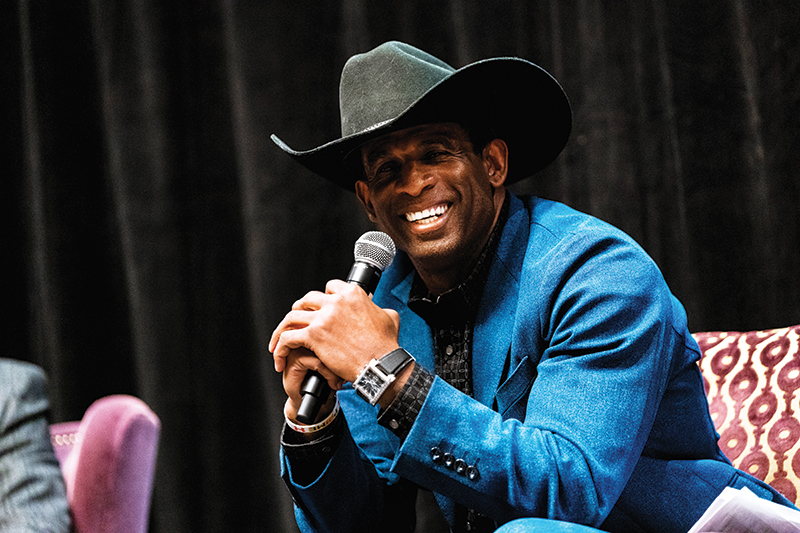 A standout high school athlete, Deion Sanders was drafted by Major League Baseball's Kansas City Royals in 1985, but he put that sport on hold, instead opting to play football at Florida State University. There, he made Seminole history with a 100-yard interception return against Tulsa his freshman year.
At FSU, Sanders totaled 14 interceptions and returned four punts for touchdowns while playing for the late Hall of Fame Coach Bobby Bowden. Sanders still holds FSU records for career punt returns (126) and total punt return yardage (1,429).
Sanders was a senior when the Atlanta Falcons selected him with the fifth overall pick in the NFL's 1989 draft. He would play football for five NFL teams over his 14-year career. In 1994, he was named AP Defensive Player of the Year. He collected two Super Bowl rings.
Sanders also played for four Major League baseball teams, compiling a .263 average over nine seasons. He played in the 1992 World Series as a member of the Atlanta Braves, and three years later, he played in his first Super Bowl with the San Francisco 49ers. He remains the only athlete ever to have played in both championship events.
Despite his singular success as a pro athlete, Sanders hit a low point. His wife filed for divorce, and he became suicidal. In his book, Power, Money & Sex, he recalls a time when he took an entire bottle of Tylenol 3 in front of teammates.
"I was just crying out for somebody to talk to me, to ask me about my situation, to care that I was dying inside, but who could have imagined that I was in so much pain?" Sanders writes.
In 1997, he drove his car off a cliff in a suicide attempt but walked away largely unscathed, physically. Afterward, Sanders began to lean heavily on his religious beliefs, advising others, "If you want to be effective, you've got to find out what your gift is, and that process always begins with God."
Sanders righted himself and extended his sports career before playing his last game as a Baltimore Raven in 2005. Soon afterward, he founded TRUTH, entering into youth service work in Dallas and Memphis. He also became a sports analyst for the NFL Network, and in 2011, Sanders was inducted into both the Pro Football Hall of Fame and the College Football Hall of Fame. In 2012, Sanders co-founded Prime Prep Academy, a charter school in Texas, where he served as the head football coach.
His many accomplishments outside of sports include a brief stint hosting The New American Sportsman television show; rapping with MC Hammer and as a Saturday Night Live guest; and starring with his second wife in a reality television series, Deion & Pilar: Prime Time Love, which introduced viewers to Sanders' family life in Prosper, Texas. Additionally, he has appeared on The League, Running Wild with Bear Grylls, Lip Sync Battle, Tiny House Nation and Undercover Boss.
Today as Coach Prime, Prime Time Deion Sanders is continuing to make sports history as the new head football coach at the University of Colorado, a job he landed after coaching for three years at Jackson State.
---
Today, Deion Sanders is generating new interest in the University of Colorado football program, where he is head coach, a job he landed after coaching for three years at Jackson State. Sanders has made headlines for the way in which he cleaned house at Colorado.
Photos courtesy of University of Colorado
---
Power, Money & Sex by Deion Sanders
Deion Sanders tells his life story and reveals how power, money and sex could not satisfy the void in his life — a void ultimately satisfied by his relationship with Christ.